Ted Nugent's Attack On Obama: NRA Takes Down Video Of Explosive Remark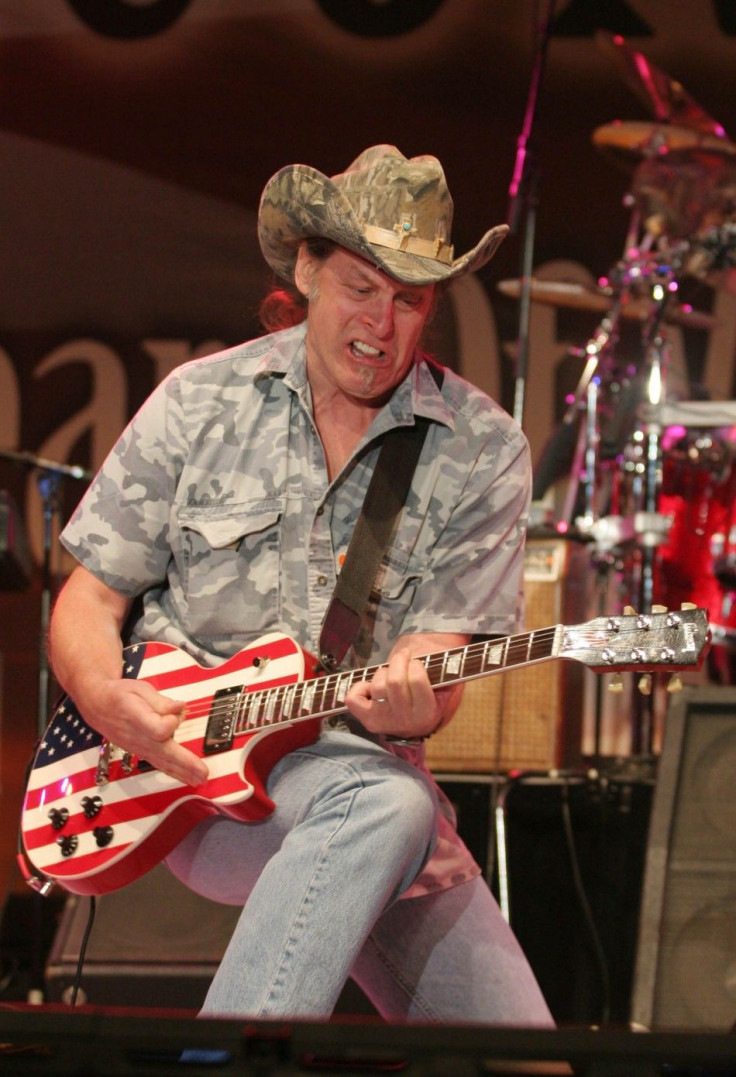 Video of Ted Nugent saying he will either be dead or in jail if President Barack Obama gets re-elected has been taken down from the NRA's YouTube account as Nugent is set to meet with the Secret Service over the explosive comments.
Nugent, a fervent gun rights advocate, hunter and right-winged rocker, denies threatening the president.
The YouTube video of Nugent speaking at the National Riflle Association's convention in St. Louis over the weekend has been taken down, the liberal media watchdog group Media Matters reported.
If Barack Obama becomes the president in November again, I will be dead or in jail by this time next year, Nugent said at the convention.
The rocker said he stood by his remarks at the convention.
By no stretch of the imagination did I ever threaten anyone's life, or hint of violence or mayhem, Nugent said in an op-ed posted Wednesday on The Blaze, Glenn Beck's site. Metaphors needn't be explained to educated people.
The Secret Service is scheduled to meet with Nugent Thursday in Oklahoma, where he is performing.
We actually have heard from the Secret Service, and they have a duty, and I salute them. I support them and I'm looking forward to our meeting, Nugent said yesterday on Glenn Beck's radio show.
A Secret Service spokesman said the agency will be meeting with Nugent to determine what the rocker's intentions were when he said he would be either dead or in jail if Obama wins a second term.
We recognize an individual's right to freedom of speech, but we also have a responsibility to determine and investigate intent, the spokesman said.
The explosive comments are not the first controversial statement from the potty-mouthed, conservative Nugent.
In a 1994 interview with Westword magazine, Nugent called then-First Lady Hillary Clinton a toxic c---, a b---- and a two-bit whore.
You probably can't use the term 'toxic c---' in your magazine, but that's what she is. Her very existence insults the spirit of individualism in this country. This b----is nothing but a two-bit whore for Fidel Castro, Nugent said.
In the same interview, Nugent derided Haitian immigrants who were fleeing their unstable homeland for the United States and slammed American immigration policy in general.
We should put razor wire around our borders and give the finger to any piece of s--t who wants to come here, Nugent said.
He also also derided Franklin D. Roosevelt's policies fighting the Great Depression in an interview last year with Salt TV.
The Great Society was a Numbnut Society and the New Deal was a Raw Deal, he said.
It seems no group or person is spared from Nugent's wrath. He even took aim at the Republican Party in the Salt TV interview, calling the GOP a bunch of wimps for being too inclusive.
They've been so concerned about having a big tent that they've let evil in the tent, he said.
© Copyright IBTimes 2023. All rights reserved.