'Teen Mom 2' Star Leah Calvert Fights With Jeremy, Talks Cheating Rumors In Season 6 Sneak Peek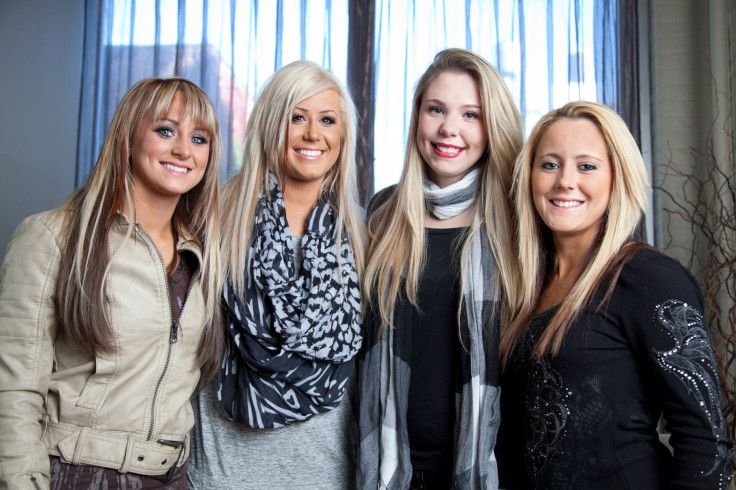 When "Teen Mom 2" Season 6 premieres on Thursday, stars Leah and Jeremy Calvert will still be married. But by the looks of a sneak peek of the upcoming season, their marriage is already in trouble.
In a Season 6, episode 1 teaser, "Jeremy's Time," Leah and her now ex-husband Jeremy visit Fifth Quarter Steak House for a night out. Leah remarks that it is their first meal alone together in six months due to their parenting responsibilities and his hectic work schedule. As most viewers are aware, Leah has 5-year-old twins, Ali and Aleeah, with ex-husband Corey Simms. She also shares 2-year-old Adalynn with Jeremy.
"I want to spend as much time with him as possible," Leah says in a voiceover. During their meal, Leah tells Jeremy she is pleased they could coordinate a date night. "It feels good to have dinner with you because it may be another three weeks before I see your hind end," she says.
Jeremy says his job as a pipeline engineer, which keeps him away from home for the majority of the week, makes arranging nights out tough. Leah agrees, but says rumors regarding their lives have also played a role.
"It's been a crazy, what, four months? Court, rumors. I think people, just individuals, saying, 'Oh, he cheated. She cheated,'" Leah says, referring to rumors she had an affair in 2014 and her custody battle with Corey. She goes on to tell Jeremy that she feels like they can "trust each other," but that she still she wants to attend couples therapy.
"You have to set work aside and put your family first for once," she instructs him. When Jeremy asks Leah is he wants her to "quit his job" she tells him not to, but continues to push for counseling. "Counseling would help us understand each other's point of views," she says.
When Jeremy argues about his busy day-to-day life, Leah makes it clear she feels he is making excuses.
"If you had the most money in the world, like, you would still put your job before us," she says. Jeremy reacts by storming away from the table and leaving Leah alone in the restaurant.
Watch the sneak-peek video from "Teen Mom 2" Season 6 premiere below:
Leah and Jeremy have a rough reason ahead of them. In the trailer for the upcoming installment, the pair can be seen arguing over their relationship. In one scene, Jeremy tells Leah she's changed. "The girl I feel in love with ain't the girl I got now," he says.
Leah and Jeremy reportedly finalized their divorce last month. Leah is rumored to be dating her personal trainer, T.R. Dues, while Jeremy was reportedly spotted with his college girlfriend, Brooke Wehr, at an off-road park in May.
"Teen Mom 2" Season 6 premieres Thursday at 10 p.m. EDT on MTV.
© Copyright IBTimes 2023. All rights reserved.