'Teen Wolf' Season 4 Spoilers: 8 Things We Learned At Comic-Con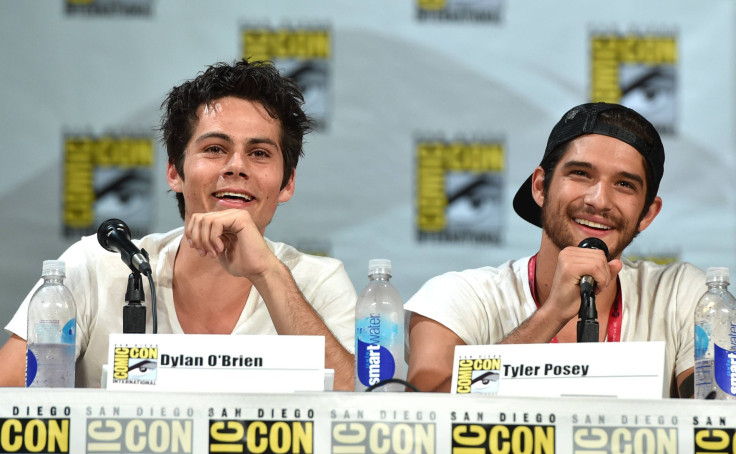 The "Teen Wolf" crew was out in force at San Diego Comic-Con on Thursday, where they showed a new trailer and held a Q&A session. Showrunner Jeff Davis joined cast members Holland Roden, Tyler Hoechlin, Shelley Hennig, Dylan O'Brien, Tyler Posey and Dylan Sprayberry. Check out what we learned about the second half of "Teen Wolf" Season 4 below.
1. A Super Sized Season 5
According to Davis, the creative team found out on Wednesday that "Teen Wolf" was renewed for Season 5 (though we knew that). The season will have 24 episodes and be split into two parts like Season 3. Season 4 only has 12 episodes.
2. Liam Is a Regular
Dylan Sprayberry, formerly of "Man of Steel" and "Glee," will be a series regular in Season 5. The 16-year-old actor is the only actual teenager on the show about teenage werewolves.
3 The Honeymoon Is Over For Stalia
Stiles and Malia "have a rocky road ahead," according to Davis. "It's going to get difficult especially as a certain secret about her parentage comes out." Stiles has known since the beginning of the season that telling Malia about Peter Hale being her real father won't go well, but Scott wants to keep it a secret.
4. Derek's Identity Crisis
After years spent as a brooding werewolf, Derek will have to consider life as a human. Tyler Hoechlin said, "For Derek to be losing his powers as a werewolf, he's going to have to figure out who he is when he's not a werewolf. So it's becoming a human and moving on and finding your identity and who you are and what you stand for and the actions you take as opposed to just a label that you might have."
5. Exploring Lydia's Banshee Powers
"It's a struggle for her to master her powers. We're going to see in [episode 6 and episode 7] especially how she struggles with that," said Davis. He promised we'll learn more about Lydia's whole family and their past.
"I was excited when Lydia finally knew she was on a werewolf show … she is not only embracing her power, but she is excelling at it," Holland Roden said.
6. Derek's Abs Will Be Series Regulars
"Teen Wolf" is known for the shirtless werewolves, and this season is no exception. Hoechlin said, "I think I got lucky in 3A and 3B and I caught on in Season 4. Yeah, there's quite a bit of [Derek's being shirtless]."
7. Danny Will Return
A fan asked where Danny was, and Davis said, "You have not seen the last of Danny." Davis did not give any details on his return. Danny has been missing since his boyfriend Ethan left Beacon Hills last year. Danny revealed before he left that he was aware of all the supernatural creatures in Beacon Hills.
8. Sheriff Stilinski and Melissa McCall Romance
Davis said, "We've been talking a lot in the writer's room about the Sheriff and Melissa." The actors admitted that this was the one romantic pairing they all wanted to see. A marriage would make best friends Stiles and Scott stepbrothers.
"Teen Wolf" airs Mondays at 10 p.m. EDT on MTV. What are you most excited to see in Season 5?
© Copyright IBTimes 2023. All rights reserved.