'Teen Wolf' Season 6 Spoilers: Opening Scene Reveals Ghost Riders' Introduction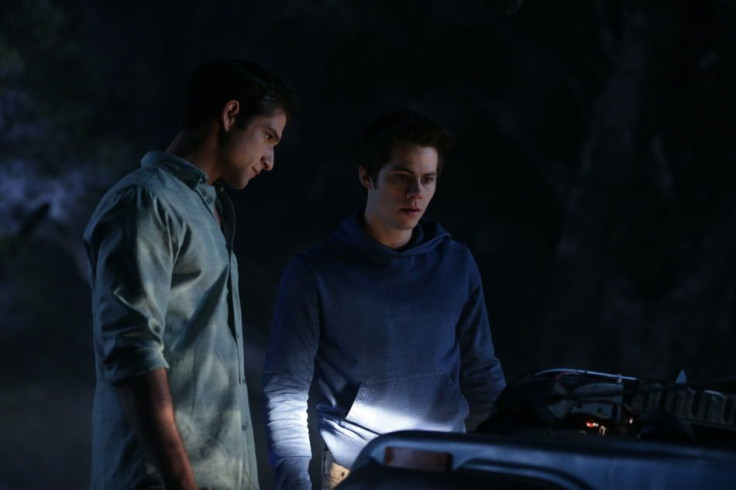 The "Teen Wolf" panel at New York Comic Con delivered more than just vague teasers about Season 6. The MTV drama brought the opening of the final season premiere to Hammerstein Ballroom on Saturday. The first eight minutes of the hour reveal a little more about this season's mysterious new villains, the Ghost Riders.
Scott (Tyler Posey) and the pack are not initially targeted by the villains. Liam (Dylan Sprayberry) and Hayden (Victoria Moroles) are in the middle of another date gone wrong when they find a little boy with a car that has a broken windshield. "Don't let them take me too," he says.
It seems the new baddies are a welcome distraction. Scott and Stiles (Dylan O'Brien) just tried to stop someone from stealing helium tanks. The lame attempt at crime stopping makes Scott realize that the town doesn't need him anymore. Stiles doesn't agree. "Beacon Hills would burn to the ground without us," he says.
Then, Stiles' father (Linden Ashby) calls to ask Scott to use his powers. The little boy can't remember what happened to his mother and father, but Scott can use his abilities to access his repressed memories.
Scott sees a Ghost Rider on a horse with a gun, but he can't quite see the fate of his parents. Yet both the alpha and the little boy know that the Ghost Riders are coming back.
Watch the scene from "Teen Wolf" Season 6, episode 1 below:
At the NYCC panel that followed the video, Posey said that Scott and Stiles have sort of become vigilantes in their hometown, much to the Sheriff's dismay. "They've kind of thought of themselves as the Batman and Robin of Beacon Hills and Scott even says that at one point in the first season," Posey said. "So they're always looking to protect the town."
Showrunner Jeff Davis explained that Beacon Hills has been a little too quiet lately. Scott and Stiles are bored, and they get into a little more trouble than usual when there aren't any murderous enemies coming after them. They'll get way more excitement than they were hoping for when Season 6 kicks off.
"Teen Wolf" Season 6, the final season, premieres Tuesday, Nov. 15 at 9 p.m. EDT on MTV.
© Copyright IBTimes 2023. All rights reserved.