Teens Physically Assault Gay Couple In Washington DC Calling Them 'Monkeypox F****ts'
KEY POINTS
The group of teenagers had about five boys and four girls
An older woman who witnessed the attack called the cops
Two girls stayed back to apologize while the rest fled the scene
Authorities in Washington, D.C. are on the lookout for a group of assailants who attacked a gay couple and called them 'monkeypox f****ts.'
The incident occurred Sunday afternoon when the victims, identified as Robert, 25, and Antonio, 23, were returning from an outing at a gay bar, LGBTQ publication Metro Weekly reported.
The couple were walking to a bus stop in the Shaw neighborhood around 5:40 p.m. when they came across a group of teens of about five boys and four girls. The male teens started mocking them and their clothes, the victims said.
The teenagers reportedly used homophobic slurs and made references to monkeypox.
After accosting the couple, one of the boys from the group came forward and sucker-punched Robert, knocking him to the ground, New York Daily News reported.
When Antonio protested, another boy came forward and punched him in the face, smashing his glasses. The white crop shirt Antonio wore was soaked in blood.
A woman, who witnessed the attack from her balcony overlooking the street, called the cops. As authorities arrived, most of the group had fled the spot. Two teen girls, however, stayed back and apologized to the victims.
"One of them said their dad was gay and it was messed up that they attacked us. But I was still pretty pissed at the whole incident, so I let them pass," Robert told Metro Weekly.
The cops arrived and took the victims to the Howard University Hospital where they are checked for concussions. Antonio received three stitches on his upper lip.
In his statement to the police detectives, Robert described one of the assailants as an older teenager who was about 5'9″ in height. He was wearing black jeans and had a bandage on what looked like a cut on the right side of his face, Robert added.
D.C. Mayor Muriel Bowser posted a statement Wednesday on Twitter saying she was "extremely disturbed by the reported hate crime."
"We must stand up for our friends and neighbors, especially right now when there's too much anti-LGBTQ+ rhetoric sweeping our nation," Bowser tweeted. "We must call out the people in our circles if they promote hateful or ignorant ideology, especially right now when the people are using public health to stigmatize and discriminate against members of the LGBTQ+ community."
The police department's LGBT Liaison Unit is investigating the matter.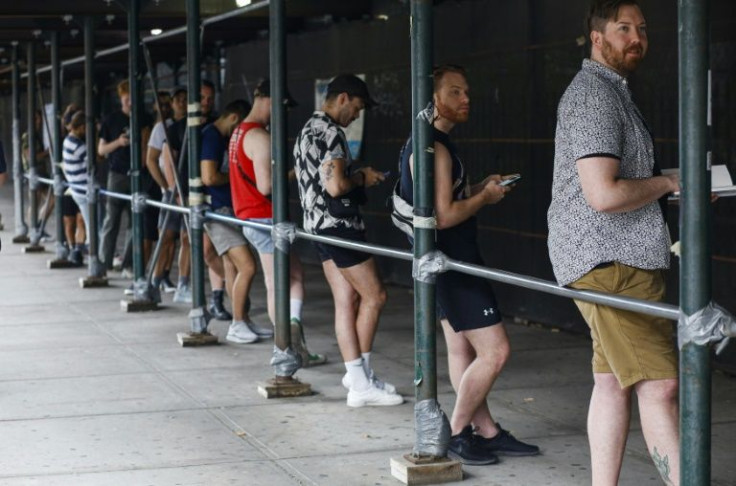 © Copyright IBTimes 2023. All rights reserved.