'Temptation Island' Stars Tell Kate To Leave David After Season 2 Reunion
When "Temptation Island" Season 2 came to a close on USA Network on Thursday night, contestants Kate Griffith and David Benavidez decided to end their romance following a series of indiscretions on his part. While Kate left the show single, Dave decided to exit with single Toneata Morgan. In the reunion special that followed, however, it showed that David had ended his romance with Toneata and appeared to hint that Kate and David may have reconciled.
While Kate and David have been silent on social media since the reunion -- sans Kate issuing her excitement on her Instagram story that her season is finally complete -- other members of the reality franchise have spoken out about the reality pair's relationship.
On Friday, Reality Steve released a podcast with Kate's co-stars Ashley Howland and Ashley Goldson. During the latter's portion of the interview, she shared her thoughts on Kate and David's speculated reunion. "I think that David is just not the right person for her, period," Ashley G. stated.
READ: 'Temptation Island' Season 2 Update: Ashley Howland Spills 'The Tea' On Ben, Casey Breakups
During the reunion, one of the singles accused David of being intimate with her post-show, something he denied. Because of this, Ashley slammed David for not "holding himself accountable" for his alleged actions post-show.
"...he didn't want to own any of the things he did so if you can't even just do that, then you're not sorry. And that also means if you're not sorry, then you'll do it again. It's like why would you want to continue being hurt by the same person that is not sorry for their actions because they can't own them?" she stated, adding, "They're not fessing up to you when you all of these receipts. You have all of this information right in front of you and both of you are in denial. It doesn't make any sense."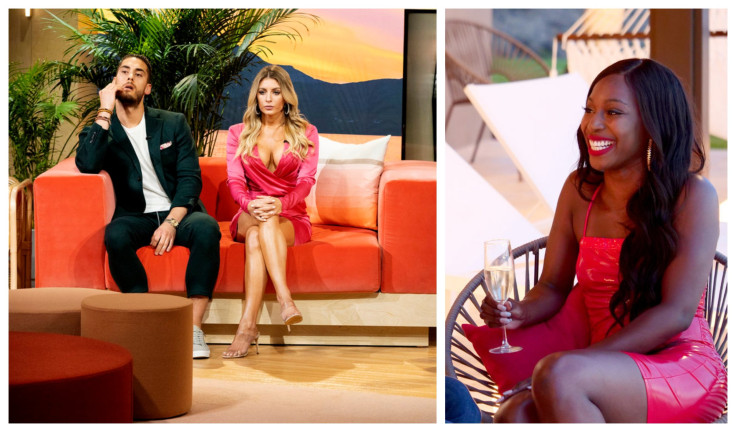 Ashley, who revealed she has a friendship with Kate outside of the show, said she noticed a big change in her at the reunion.
"I really saw a glow-up from Kate coming into 'Temptation Island' to Kate leaving 'Temptation Island.' The reunion was like backtracking...For me, it's sad because she's my girl and I love her and I support her… I just hope that she gets the right guy in her life."
Ultimately, Ashley said that while she thinks Kate "needs" and "deserves" a "better guy than David," it's not her place to judge their relationship.
"We all deal with things differently. We just try and respect any of her decisions," Ashely explained. "Love hurts sometimes and other times, people are in relationships that you may think are toxic but they survive them and end up married and happily ever after. I just try not to decide anyone's fate."
Outside of Ashley's comments, another member of the "Temptation Island" franchise has also spoken out about Kate and David's romance. On Friday, Season 1 star Kaci Campbell took to Twitter to issue her thoughts.
Listen to Ashley G.'s full interview with Reality Steve here and find out what Ashley H. had to say about her breakups with Casey and Ben here.
© Copyright IBTimes 2023. All rights reserved.