Tencent Holdings Ltd. (0700)'s Answer To Vine: Weishi, The Chinese Short Video-Sharing App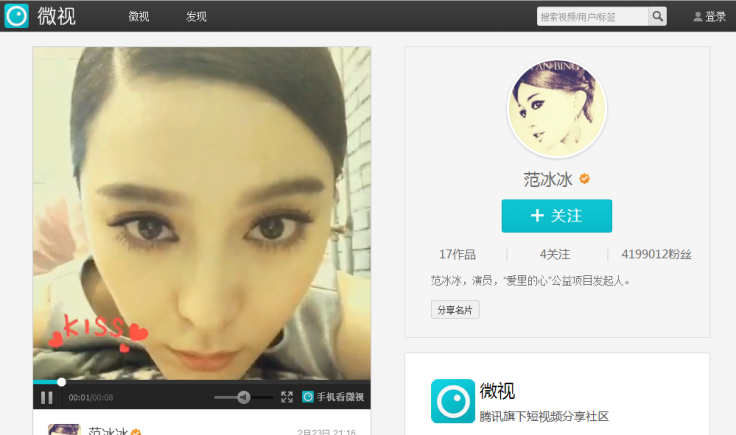 China's copycat technological innovation strikes again: Tencent Holdings Ltd. (HKG:0700), the parent company that operates QQ, the most popular Chinese online messaging platform, has come up with Weishi, which is a short video-sharing app like Twitter's Vine.
Weishi was launched in September, but has gained significant ground in recent months. The app aims to change the way Chinese app users interact via social media, which has been limited to static text and images. The Chinese app allows users to share eight-second videos with friends, and edit the videos with various filters, watermarks and themes, just like Vine, the South China Morning Post reported on Wednesday.
"Weishi opens a new means of social interaction among Internet users in the mobile era," said Xing Hongyu, Weishi's head of development and operation. "We are excited to find that an increasing number of people are using short videos to share funny, surprising or memorable moments of life in motion."
According to data published by the Next Web, between Dec. 27, 2013, and Feb. 25, 2014, Weishi was one of the three most downloaded social networking apps in China. The app's traffic received a sizeable boost around Valentine's Day, with single-day video views surpassing 160 million, thanks to a smart feature that allows users to tag their videos with themes such as "love confessions" and "showing affection." More than 1,000 celebrities have also signed up for Weishi accounts, according to a statement from Tencent.
Vine is not blocked in China, but its parent Twitter is, giving the video- sharing app a limited presence in China, according to the Next Web. In addition, Weishi shares a parent with popular mobile messaging app WeChat, which is called "Weixin" in mainland China and supports sharing Weishi videos, according to the South China Morning Post.
In 2013, the vice president of Tencent's international business group, Poshu Yeung, said that the company plans to transform WeChat "beyond a simple chatting app and enrich the user experience by becoming a truly mobile social platform." With the launch of Weishi, Tencent could be broadening its "Wei" brand offerings and delivering on that promise.
© Copyright IBTimes 2023. All rights reserved.