Teresa Giudice Prison Release: A Look Inside The 'Real Housewives Of New Jersey' Star's Emotional Family Reunion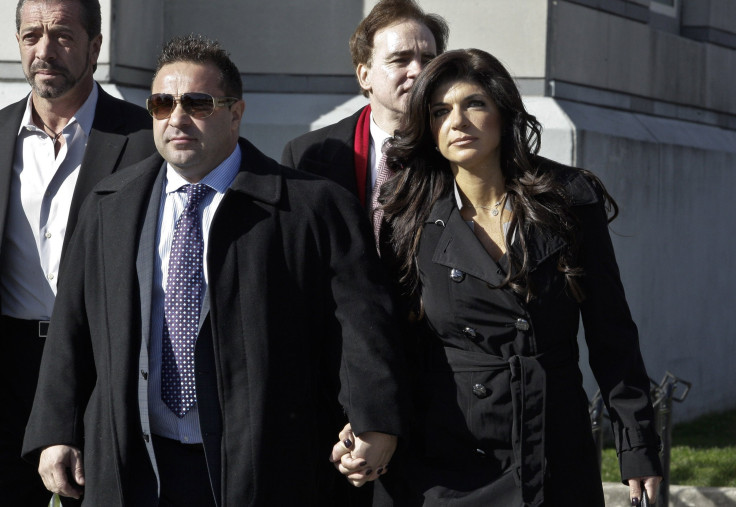 Teresa Giudice's first stop after being released from prison? The New Jersey home she shares with her husband, Joe Giudice and four daughters. The reunion, which was 11 months in the making, was said to be "emotional" and new pictures support those claims.
Teresa, 43, and Joe, 43, allowed People magazine to be present the moment the reality star arrived at her home. The publication reports that the "Skinny Italian" cookbook author, who was released from Danbury Women's Correctional Facility at 5 a.m. EST, was greeted with warm hugs from her entire family at about 7:30 a.m. EST. The photos show Teresa being surrounded by her husband and children, with some of the young girls in tears. A close look at the background of the photos suggests her children decorated the home with colorful signs, celebrating her release.
"Joe kind of stood off to the side for a second and let them all greet their mother," a source said. "Then the whole family kind of embraced each other and had a moment together."
As was previously reported, Joe was seen standing in the driveway of the home, awaiting his wife's arrival. He greeted her with an epic early Christmas gift -- a brand new Lexus. The black SUV was parked in the driveway with a large red bow tied around the windshield. Sources said Joe was "smiling" though he appeared anxious to see his wife outside of prison for the first time in nearly a year.
Teresa was released from prison early Wednesday morning. Her lawyer, James Leonard was waiting for her outside the facility. After signing all the necessary paperwork and primping in a prison bathroom the "RHONJ" star was driven back to New Jersey to reunite with her family and begin her house arrest sentence. Her eldest daughter, Gia, 14, celebrated her mother's release on Twitter, writing "welcome back."
Teresa has yet to break her silence on social media. It has been reported, however, the her return home will be documented for the upcoming season of "RHONJ."
© Copyright IBTimes 2023. All rights reserved.