Testing Maratown's Claim for 'Most Comfortable Dress Shoes in the World' - Men's Brogues
This article uses affiliate links, which means if you purchase products through these links, we may earn a commission. Click here to see our
T&C
. For licensing please click
here
.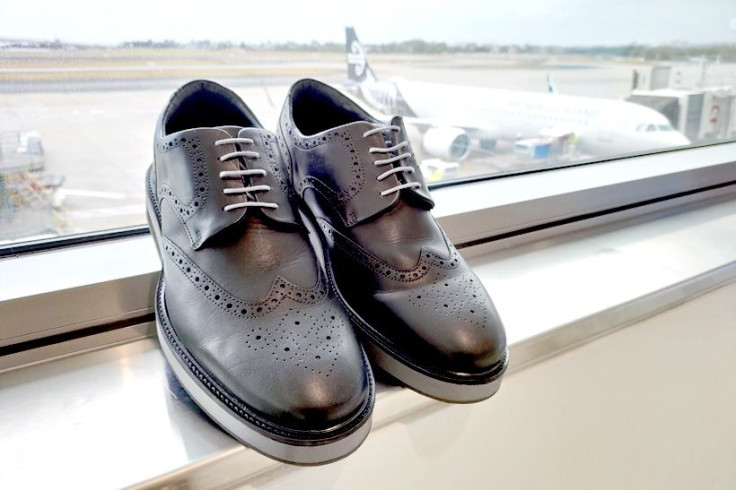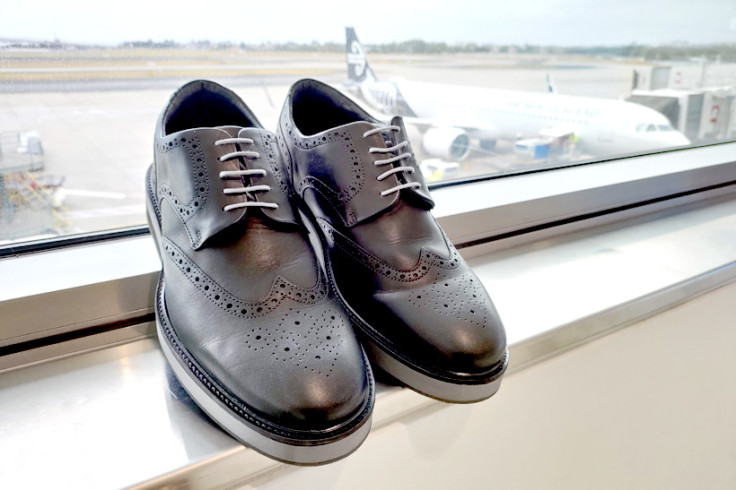 I am on the search for the best dress shoes for travelling businessmen, what I am looking for are shoes that are comfortable enough for brisk walks which are often needed between flights, but still looks dressy enough that you won't need a second pair of leather soles to look classy. Sounds too good to be true? I happen to be a believer, that the perfect shoes are out there (Cue the X-File theme song).
Maratown piqued my interest by claiming that they offer the most comfortable dress shoes in the world. I got ready to put that claim to the test by setting aside my pair of Maratown men's brogues for my latest business trip to East Asia.
To be fair, I'm using the same conditions for each test: I will not break the shoes in beforehand (Risky! I know! Just another price to pay for investigative journalism!), and I will exclusively only use the one pair of shoes throughout the whole trip.
CHECK OUT REVIEWS OF OTHER GADGETS FOR TRAVELERS ON IBTIMES: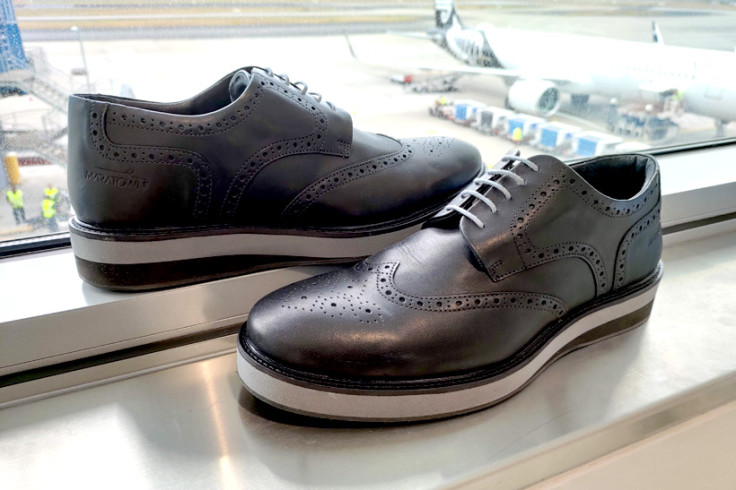 Formal with Flair
To kick off the whole experience, I started by checking how they looked on my feet. The upper is a handsome wingtip pattern - which I am definitely a fan of. They look formal but there is a robust styling that makes them almost look like boots.
The robust theme continues with the midsoles where Maratown is not shy to show off a hefty grey layer (Which is a key component when it comes to comfort, to be covered later), which is matched with grey shoe laces (Black laces also included in case that's your preference). The duo-tone color scheme gives off a youthful vibe to the otherwise classic wingtip style.
Overall they pass my dress up/dress down criteria with style points to spare. I managed to wear these both with a pair of Haggar Life Khaki Corduroy pants, as well as my staple black wool business suit pants, and the Maratown brogues looked right at home with both looks.
The extra boost in height definitely did not hurt either, as it elongates the overall leg length which came in very useful when you're trying to look tall while wearing a wool overcoat.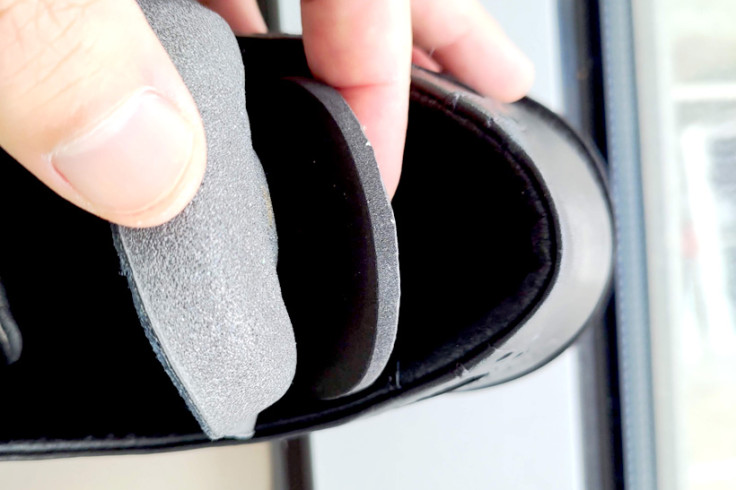 Custom fit system included
What is the big advantage shoe stores have over online orders? It's that you can be sure of the fit before you buy. Online orders is fine if you are lucky and the sizing and fit matches your feet size, but you can't help but play Russian roulette with your mouse click, with the worst outcome being going into weeks of trial and error over the mail with days of wait time before attempts.
Maratown came up with an innovative way of allowing flexibility to make up for the variation is dress shoes sizes: two levels of sole inserts. The inserts are made of a stiff material that takes up any give in the shoes to make sure the feet are hugged firmly. At the same time, the padding goes under the top layer of the insole which means you're getting the same support and comfort with or without the extra pad.
For me since my feet are on the wider side, I appreciate the width of the shoes, but it means there was some space even after tightening the shoelace. I installed the thicker padding of the two, which created the firm fit that I was after.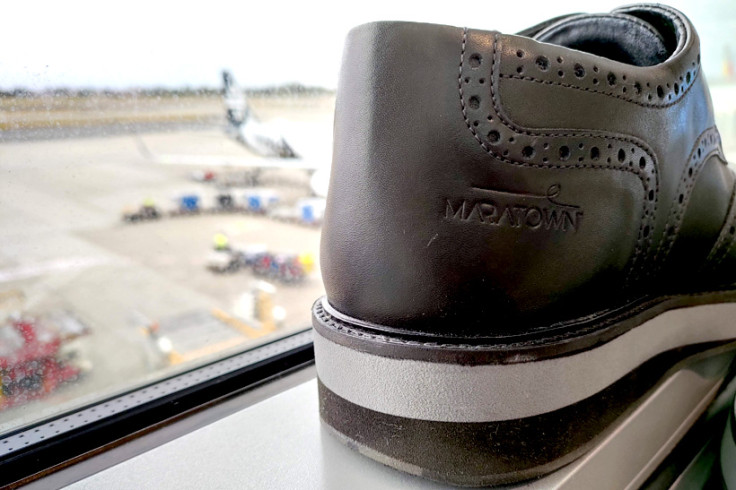 World's cushiest dress shoes
Once I got the fit that I wanted, I started walking on them. They were nice to walk on, and I mean really nice. The soles were extremely bouncy, and the cushion is not only in the heels, but extends even to the toes. It feels like walking on thick anti-fatigue pads at commercial kitchens or factories, where the soles is not only soft to step on, they literally bounce.
The eureka moment didn't come however until I had to hurry it up to a gate and started jogging on these shoes - the cushioning so effectively damped each step, that I noticed that there was very little impact in my ankles and knees. Running on the soles on these dress shoes seriously felt cushier than my current sneakers.
Of course it is still different from wearing actual sneakers, since the shape and design of sneaker soles are designed not only for cushioning, but also for maneuvering, for uneven roads and more. Still, for short sprints through airport terminals, and also for standing in long queues, the Maratown shoes I would confidently say comfortably out performs even sneakers with its specially designed soles. These are perfectly made for businessman on the go, making trips a lot easier on the feet.
As a bold move on Maratown's part, they did it all without employing any fancy marketing - like sneaker makers typically do. The soft midsoles are right there for you to see, even highlighted with grey coloring.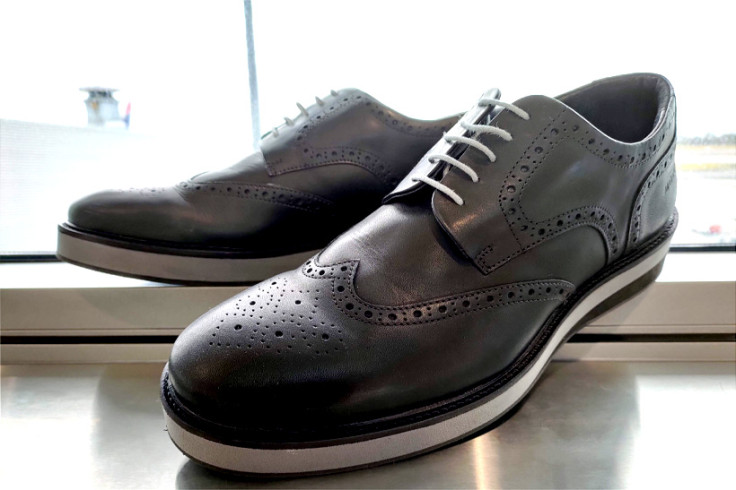 Who are the Maratown Men's Brogues for?
Those whose work depended on keeping a sharp appearance, but can be physically demanding in terms of needing to stand for extended periods of time, or involves a lot of walking or even light jogging, I honestly cannot think of a better product than these Maratown shoes right now. They have the style down, and they have definitely got the functionality down of having one of the most comfortable soles that I have walked and stood on. If you like to walk around comfortably at work or on business trips, you'll like these shoes.
David is a tech enthusiast/writer who is often on the move and is on a mission to explore ways to make his overhaul flights more enjoyable. This is a contribution to an ongoing IBTimes review series on gadgets for Business Travellers.
© Copyright IBTimes 2022. All rights reserved.
FOLLOW MORE IBT NEWS ON THE BELOW CHANNELS