Texas Attorney General Ken Paxton Allegedly Flees Home To Avoid Subpoena In Abortion Suit
KEY POINTS
Ken Paxton and his wife Sen. Angela Paxton fled their residence Monday morning
Nonprofits that want to resume fundraising for Texans to receive out of state abortions filed the suit
Paxton says the "attack" against him was media's attempt to "drum up another controversy"
Texas Attorney General Ken Paxton fled his residence with his wife to avoid being served with a subpoena in an abortion suit, an affidavit filed in a federal court Monday stated.
The anti-abortionist evaded a process server, who was attempting to serve him with a subpoena for a hearing in an Austin court Tuesday, reported Dallas Morning News.
Nonprofit organizations that want to resume raising funds for Texas residents to receive out-of-state abortions are seeking a court order barring state officials from pursuing criminal charges against their employees.
Paxton issued a couple of tweets later in the night, telling his Twitter audience reports about him evading a subpoena was an attempt to "drum up another controversy" by the media.
"It's clear that the media wants to drum up another controversy involving my work as Attorney General," his tweet read in part.
Paxton attempted to falsify media reports, saying he left home to ensure his family's safety.
He added he was being attacked "for having the audacity to avoid a stranger lingering outside my home and showing concern about the safety and well-being of my family."
Paxton lambasted the media further, saying the attack on him wasn't an isolated incident.
"This is a ridiculous waste of time and the media should be ashamed of themselves. All across the country, conservatives have faced threats to their safety — many threats that received scant coverage or condemnation from the mainstream media," he wrote.
In the affidavit, server Ernesto Martin Herrera said he arrived in the morning at Paxton's home in McKinney, just out of Dallas, on Monday. The AG's wife, Sen. Angela Paxton, answered the door, saying her husband was inside, but in a "hurry to leave."
After waiting for an hour in his car, Herrera saw Paxton exiting his home. He walked up the driveway to approach the attorney, and called out his name.
"As soon as he saw me and heard me call his name out, he turned around and RAN (sic) back inside the house through the same door in the garage," he said in the affidavit.
Herrera said he continued to wait, and in some time Paxton's wife came out and got into the driver's seat of a black Chevrolet truck. He said she had left the rear door behind the driver's seat open. She started the truck and a man, who Herrera identified as Paxton, "RAN (sic) from the door inside the garage towards the rear door."
He once again approached the truck, called out his name, and stated he was there to deliver court documents, but his calls were ignored. Herrera said he had determined Paxton would not take the subpoena from his hand.
"I stated that I was serving him with legal documents and leaving them on the ground where he could get them. I then placed the documents on the ground beside the truck," Herrera said in the affidavit, adding Paxton got into the truck and left, ignoring the documents on the ground.
"Considering Ken Paxton is attempting to block people from fleeing the state to get access to abortion care, I find it quite ironic— almost painfully comedic— that he fled from his home to avoid a subpoena concerning abortion access.@KenPaxtonTX this is Gods will ISNT it?" tweeted an activist.
"To all those who say Texas AG Ken Paxton ran like a girl from the person serving him a subpoena from nonprofits suing him over women's rights, it's NOT true. He actually ran like a COWARD," read another tweet.
"Sounds like @KenPaxtonTX is a coward; afraid of a little ole' process server. A real man would have stood proud and accepted the subpoena if he thought he was in the right. Ken Paxton: a coward who knows he's in the wrong," a third tweeted.
"Not only did he flee, he invented a bogus tale of fearing for his family. What, from a process server? What a coward and a liar. Is this what Texas wants?" a fourth asked.
According to Ballotpedia, Paxton was indicted on two counts of first-degree securities fraud in 2015. In 2020, he was accused of bribery and abuse of office by his senior staffers. The FBI was involved in the investigation after his staffers alleged he swapped state secrets for favors from a campaign donor. Paxton has denied wrongdoing in both cases.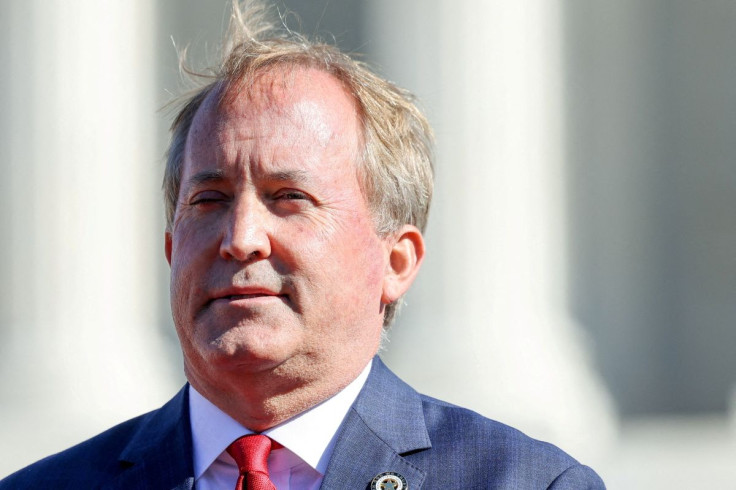 © Copyright IBTimes 2023. All rights reserved.
FOLLOW MORE IBT NEWS ON THE BELOW CHANNELS