Texas Floods 2015: Residents Start Cleanup, Struggle With Damage After Torrential Rains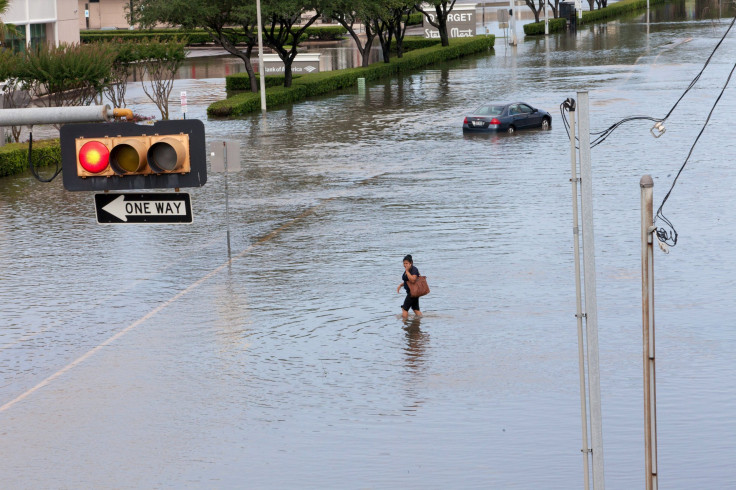 When Miriam Esther Goldman walked into her room on Tuesday, she noticed the baseball cards. Before the rain started and the house flooded, they'd been stored on the floor. But as the water rose, the cards floated, and when the storms finally stopped they stuck to the walls, marking a foot-high water line around Goldman's room. "I don't know how ... they're just plastered on the wall," she said. "It's a very eerie feeling. It's like being in the haunted mansion."
The 23-year-old Houston resident was staying away from the suddenly creepy card collection on Tuesday night, holed up in an Embassy Suites with her parents as they tried to decide what to do next. Goldman was one of thousands of people displaced in Texas and Oklahoma this week after flash floods ravaged the area.
Torrential rain over the weekend gave way to floods that shut down roads and canceled school Tuesday. Between the two states, more than 100 counties were declared to be in a state of emergency. At least 10 people were dead and 14 missing from the area as of Tuesday night, the Washington Post reported, and an estimated 4,000 homes were damaged.
Goldman wasn't even home for the worst of it. She said she and a friend were on her way back from the mall when their car started "floating" on the flooded highway. They were forced to pull over into a random neighborhood. There, the two knocked on doors and begged an old family friend to let them stay there for the night. They were less than seven minutes away from home.
Goldman called her parents, screaming requests for them to rescue certain items. Some things were saved, but others -- like her baby pictures, a special blanket from college and a Shannon Hale-signed copy of an "Ever After High" book -- were destroyed. "I don't even know what's gone," she said.
But "Thank God," Goldman added, her family was OK. Now they just had to figure out how to move forward. An insurance agent was coming Wednesday morning to survey the house, and Goldman planned to stay with friends for a few weeks.
On a larger scale, the Federal Emergency Relief Administration was already assessing the damage on the ground Tuesday. President Barack Obama told reporters he had spoken with Texas Gov. Greg Abbott and promised to expedite relief, and at least 10 state agencies were banding together to strengthen recovery efforts, International Business Times previously reported.
While waiting for official assessments and federal aid, residents began smaller cleanup projects. Curtis Christian, the 55-year-old president of the River Mountain Ranch property owners association in Wimberley, Texas, joined his neighbors down by the local riverside park to pick up.
He said there were trees everywhere, even large junipers and cypresses. Some were still whole, roots and all. Christian said his wife gathered other families' photos strewn on the ground. Another neighbor found a laptop, secure in its case. They burned the other debris.
Over in Round Rock, Texas, 52-year-old Lisa Attrill was pumping the mud out of her newly installed pool. She'd just filled it with water and chlorine for the first time on Thursday, hoping to swim with her husband on Tuesday. Instead, she wore her bathing suit as they hauled debris out of their flooded yard. Attrill said she found fish in her pool.
"It's gut-wrenching to see your whole backyard basically gone and your street flooded out," she said. "I don't know where half of the stuff is that was in the backyard."
Even so, Attrill said that's not her biggest problem: She's worried that the floods aren't over. Forecasters predict more thunderstorms will hit Texas on Thursday and continue through Tuesday, which could flood her house again.
In an act of preparation and defiance, Attrill and her husband built a small dam on their patio using lawn chairs and bricks. "It's an ongoing story because we're not done with rain," she said. "Everybody I know seems to be going through this right now."
© Copyright IBTimes 2023. All rights reserved.