'There Will Never Be Another': Il Divo Singer Carlos Marin Dies At 53
KEY POINTS
Il Divo earlier postponed their Christmas tour until December 2022 due to an ongoing illness
Carlos Marin was intubated before he died
"There wiIl never be another voice or spirit like Carlos," his bandmates said
Il Divo singer Carlos Marin died Sunday after two weeks of hospitalization, the group announced on its official Twitter page. He was 53.
"It is with heavy hearts that we are letting you know that our friend and partner, Carlos Marin, has passed away. He will be missed by his friends, family, and fans. There will never be another voice or spirit like Carlos," the Tweet read, and the profile photo was turned black as a sign of mourning.
"For 17 years the four of us have been on this incredible journey of Il Divo together," Carlos Marin's band mates David Miller, Sébastien Izambard, and Urs Bühler wrote in an official statement on their website.
The cause of death was not made clear but the news came three days after his groupmates revealed he was admitted to the intensive care unit at the Manchester Royal Medical Center in England on Dec. 8, according to Spanish news outlet El Español as cited by this report by People.
"Our dear friend and partner, Carlos, is in the hospital. We are hoping and praying for a speedy recovery," the singers tweeted Thursday.
Marin was placed in an induced coma Thursday, according to El Español. He was intubated after being admitted to the ICU in "serious" condition.
Early this month, Il Divo informed fans that they will postpone their Christmas Tour this month to December 2022 due to an ongoing illness.
"Unfortunately, due to illness, the remaining dates for Il Divo's December 2021 UK tour have been postponed until December 2022. Il Divo are deeply sorry to their fans, but look forward to returning to the road in the new year and seeing you all in the run-up to next Christmas," the band wrote on Twitter on Dec. 11.
Il Divo is a multi-national classical singing group formed by Simon Cowell in 2003 under his SyCo record label. Marin was originally Spanish, but he was born in Germany. Miller is from the U.S.; Izambard from France, and Bülher is Swiss.
Marin was previously married to French singer Geraldine Larrosa, also known as Innocence. The couple parted ways in 2009.
On Twitter, Il Divo's friends and fans posted tributes to the late singer including Broadway star and "Pretty Little Liars" reboot cast member Lea Salonga who wrote, " Truly you were one of a kind. I looked forward to singing with your luscious baritone at every performance on tour. Funny, handsome, and supremely talented. The world has lost someone special. Rest In Peace, my friend."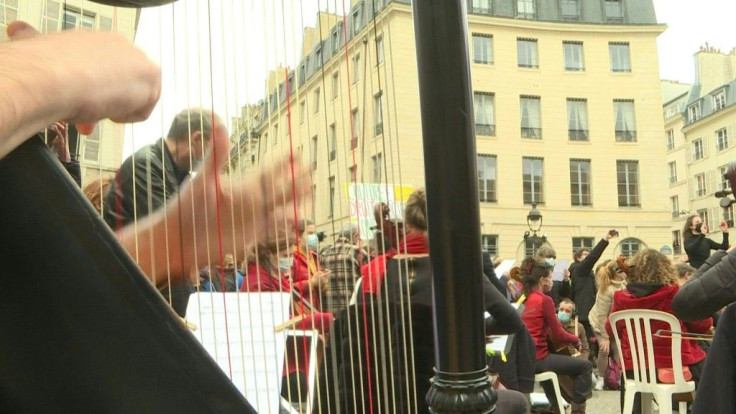 © Copyright IBTimes 2023. All rights reserved.