These GOP Senators May Vote To Impeach Trump; McConnell Leads The List
KEY POINTS
McConnell would need 67 votes to impeach Trump
The outgoing majority leader may vote in favor of removing the president from office
Other GOP senators, including Toomey, Murkowski and Romney, may vote against Trump
More GOP senators are signaling that they may vote in favor of impeaching President Donald Trump for committing impeachable offenses after inciting a violent riot at the U.S Capitol on Jan. 6.
Senate Majority Leader Mitch McConnell is leading the list of Republican senators who may vote to convict the president after he reportedly told associates that he is pleased with the effort Democrats are taking to remove Trump from office.
In speaking about the insurrection that became the final straw in Trump's controversial presidency, he did allude to a "crucial task" that's become necessary at this point in time.
"This failed attempt to obstruct the Congress, this failed insurrection, only underscores how crucial the task before us is for our Republic," McConnell said.,
The Senate is scheduled to return to session on Jan. 19 to vote on an impeachment legislation against Trump. McConnell — who will soon be the new Minority Leader — would need 67 votes to convict the president and permanently ban him from holding federal office. Here are several GOP Senators who could vote in favor of Trump's removal.
Senate Majority Leader Mitch McConnell of Kentucky
The outgoing Senate majority leader had previously blamed Trump for the GOP's loss in the Georgia Senate runoffs, according to associates familiar with the discussions. He reportedly told colleagues that Trump had committed impeachable offenses. McConnell's wife, former Transportation Secretary Elaine Chao, also resigned from her position following the violent riots.
Pennsylvania Sen. Pat Toomey
Senator Toomey on Sunday urged Trump to resign from office and warned that he could face "criminal liability" for inciting the deadly riot at the U.S. Capitol. While he believes the president committed "impeachable offenses," he is unsure whether impeaching Trump is the right action to take.
Alaska Sen. Lisa Murkowski
Republican Senator Murkowski on Thursday signaled support for convicting Trump at a Senate trial after praising the House for impeaching the president. She joined other GOP senators who had previously spoken harshly against Trump, including Sens. Mitt Romney of Utah, Ben Sasse of Nebraska, and Susan Collins of Maine.
"I want him out. He has caused enough damage," Murkowski told Anchorage Daily News on Saturday.
Utah Sen. Mitt Romney
Senator Romney is largely expected to vote in favor of Trump's impeachment after he voiced his anger over the siege at the Capitol. In September 2020, Romney was the only Republican to vote in favor of convicting Trump after the president was impeached for abuse of power and obstruction of Congress.
"In light of today's sad circumstances, I ask my colleagues: Do we weigh our own political fortunes more heavily than we weigh the strength of our republic, the strength of our democracy, and the cause of freedom? What is the weight of personal acclaim compared to the weight of conscience?" Romney said when the Senate reconvened hours after the shocking insurrection on Jan. 6.
Ohio Sen. Rob Portman
A moderate Republican, Senator Portman on Tuesday said he believes Trump "bears some responsibility" for the violent riots and breach of the Capitol, and urged the president to call on his supporters to remain peaceful. He refused to answer questions about whether he will vote in favor of Trump's impeachment.
North Carolina Sen. Thom Tillis
Tillis has previously issued inflammatory remarks against Trump for inciting the mob that attacked the Capitol. In a statement, he described the violence as "anarchy" and a "national disgrace."
"This is not what America stands for," Tillis said.
The North Carolina senator may vote against Trump if McConnell, who recently helped him get re-elected, votes in favor of impeachment.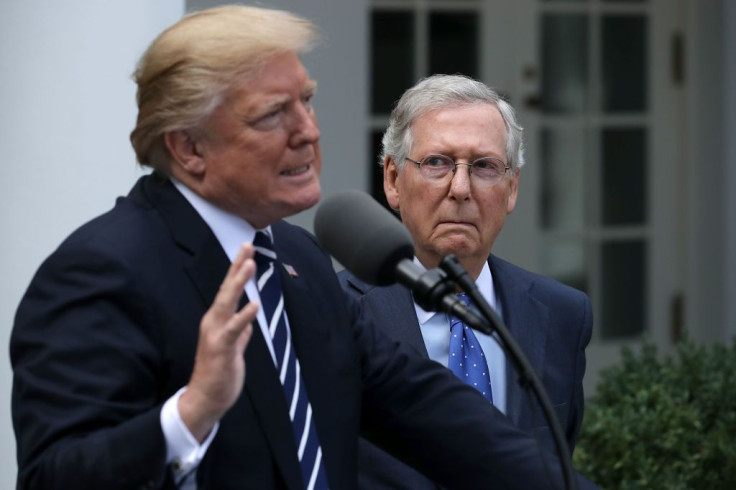 © Copyright IBTimes 2023. All rights reserved.