This Royal's Touching Gesture Makes A 'Conscious' Meghan Markle Turn Relaxed Near Kate And Camilla
A member of the royal family has stepped up to help Meghan Markle feel at ease during a service for Queen Elizabeth at Westminster Hall.
According to royal expert Rebecca English, Sophie, the Countess of Wessex, offered a touching gesture to the Duchess of Sussex after noticing that she looked "self-conscious" standing alongside the other female members of the royal family during the service last Friday.
Sophie and Meghan traveled in the same car during the procession that took the late queen's coffin from Buckingham Palace to Westminster Hall, where her body lies in state until her funeral Monday. When Sophie and Meghan reached the hall, they joined Queen Consort Camilla and Catherine, Princess of Wales, at the front door as they waited for the coffin to pass through.
English noted that the gap between the Duchess of Sussex and the other female members of the family was quite noticeable in how Meghan conducted herself during the service. "Meghan looked decidedly self-conscious," she said.
"Shoulders back, clutching her programme and bag, she was the most stylish and striking of them all. But there was something self-consciously awkward about her posture, demonstrating the depth of the rift between herself and the rest of the royal family even if you happened upon them without any prior knowledge of the acrimony of the past four years," she added.
She said Meghan "seemed so lost for something to do" during the service that at one point, she decided to just rest her left hand in her pocket. Upon noticing this, Sophie "broke the ice" by leaning closer to the Duchess to make her feel comfortable. Sophie reportedly initiated a brief chat with Meghan until she finally eased up and looked more relaxed.
Sophie, the wife of Queen Elizabeth's youngest son, Prince Edward, has long had the reputation of being the "peacemaker" within the royal family. Before Prince Harry and Meghan stepped down as senior royals in 2020, she and Meghan often traveled together to attend official events. Sophie was also the first member of the royal family to check up on Meghan after she gave birth to Baby Archie in 2019.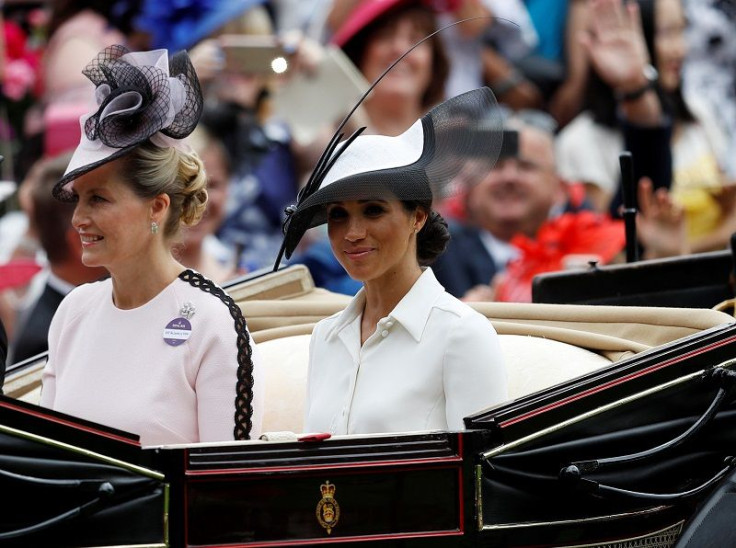 © Copyright IBTimes 2023. All rights reserved.
FOLLOW MORE IBT NEWS ON THE BELOW CHANNELS