'Tiger King': Real Reason Carole Baskin Rejected Offer To Star In Season 2
KEY POINTS
Carole Baskin turned down "Tiger King" producers when they approached her with an offer to star in a second season
Baskin said she told producers to lose her number after feeling betrayed by them in the first season of the show
The Big Cat Rescue owner felt that the timing of the show's airing played a role in catapulting her to infamy
Carole Baskin has no plans to be part of a second season of "Tiger King."
The Big Cat Rescue owner revealed she turned down an offer from the makers of the hit Netflix show to star in "Tiger King" Season 2.
"I told them to lose my number," Baskin told Page Six. "Fool me once, shame on you, fool me twice, shame on me."
The 59-year-old alleged that when the producers approached her, they made her believe she would be the heroine of the docuseries. However, the show instead delved into the rumors that she murdered her first husband, Don Lewis, and fed his body to the tigers. She has strongly denied the allegations.
"The first three months [after 'Tiger King' aired] my phone rang incessantly with people screaming obscenities. After that it slowed down," Baskin told the outlet.
She explained that she "didn't take it personally," but "it really affected my husband [Howard Baskin] and daughter. If someone said something about someone you love, you would want to protect them."
Baskin further said she believes that the false rumors about her were used by her rivals in the big cat industry to slander her.
"Once they tell the media, 'She killed her husband and fed him to the tigers,' it worked for these animal abusers to say these things publicly," she told Page Six. "But it's not true and all you have to do is look into it and know it's not true."
She also speculated that the timing had a lot to do with her catapulting to infamy. Baskin said that if the show had aired after the lockdown, the reception would have likely been much different.
"'Tiger King' came out when lockdown happened, you had Joe Exotic saying 'Carole Baskin was responsible for everything wrong.' People needed someone to blame. It was a perfect storm," she explained.
"Had it aired right now, it would have been a different experience. . . it was still cleverly edited and had things that weren't true, but I don't think there would have been a global vitriol and outpouring because people were so scared at the time," she continued.
In a previous interview, Baskin confessed that she feared leaving her home due to the death threats that she received after the series aired. She also said she was shocked that the show dedicated an episode about her missing husband.
In "Tiger King," which premiered in March 2020, she opened up about the abuse she suffered from her first and second husband because producers told her that it would be used as background context and not as the main thrust of the series. It also featured Joe Exotic's tirades against her and his theory that she killed Lewis and fed him to her tigers in 1997.
"There's almost no way to describe the intensity of the feeling of betrayal," Baskin's husband, Howard Baskin, said.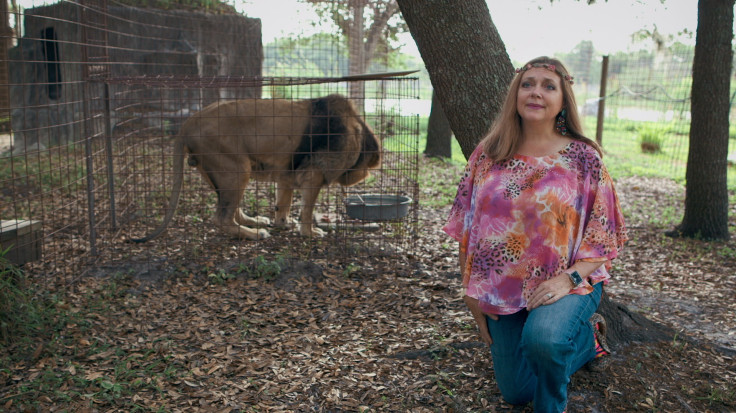 © Copyright IBTimes 2023. All rights reserved.