Time Change 2017: Why And When Do We Switch To Daylight Saving Time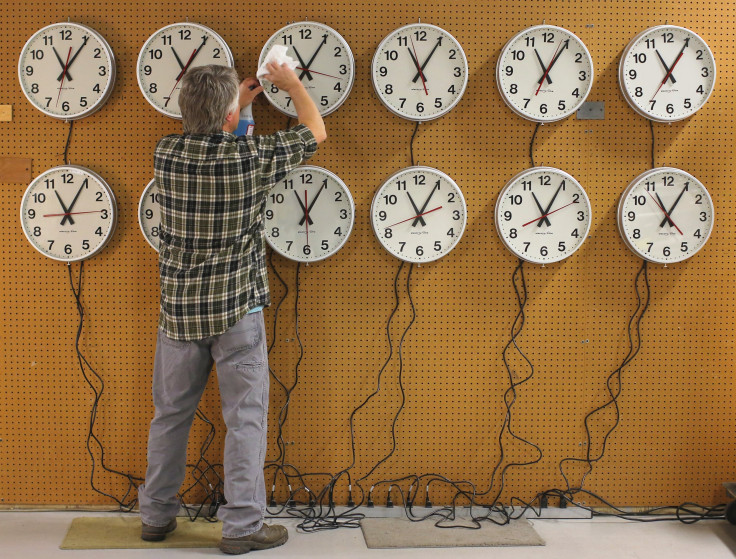 State lawmakers in Montana are debating whether to end daylight saving time, when most Americans turn their clocks ahead by one hour and gain an extra hour of sunlight for spring and summer. The debate comes as the U.S. is prepared to change the time on clocks at 2 a.m. on March 12.
Montana and other states have considered opting out of daylight saving time in the past, but most of the country has spent decades changing the time twice a year. So why do we do it?
"In addition to the benefits of energy savings, fewer traffic fatalities, more recreation time and increased economic activity, Daylight Saving Time helps clear away the winter blues a little earlier," Sen. Ed Markey (D-Mass.) said in a statement in 2014. "Government analysis has proven that extra sunshine provides more than just smiles. . . . We all just feel sunnier after we set the clocks ahead."
Germany was the first country to embrace daylight saving time in 1916 to save energy. After other European nations did the same, the U.S. eventually adopted daylight saving time in 1966 after flirting with making the time change official policy for years. To this day, only Arizona and Hawaii do not observe daylight saving time.
"An annual rite of spring, daylight saving time is also a matter of energy conservation. By having a little more natural daylight at our disposal, we can help keep daily energy costs down for families and businesses," Rep. Fred Upton (R-Mich.), said about the time change in 2013.
But ot everyone loves marking the end of winter with an extra hour. Studies have found daylight saving time can lead to workplace accidents, suicide and headaches, likely due to disruption in workers' sleep cycles.
And daylight saving time doesn't do much to save energy, after all. The California Energy Commission found it saved a mere 0.18 percent in energy consumption at best, perhaps because like to stay indoors with the air conditioning turned out instead of going outside in the summer heat.
© Copyright IBTimes 2023. All rights reserved.