Tom Felton On Kim Kardashian's Slytherin Hair: 'So Apparently Kanye Has A Draco Fetish'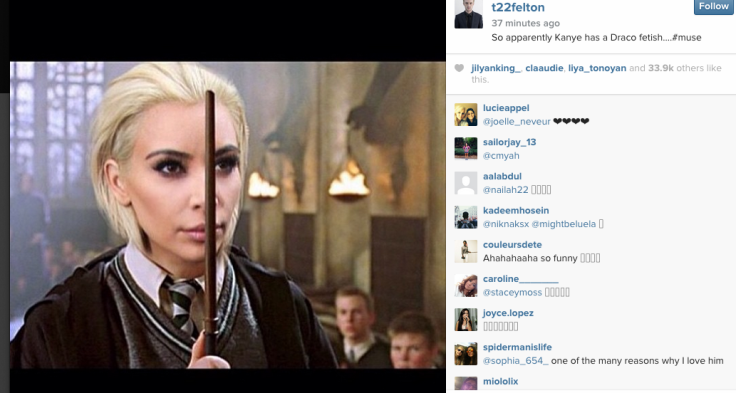 To say that Kim Kardashian's new platinum blond hair at Balmain's show during Paris Fashion Week Thursday wasn't well received would be an understatement. It even got the attention of "Harry Potter" star Tom Felton.
Felton famously portrayed Harry Potter antagonist Draco Malfoy. He tried to befriend Harry in the beginning of the film series, but after Malfoy was sorted into Slytherin house, Harry wanted nothing to do with him. Though Felton played a villain throughout the series, he has a large fan base.
It wasn't long before the British actor got word that his character was being compared to Kardashian, and he had something to say about it. "So apparently Kanye has a Draco fetish. ... #muse," he posted on Instagram and Twitter Thursday afternoon.
The photo was just one of many memes that circulated the Web Thursday. The particular one Felton, 27, chose to share was a picture of his character holding his wand up to his face. Instead of his head, it was Kardashian's. Aside from having the same color locks as Malfoy, she also slicked her hair back like the Slytherin leader.
Within minutes, the post had more than 40,000 likes on Instagram from his 784,000 followers and garnered hundreds of comments. "Hahahaaha wtf :')," one person said. "haha! What a babe xxx," another added.
Kardashian, 34, did not immediately respond to Malfoy's meme. In an interview with People magazine last year, she explained that husband Kanye West preferred her blond: "He asked if I would ever go back to blond. I was like, 'Not right after a baby, because my face was so swollen and it looked like my lips were huge. My face was just off.' "
Now it appears her look is off, unless she's going for the Draco Malfoy-Slytherin look.
Follow me on Twitter @mariamzzarella
© Copyright IBTimes 2023. All rights reserved.