Tom Felton Praises Emma Watson After Rupert Grint 'Spark' Comment
Does Tom Felton want to date Emma Watson? Just after Rupert Grint said that there was a "spark" between the two "Harry Potter" stars, the Draco Malfoy actor said in a recent interview that he likes it whenever he meets with her.
In a recent interview with Metro, Felton revealed that Watson lives close by to his house in Los Angeles. The other former "Harry Potter" cast member who lives close by is Bonnie Wright, who played Ginny Weasley. Neville Longbottom actor Matt Lewis also apparently lived close by for some time.
Felton had good things to say about all his former co-stars. "I couldn't say enough good words about any of them," he said.
Talking about the Ron Weasley actor Grint, Felton said that he was a very "down to earth" person despite the fame. Daniel Radcliffe, who played the lead role of Harry Potter, has an "incredible" work ethic, according to Felton.
As far as Watson is concerned, Felton revealed that she lives just around the corner from him. He called her a "unique, beautiful soul." "It's always nice to bump into one another," Felton said about the Hermione Granger actress.
When asked by the interviewer if Watson could "rule the world one day," Felton agreed that she could. "I doubt it not," the "Harry Potter" star said.
The comments by Felton come just after Grint said in a recent interview that he saw a "spark" between the Draco Malfoy actor and Watson while they were filming "Harry Potter." He also added that he could see the two actors get together at some point in the future.
Meanwhile, Watson is not dating anyone. In an interview with Vogue she said that she is happy being single. She also talked about feeling an incredible amount of anxiety because she has turned 30, and there is an expectation in society to have a home, secure career, and have husband by that age.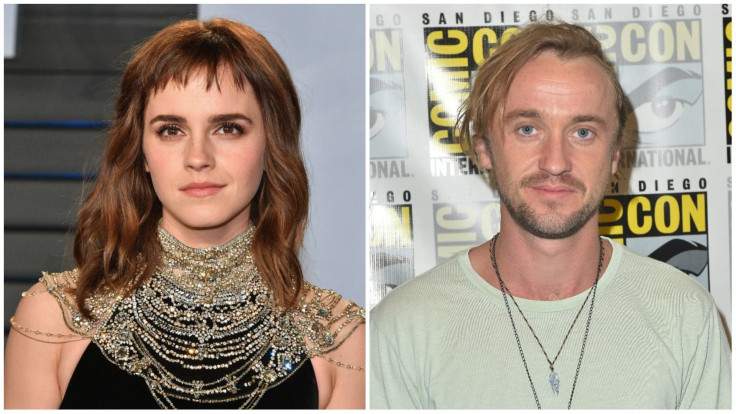 © Copyright IBTimes 2023. All rights reserved.