'Tomorrowland' Is A Bumpy But Fun Ride With George Clooney, Britt Robertson [REVIEW]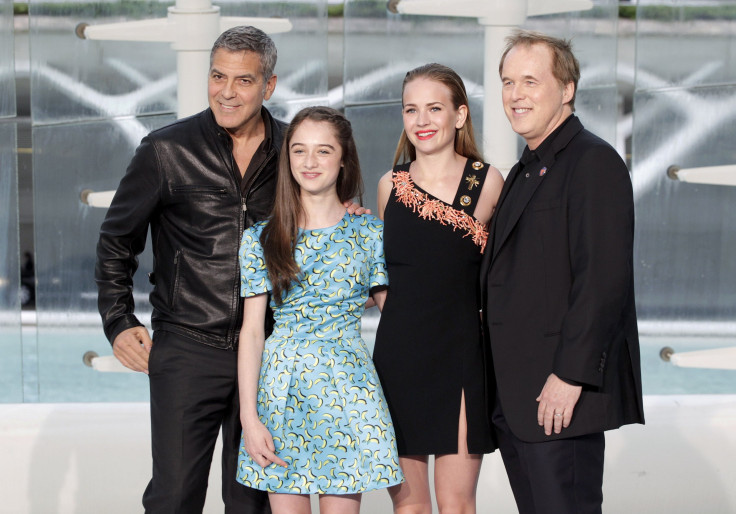 "Tomorrowland" is the sixth movie Disney has based on a theme park ride and probably won't be the last. Yet, it is different, both in scope and in ambition from its predecessors, trying out big ideas for its adult audience members as well as its reaffirming platitudes for kids. "Tomorrowland" asks its audience: "Can't you just be amazed?"
Casey Newton (Britt Robertson) is trying to change the world, but she's too focused on the present to notice. That is, until she receives a pin inviting her to Tomorrowland, an especially bright and sunny look into the future. But to go back again, she must find Frank (George Clooney), now a grown-up Tomorrowland exile, and enlist him to save the future for both the present Earth and Tomorrowland from Nix's (Hugh Laurie) meddling.
"Tomorrowland" is laden with surprises for fans of all ages. A silly cameo from Keegan-Michael Kay and Kathryn Hahn takes place in a sci-fi store (that's conspicuously chock full of the company-owned "Star Wars" toys) featuring relics from the time of "The Forbidden Planet" and "Planet of the Apes" will have the kids laughing and the grown-ups pointing at the toys they grew up with. Robertson and Clooney's repartee functions in much the same way, ping-ponging stubborn energy until the other relents. Half the fun in "Tomorrowland" lies in their slow acceptance of each other's company.
However familiar, "Tomorrowland" is a strange experiment. Both partially optimistic and cynical about the future, yet also assured that special folks among us can save the day. It's individually focused, yet confirms "it takes a village" to save the day at the very end of the movie. What comes across from "Tomorrowland" is plenty of its own dissonance about the future.
Screenwriter Damon Lindelof lives for the hidden secrets and convoluted dangers of his previous series "Lost" and movies like "Star Trek Into Darkness." Several key plotlines are disposed of in a manner of seconds, meaning young ones following the movie could get lost. But those old enough to have caught "Lost" on TV, may feel unmoved by Lindelof's attempt at sentimentality. It just really isn't his forte.
Fault whatever muddled message is out there, but "Tomorrowland" looks spectacular, just as almost every other Brad Bird film does like "The Incredibles" and "Mission Impossible: Ghost Protocol." Melding both steampunk and the 1964 World's Fair aesthetics into one sci-fi reality makes for an interesting playground inspried by the history of Tomorrowland itself.
"Tomorrowland" is straddling many ideas and communicating so little. Although optimistic in tone, there's much in-fighting as to what the movie is trying to convey. It's an interesting scrapbook that could have been made into several different movies dealing with the layers of cynicism and questioning why our cultural outlook of the future went from that of hope to fear or despair. As fun as Robertson and Clooney are to watch, I wish Casey was given more of a poignant arc like her co-star. Or that an inclusive future didn't sequester an Epcot-sized amount of diversity to the last few seconds of the movie.
Perhaps there's a great big beautiful tomorrow for that kind of movie yet to come.
"Tomorrowland" opens in theaters on Friday.
© Copyright IBTimes 2023. All rights reserved.