Top 3 Best Revenue Intelligence Softwares In 2021
This article uses affiliate links, which means if you purchase products through these links, we may earn a commission. Click here to see our
T&C
. For licensing please click
here
.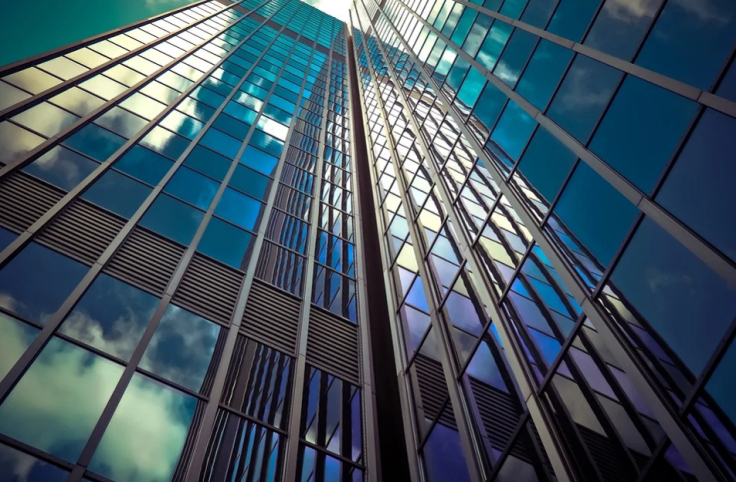 If you're running a business, you know that generating revenue isn't as simple as selling your "brilliant" idea, product or service. It's a combination of many plans, tactics, and hard-working people executing together. For businesses that are scaling, you need to know more than just how much you're earning and your expenses.
Achieving great outcomes requires a revenue operation that is focused on using data to optimize processes, people, messaging, and strategies. So, where do you go from here?"
Enter Revenue Intelligence, which is one way of leveraging artificial intelligence (AI) to do the work, gain access to advanced metrics and generate more operational productivity. An AI-driven and data-centric process, revenue intelligence syncs and manages the processes and teams needed to drive revenue, which can then result in growth. The data you get from Revenue Intelligence Software can also be used in different ways, as the raw data provides insights that are not easily available and go beyond what customer relationship management (CRM) can give.
While Revenue Intelligence is truly revolutionary, it's still fairly new. But, adopting it now means you'll operate more efficiently with lower costs while everyone else is still catching up. Here are three of the best revenue intelligence software that you can try today: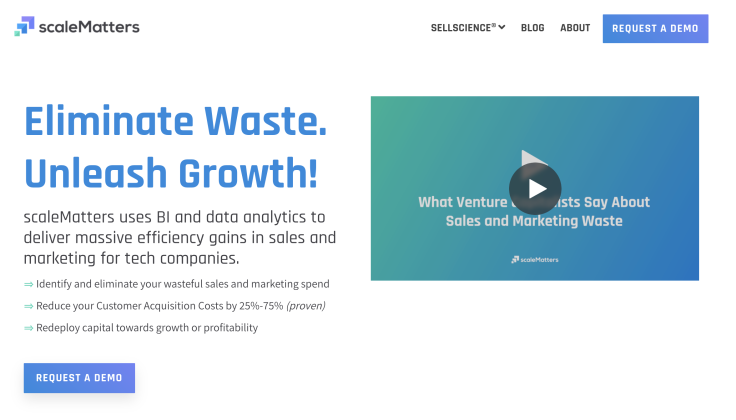 A data analytics company that caters to revenue leaders, CEOs and CFOs, scaleMatters leverages structured and unstructured data in order to identify any friction or waste that's hindering sales and marketing operations.
These friction points might include low yielding strategies, poorly integrated technologies, broken processes, underperforming people, messaging not resonating with prospects, or weak product/market fit.
Fixing or eliminating these friction points maximizes the possibility of a lower customer acquisition cost (CAC), or the amount of money you have to spend to win a new customer.
scaleMatters achieves this via a tried-and-tested three-step approach:
First, they implement a data integrity model into their client's sales and marketing technology. Their sophisticated model captures and aggregates high-quality performance data from sales and marketing activities, "Voice of Prospect" data from sales conversations, as well as revenue planning data from financial plans.
Second, they layer on their revenue intelligence software dubbed SellScience® in order to visualize what's working (and what's not), perform thorough analysis, and quickly apply changes and allocate resources appropriately.
Lastly, scaleMatters will provide the client company with actionable insights made by actual business analysts. This way, the leadership team will not only know what decisions to make, but why they're making them, all thanks to reliable data.
Because scaleMatters takes advantage of performance data from sales and marketing as well as conversation data from sales calls, their revenue intelligence software is perfect for companies with higher velocity sales models who believe that selling is as much about process optimization as it is about relationship building.
Another thing that makes scaleMatters standout from the rest, and earn a spot on this list is that their process starts by implementing a data integrity model that guarantees all data is valid and correct, and then they maintain that on an ongoing basis. Other similar solutions provide data visualizations, but do not address the underlying data integrity.
scaleMatters is also excellent for sales and marketing teams that need to find cost-effective strategies to invest their sales and marketing dollars, as they're focused on data and insights that can affect these decisions.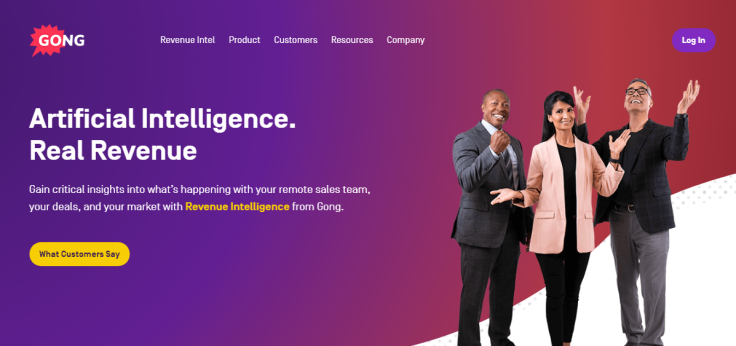 Next on the list is Gong, which is a multi award-winning revenue intelligence software company that has offices in both San Francisco and Israel. As a software company, Gong specializes in remote sales teams, making them perfect for companies that either don't follow the traditional office setting or simply had to shift to work from home this year.
Gong takes advantage of revenue intelligence in order to gain critical insights on your ever-changing market, your evolving customers and your own team and talent. It does this by not only capturing data in the form of analysis reports, sales or marketing technology. Instead, it also captures video and phone calls, emails, and even face to face meetings in order to get a more personalized and organic perspective of the entire process.
From there, Gong uses its AI to understand topics, competitors and even deals, analyzing them and sending insights via three categories:
People Intelligence - deals with winning behaviors that can be replicated by others
Deal Intelligence - focuses on which deals are ripe and which are at risk
Market Intelligence - focuses on giving you a more detailed insight into the market so your company GTM and messaging would always resonate with your target
All insights are delivered in real-time, which according to Gong's data, helps with customer retention, maximizing your existing pipeline and minimizing any risks. As such, Gong is trusted by over 1,000 companies like LinkedIn, Pinterest, AutoDesk, Hubspot, etc.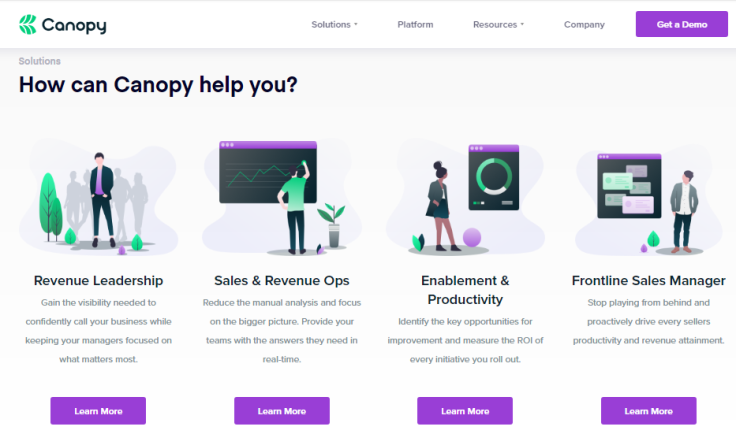 Last on the list is Canopy, which is a revenue intelligence platform that just started in early 2020.
As a platform, Canopy focuses on providing sales managers with the visibility that they need when it comes to tracking pipeline activity, team performance and driving revenue. Canopy is also the only platform that makes use of augmented revenue analysis to provide answers and insights that frontline sales managers can use.
Canopy does this via its multi-feature platform that stands on four pillars, namely
Signals - provide the revenue team with notifications and early risk identification
Forecast - provides snapshots of the pipeline, variance reporting, and even individualized coverage reporting
Coach - focuses on removing seller weaknesses while also identifying their strengths for best practices
Analysis - provides key insights with the overall process
Through this, sales managers get a deeper look into what works and what doesn't, get access to tools needed to bring out the best in the team, and ultimately make decisions based on the data available.
As Artificial Intelligence becomes more integrated into business, expect more companies to leverage revenue intelligence software in order to significantly exceed their revenue and growth goals.