Top 7 Best Heavy Duty Golf Umbrellas In 2020
This article uses affiliate links, which means if you purchase products through these links, we may earn a commission. Click here to see our
T&C
. For licensing please click
here
.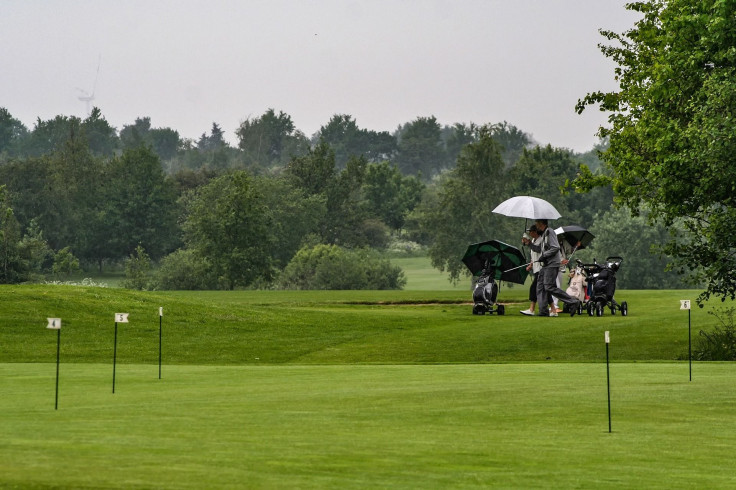 Golfers who love to tee off can be dampened in spirits too because of bad weather. Not only does it make playing challenging, but it also messes up clothes and makes for a dull affair on the course. Golfers who play regularly swear by a large golfing umbrella, whose canopy spreads widely enough to let more than one person in, allowing golfers to traverse the course and play the game easily.
These umbrellas are designed in such a way to keep dripping to a bare minimum and help keep players dry and allows them to focus solely on their game. Here are some of the best golfing umbrellas to consider.
1. BAGAIL Golf Umbrella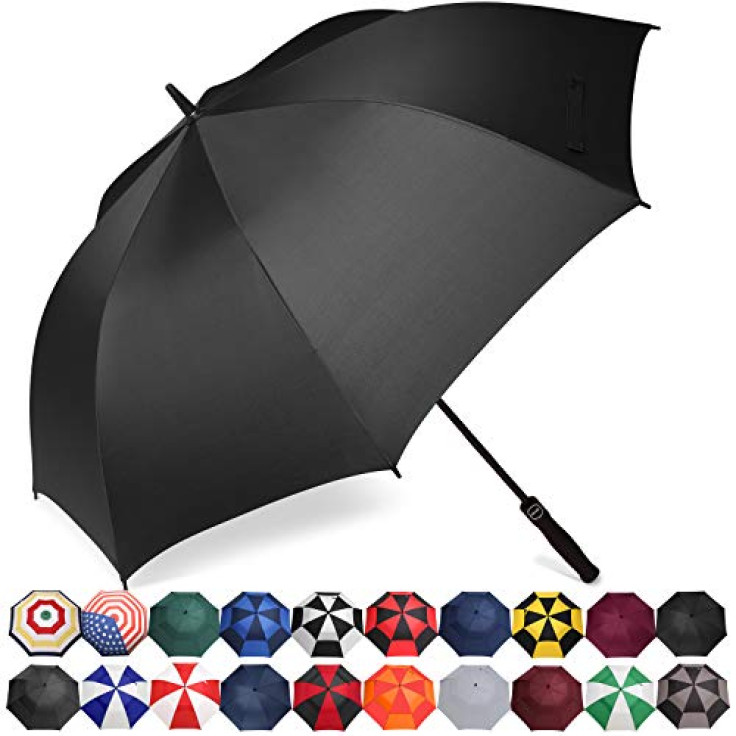 (photo from amazon.com)
BAGAIL Golf Umbrella is equipped with a tough canopy made out of strong materials and comes with a grip covered with rubber that helps golfers hold on to them at any tough weather conditions. It also has an auto-open mechanism for easy unfurling that helps users not miss out on their game for any reason and keeps them going at any conditions.
2. G4Free Golf Umbrella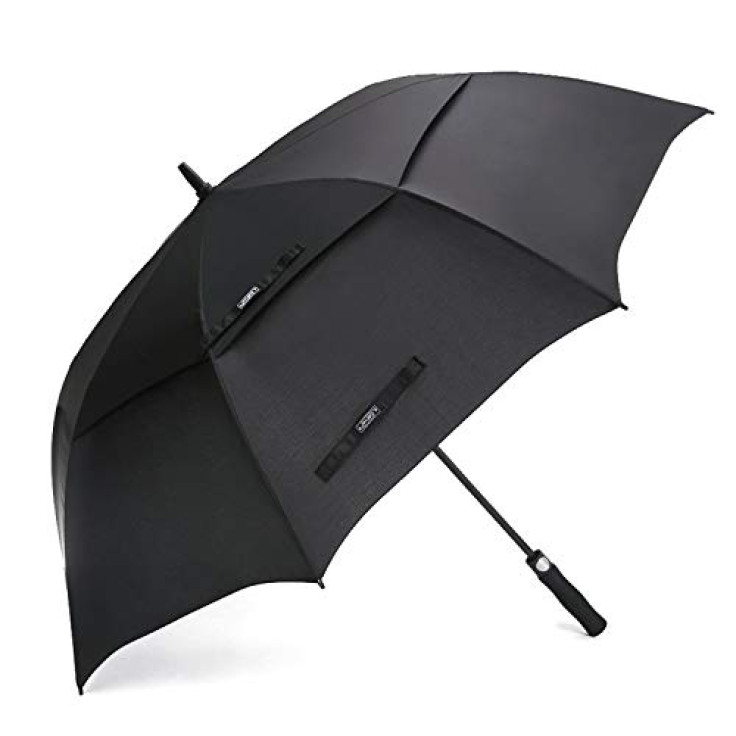 (photo from amazon.com)
G4Free Golf Umbrella comes with a heavy-duty design in three sizes of 52, 62 and 68 inches. It has a sleek design and an all-black body with a comfortable grip made with EVA materials that offer protection in both sunny and rainy conditions. Its sturdy frame and auto open mechanism give the umbrella a perfect usage ability in both metropolitan city conditions or on sports fields.
3. Procella Golf Umbrella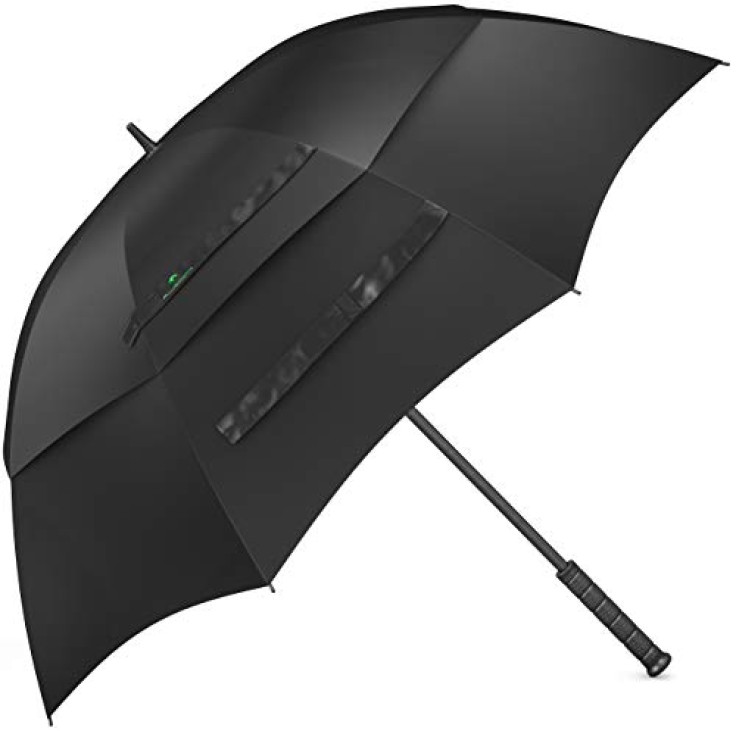 (photo from amazon.com)
Procella Golf Umbrella recently won the "Best in Test" award from Golf Review and the Best of the Best recognition from the Chicago Tribune Buyers Guide. The umbrella can withstand all weather challenges that could potentially ruin a perfectly lovely game of golf. It comes with a fiberglass frame and a tear-resistant construction that can resist winds up to 46 miles per hour.
4. Repel Golf Umbrella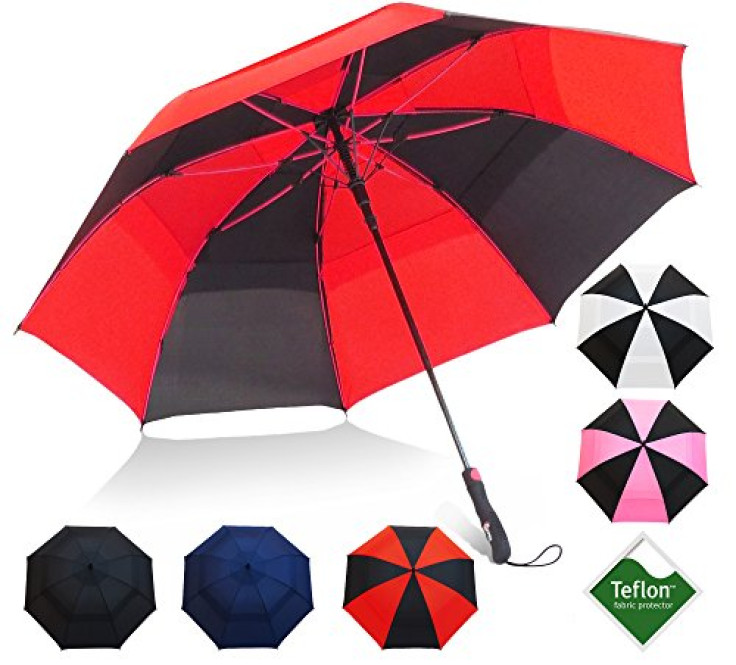 (photo from amazon.com)
Repel Golf Umbrella is constructed out of reinforced fiberglass and is coated in a special edition red paint. The umbrella offers a durable windproof frame that is comprised of three layers of eight ribs that help protect it against giant gusts of wind and make it last longer too. Its large 60-inch canopy and is wind resistant, waterproof and lightweight.
5. NOOFORMER Golf Umbrellas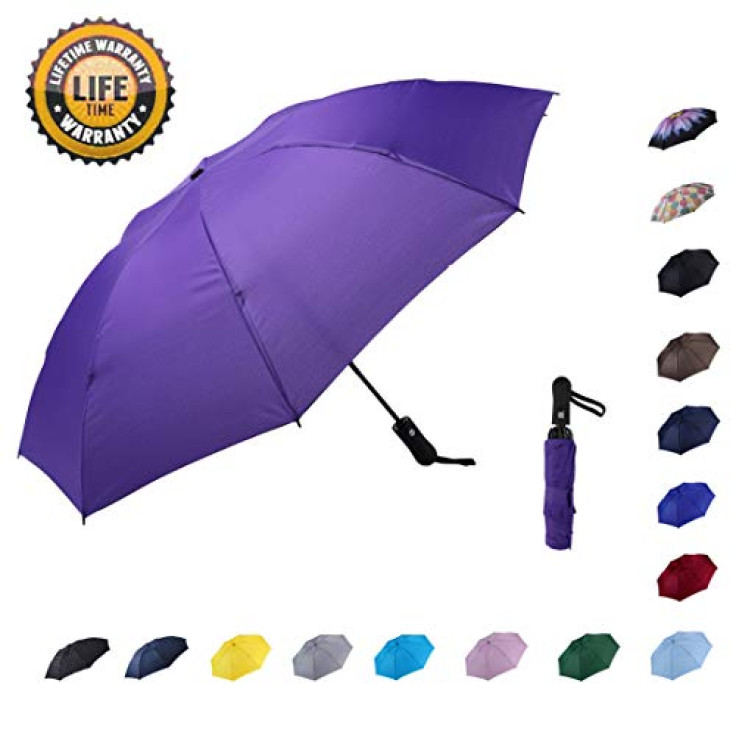 (photo from amazon.com)
NOOFORMER Golf Umbrellas prevents users from getting wet while stepping into cars in the heavy rain even while using the umbrella through its reversible design. This design helps the user fold the insides when they are wet while stepping into cars or any indoor locations, which prevents water from dripping, keeping floors dry. Its canopy is made of a high-density 210T rip-stop waterproof material.
6. Dryzle Umbrella for Golf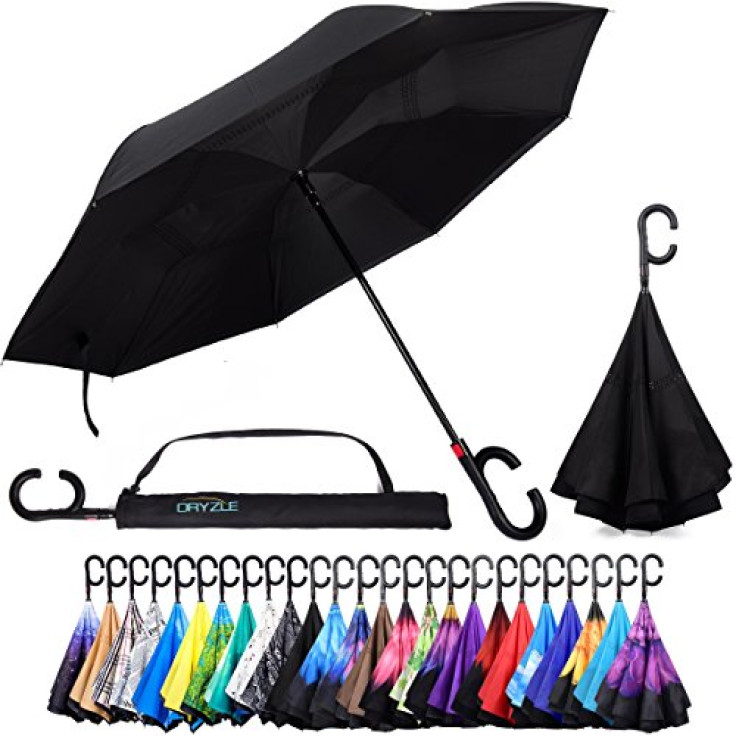 (photo from amazon.com)
Dryzle Umbrella for Golf comes with a special 'C' shaped ribbed handle design that is larger than usual and allows users to keep hands free and perform any task. The umbrella's buyers are automatically enrolled in the brand's 90 days replacement program. It also has a smooth opening and closing mechanism that allows users to enter or exit their cars without hassle.
7. Heasy Golf Umbrella
(photo from amazon.com)
Heasy Golf Umbrella is big enough to shelter as much as three people against heavy rains and is an ideal companion for golfers, business professionals or for daily use. It has a double-vented canopy design that allows for passing winds to no longer cause the umbrella to get blown inside out. Its shaft and ribs are made of fiberglass, which is flexible enough to withstand powerful winds.
FOLLOW MORE IBT NEWS ON THE BELOW CHANNELS