Top Things To Do On Discord App That Microsoft Is Considering To Buy
KEY POINTS
Discord has a user-friendly interface
It has 140 million monthly active users
User can connect with like-minded people
Discord, the gaming chat platform reported to be a $10 billion takeover target by Microsoft Corp, transformed into a virtual and social communication platform quite dramatically during the COVID-19 pandemic. The five-year-old company has more than 140 million active users per month and 6.7 million active servers.
The free-to-use app allows users to enter public servers and create online communities, helping it to widen its user base from e-sports players talking to each other while playing strategy games and first-person shooter games.
The video, voice, and text chat app is available for Mac, PC, iPhone and Android devices. A user can freely create their own server and invite friends to stay connected through its multiple voices and text channels. It is similar to the Slack app, but with more features.
One can connect with like-minded people on a server, a user-created online group. For example, a user can create a Discord account and browse through the various topics available and join the server containing multiple channels of interest. Discuss topics like gaming, movies, politics, and adventure. One can also join book-reading sessions and plan for adventure trips. The users can join their favorite live streamers' Discord channels to keep themselves updated. Here's a list of cool things to do on Discord.
Play With Bots
Discord is a user-friendly application, after creating a group or a server, a user can customize and build a new interface suitable for easy access. It provides an AI feature that can be used to welcome people entering the server. One can connect directly on YouTube and Spotify to listen to music through the AI feature. The easy-to-use command and run feature enables the user to connect and disconnect on multiple groups or servers. A user can attach bots such as MEE6, ProBot, Voicy, Musibeth, Spixx and Groovy to create an enjoyable environment and niche community.
Share your screen
Discord has a unique feature that lets the user share the computer screen with the audience. In the app, a user can click on the share screen option which will enable people around him to view his live screen and applications. With the share screen option, one can organize a movie night, video conferences, seminars, resolve technical issues, etc. Other applications like Skype or Google Hangouts are yet to introduce such features. These days gaming streamers hold exclusive live streams for VIP members and subscribers on Discord.
Memes and GIFs
Discord's chat feature has an in-built GIF interface. It automatically generates memes and GIFs for easy chats. Its trending GIFs section will keep you amused on a regular basis. The user can design and upload custom emojis for a group or server. Many users create logos of their community and use it for chatting on multiple servers.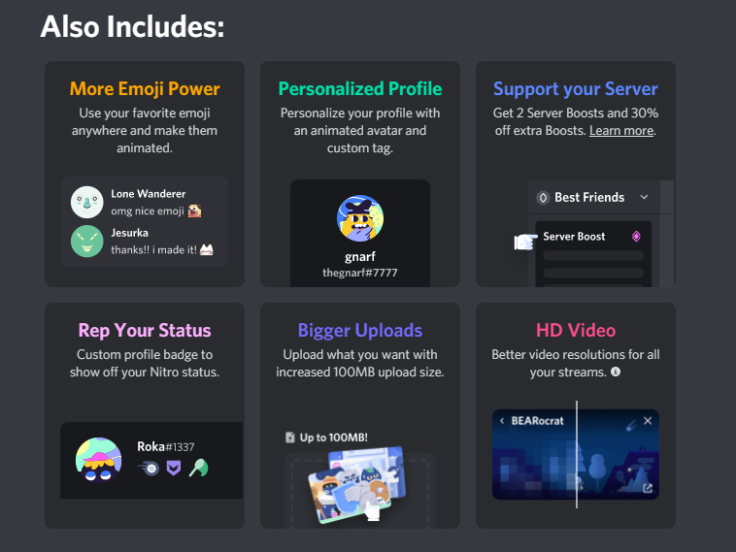 Nitro
Nitro is a premium paid service offered by Discord. It is hugely popular among its users. Options include $99.99 for yearly and $9.99 monthly subscriptions, giving users global access to emojis from all the channels, a custom tag, animated avatars and server boosts to communities. For example, on a free user account, a user can only send files to friends and groups up to 8 MB, but Nitro Classic and Nitro subscribers can upload files up to 50 and 100 MB, respectively. The premium version allows users to stream video up to 1080p at 30 FPS or 720p at 60 FPS.
Discord's popularity in the gaming community will help boost Xbox's subscriptions. Last September, Microsoft bought ZeniMax Media, the parent company of game publishing giant Bethesda Softworks known for its Doom, Fallout, and The Elder Scrolls franchises.
© Copyright IBTimes 2023. All rights reserved.