Topless Woman Protests Donald Trump At Bernie Sanders Rally In Arizona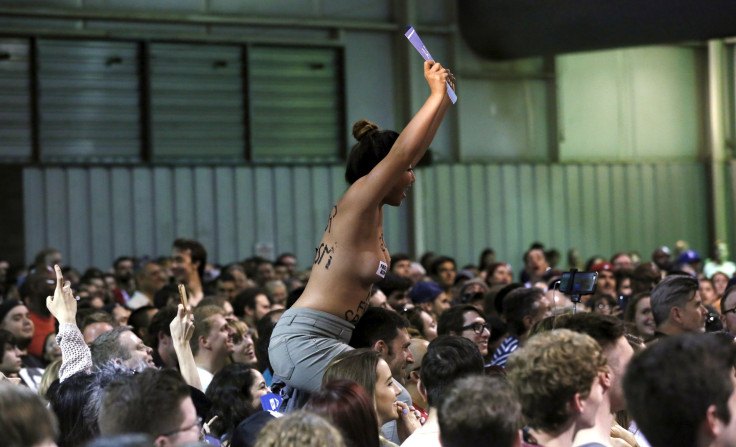 As clashes between protesters and supporters at Donald Trump's rally again made headlines over the weekend, Bernie Sanders' Saturday event saw its own moment of protest. But instead of a fight, the protest came in the form of a topless woman.
Partway through Sanders' speech in Phoenix, a woman climbed onto a man's shoulders and removed her shirt, the Washington Post reported Sunday. Anna Mi, from Los Angeles, sported black painted messages on her bare back and front.
Her back read "STOP FASCISM" and and her front said "HATE SPEECH IS NOT FREE SPEECH" — messages directed at the Republican front-runner, not Sanders. While she wore no shirt as she cheered on the Vermont senator, Mi did wear two strategically placed "Free the Nipple" stickers.
When Sanders spotted the woman, he paused and she was led to the back of the event without further incident. Mi told reporters Saturday that she had tried, and failed, to get into Trump's rally in Fountain Hills, Arizona.
That rally was temporarily delayed after protesters blocked a highway leading to its location. A pair of pickup trucks decorated with banners that read "Comb Over Racism: Dump Trump" and "Shut Down Trump" first blocked the Arizona highway. When the trucks were removed, protesters continued to stop cars by forming a human chain until police officers began arresting some of them, CNN reported. At a second Trump rally later Saturday, a man was charged with assault and injury after someone captured him on video punching and kicking a protester.
On the same day, anti-Trump protesters gathered in New York City to express their disgust with the businessman, who has repeatedly made anti-Muslim and anti-immigrant comments while campaigning for his party's presidential nomination. People gathered at Columbus Circle in Midtown Manhattan and protesters told International Business Times that an estimated 10 people were pepper-sprayed during the march.
© Copyright IBTimes 2023. All rights reserved.
FOLLOW MORE IBT NEWS ON THE BELOW CHANNELS