Tough Times: The Gray Lady Fights Wall Street, Employees And Its Own Bad Press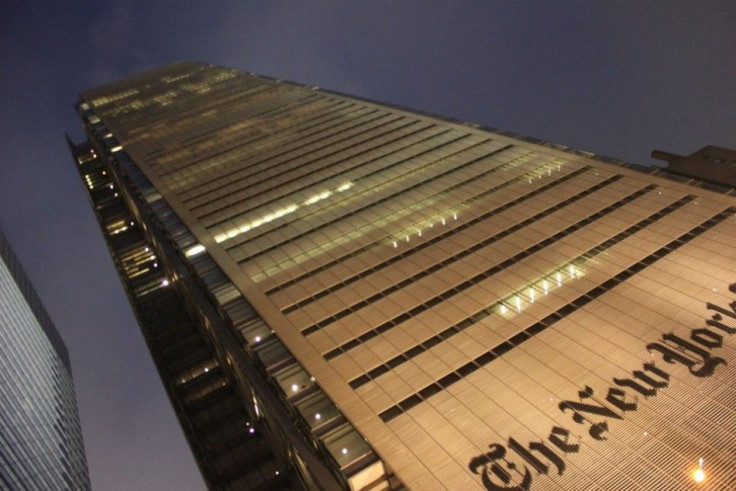 On a Friday afternoon in March, the New York Times Co. (NYSE: NYT) disclosed to the Securities and Exchange Commission that it would pay Janet Robinson, its recently fired CEO and a 28-year veteran of the company, a severance package of around $23.7 million.
The generous exit will cost investors roughly 10.6 cents per share based on the company's 2011 earnings and adds substantially to last year's $39.7 million deficit.
The rival New York Post's editorial board gleefully called the payment a golden parachute and suggested the Times get some self awareness, especially after its support of Occupy Wall Street.
As Joe Hagan detailed in a feature for New York magazine, Robinson's firing was a confluence of many factors: the company's troubled financials; tension with Times president Michael Golden; and perhaps a cooling of relations with Arthur Sulzberger Jr., the Times' publisher and board chairman. The Ochses and Sulzbergers have controlled the paper since 1896, holding its special Class B stock and leading the board of directors.
Robinson's compensation deal provoked a fierce backlash in the Times' 1,100-person newsroom, which has been embroiled in contract negotiations for more than a year after the company sought to cut pensions by what reporters describe as a draconian 15 percent, adjusted for inflation.
"They were offended, but they weren't furious at that point," said Grant Glickson, the local Newspaper Guild's New York Times unit chair. "That infuriated people."
Or, as one Times staffer put it, "The payout for Janet Robinson was just the icing on a cake of humiliation."
Robinson's departure has created a vacuum atop the business side as the paper continues to grapple with its financials. And the public pension battle, marked by public videos by employees condemning Times management and a silent protest outside the daily editors' meeting, has highlighted a growing sense of dissatisfaction in the normally stoic newsroom. There has been a rift among reporters about how to respond to Robinson's severance package at the same time those who stay are being asked to sacrifice.
"I don't approve of all the ways the union has been fighting this in public," said the Times staffer. "The video of employees complaining about how their pensions will not be as big as they once thought strikes the wrong chord at a time when unemployment is above 8 percent and most people don't have unions at all. That came across as privileged people being whiny."
The venerable Gray Lady may never have faced challenges as severe and varied.
The Times has always been about more than profit. Its hallowed slogan, "All The News That's Fit To Print," reflected its global perspective and discerning standards, but the erosion of print advertising has slashed revenue and forced the Times to behave more like a business, leading to staff cuts.
There have been three rounds of employee buyouts, the most recent accepted by veterans like metro columnist Clyde Haberman, education reporter and Pulitzer winner Sam Dillon and former science editor Nicholas Wade. Also, young stars are leaving the Times voluntarily: design whiz Gabriel Dance joined the Daily, News Corp.'s tablet publication, and is currently at the U.S. edition of the Guardian; economics writer Peter Goodman joined the Huffington Post in 2010 as a top business editor; and others have gone to Bloomberg LLP, one of the few news organizations that is expanding aggressively, thanks to the robust revenue from its eponymous financial terminals.
Still, compared to the decimation of the company's advertising department and secondary holdings, the Times' newsroom has been relatively unscathed and still has close to 1,100 reporters, making it one of the largest in the world. Unlike virtually every other American newspaper -- from the Washington Post to the Chicago Tribune to the Los Angeles Times, which have all diminished into regional papers with limited scope -- the New York Times has preserved its international presence.
Further, while reporters are clashing with management on pay cuts, they have not questioned the Sulzberger family's commitment to the highest standards of journalism and ethics. Unlike most publishers, the fourth-generation Arthur Sulzberger Jr. worked as a reporter and editor at the Times and other newspapers. His son, Arthur Gregg Sulzberger, seen as the heir apparent, has filed stories from New York and Kansas City and earned praise from his colleagues.
"There's still a tremendous amount of respect and love for the Sulzberger family. They have gone out of their way to preserve their product," said Glickson, the union official. "There's a lot of loyalty there."
Glickson says the union was in the midst of drafting some changes to a new contract proposal to send to management. "I'm hopeful. We're willing to work with them and compromise," he said, but added, "Things could easily fall apart."
Besides the high regard employees have for the Times, it continues to enjoy immense prestige and influence because of its top-quality journalism. This week, Washington bureau reporters Jo Becker and Scott Shane wrote a 6,300-word story that revealed President Barack Obama's kill list, raising questions surrounding America's most powerful official. Investigative reporter David Barstow broke open Wal-Mart Stores Inc. (WM)'s bribery cover-up in Mexico, sparking a federal investigation and a plunge in the huge retailer's stock price. A series on Apple Inc. (Nasdaq: AAPL)'s labor practices in China put the world's most valuable company on a rare defensive. And moving stories on the death of New York Rangers enforcer Derek Boogaard and the dangers of quarter horse racing sent tremors through their respective sports. The Times won two Pulitzers this year, more than any other publication.
And unlike last decade's embarrassments with Jayson Blair, who fabricated and plagiarized numerous stories, and Judith Miller, whose reporting of weapons of mass destruction in Iraq was later disproven, recent years have been free of large editorial missteps.
But great journalism is expensive. Very expensive. At some point any company under severe and growing financial pressure will look to raise revenue and cut costs, including labor costs.
"Our concern is that, in its quest for a leaner cost structure, the company will run out of fat to trim, and have to cut into muscle, thereby compromising the quality of its product," wrote Joscelyn MacKay, an analyst with Morningstar Inc., in a research note.
Despite the 2011 loss of $39 million, the Times beat first-quarter expectations in April with profit of eight cents per share, excluding one-time charges, decisively beating an analyst forecast of two cents per share. Advertising continued to slide, down 8.1 percent on an annual basis, but circulation revenue rose 9.7 percent.
That gain was largely due to the year-old online paywall, which requires users to pay around $15 per month for access, after 10 articles are loaded. The Times said it had digital subscribers of 472,000 across all platforms in March, compared to the Wall Street Journal's 537,469 digital subscribers in September 2011, according to the non-profit Audit Bureau of Circulations.
But as numerous websites have pointed out, the Times' paywall is porous -- deliberately so, it seems. Users can remove the end of a story's URL or clear their Internet history and obtain access without paying, loopholes that the Times seems unconcerned with fixing. It's a much flimsier lock compared to the fortified shields of the Wall Street Journal and Financial Times. The only part of www.nytimes.com without a paywall is Dealbook, the paper's business news vertical, which incidentally competes directly with the Journal and Financial Times. It's likely that many paying digital subscribers are doing so through brand loyalty or civic duty, rather than the effectiveness of the paywall.
"Those who do go elsewhere often can find the Times' reporting repackaged and aggregated, a clear threat to continued subscriber growth. Online competition remains fierce, and we believe the Times will have limited pricing power online, as the firm will have to compete with countless numbers of cheap and/or free online substitutes," wrote MacKay of Morningstar.
Besides cutting labor costs and working to raise revenue, the company is shedding assets. In December, the Times sold its Regional Media Group, comprising 16 papers in the U.S., for $143 million, and earlier this month, it sold its remaining stake in the Boston Red Sox for $63 million, so it has plenty of cash on hand for the near term. But its stock price has fallen below $7 and its market capitalization is under $1 billion. With its focus on publishing, the Times simply doesn't have the size and diversified revenue stream to easily subsidize its flagship publication. Larger rivals, like Rupert Murdoch's $46.7 billion News Corp. or $33.23 billion Time Warner Inc (NYSE: TWX), own vast television and movie holdings that can subsidize weak operations. Even Gannett Co. (NYSE: GCI), publisher of USA Today, is valued at $3 billion.
Though it is smaller than many of its rivals, the Times still carries massive social, political and cultural clout that could potentially attract buyers. Such an attraction is enhanced by the Sulzberger's now-chronic financial struggles with the newspaper.
Any list of potential buyers is intriguing. As New York magazine notes, Michael Bloomberg, the founder of Bloomberg News who will soon be departing as mayor of New York, has more than enough cash to buy the company. Mexican Carlos Slim, the world's richest man, loaned the Times $250 million, which has since been repaid, but he remains a large shareholder. While a long shot, Warren Buffett has been investing in newspapers.
John Koblin, a former media reporter for WWD and the Observer who now writes for Deadspin, thinks that most media coverage of the Times has been fair and that a sale is worth discussing.
"I do agree that some of the speculative stories over the last few years wind up overreaching. But I don't think it's unreasonable to ask those sort of questions when you have two incredibly rich men at hand, one of whom bought a tremendous amount of stock and handed out a very big loan to the paper," said Koblin.
"The Sulzbergers' control of the Times is surely at a bit of risk. It's easy to think that it's a lock that the Sulzbergers will continue running this paper for generations," he said. "It isn't."
© Copyright IBTimes 2023. All rights reserved.