Toys 'R' Us Christmas Eve Store Hours And Deals 2016: Last-Minute Savings And Free Shipping Options For Holiday Shopping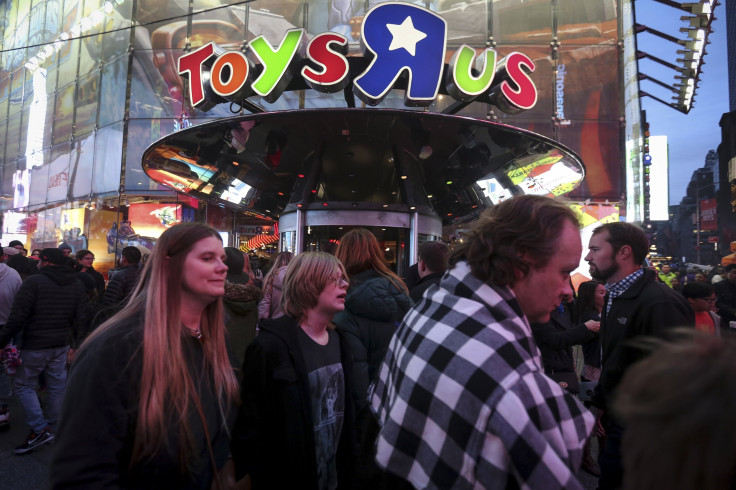 Update: 2:55 p.m. EDT, Dec. 23 — Toys "R" Us locations nationwide will keep their doors open from 6 a.m. Friday until 9 p.m. Saturday to give shoppers an extended chance for last minute Christmas shopping, a company spokesperson told International Business Times. Specific store location hours, including at locations in Puerto Rico, can be found online at Toysrus.com/StoreLocator.
Original Story —The holidays can be hectic times. But that doesn't mean that holding off on Christmas shopping until the last minute necessarily means that the kids need to wake up Dec. 25 with fancy, handwritten IOUs from Santa Claus.
Holiday shoppers are expected to flock to toy stores in the coming days, with one high-profile store continuing to draw strong revenue. Toys "R" Us, the New Jersey-based company that also operates Babies "R" Us and FAO Schwarz, remains a top toy retailer with more than 1,500 locations, and with supermarket-syle stores that allow customers to wander the shop to choose products. The chain has been around since the 1950s, with its first location in Washington, D.C.
To little surprise, the holiday season is a raucous time for Toys "R" Us and the company has made schedule changes to accommodate procrastinating shoppers. Starting Dec. 17, Toys "R" Us is scheduled to have extended hours from 6 a.m. until 2 a.m. each day until Dec. 23. Alternate hours for Christmas Eve were not immediately announced by the retailer.
Toys "R" Us also plans to have a variety of deals online and at their stores. Discounts include name-brand products like Lego, Fisher-Price and Nerf. Other deals include toys for babies and toddlers, bikes, arts and crafts supplies, action figures, superhero toys, board games, video games, music, dolls, stuff for kids' rooms and pretend play and cooking sets.
The retailer has free shipping and order deadlines. Cyber shoppers can receive free shipping for order over $19 until Dec. 19 at 11:59 p.m. EST. The deadline for expedited shipping is Dec. 21 at 3 p.m. EDT and the deadline for express shipping is 11:59 p.m. EDT. The deadline for free store pickup services is Dec. 24 at 6 p.m. local time for Toys "R" Us stores.
© Copyright IBTimes 2023. All rights reserved.