Travis Barker Net Worth: Kourtney Kardashian's Rumored New Boyfriend Is A Multimillionaire Rock God
KEY POINTS
Travis Barker became the drummer of Blink-182 in 1998
He survived a plane crash in 2008
Barker is the rumored new boyfriend of Kourtney Kardashian
Travis Barker has an estimated net worth of $50 million. He is reportedly dating Kourtney Kardashian after being good friends and neighbors for years. Here's how he built his massive fortune.
Barker made his mark in the rock scene as Blink-182's drummer, joining the band in 1998 as a replacement for Scott Raynor. Although he had other bands before Blink-182, it was after joining the latter that he made it big in the music industry.
Blink-182's 1999 album "Enema of the State" became the band's best-selling album, selling 15 million copies worldwide. The song "All the Small Things" topped the Modern Rock Tracks chart, per Celebrity Net Worth.
Barker served as Blink-182's drummer for five more albums, most recently in 2019, while also being part of other groups. He performed for Transplants and TRV$D JAM, among others.
Barker also enjoys being a DJ in his spare time, which enabled him to do collaborations with rappers and hip hop artists such as The Game and Machine Gun Kelly. Due to his diverse talents, appeal and body of work, Rolling Stone ranked him 99th on its 100 Greatest Drummers of All Time list.
Aside from music, Barker started his own clothing and accessory line called Famous Stars and Straps (or simply Famous) in December 1999 and released a memoir titled "Can I Say" in 2015.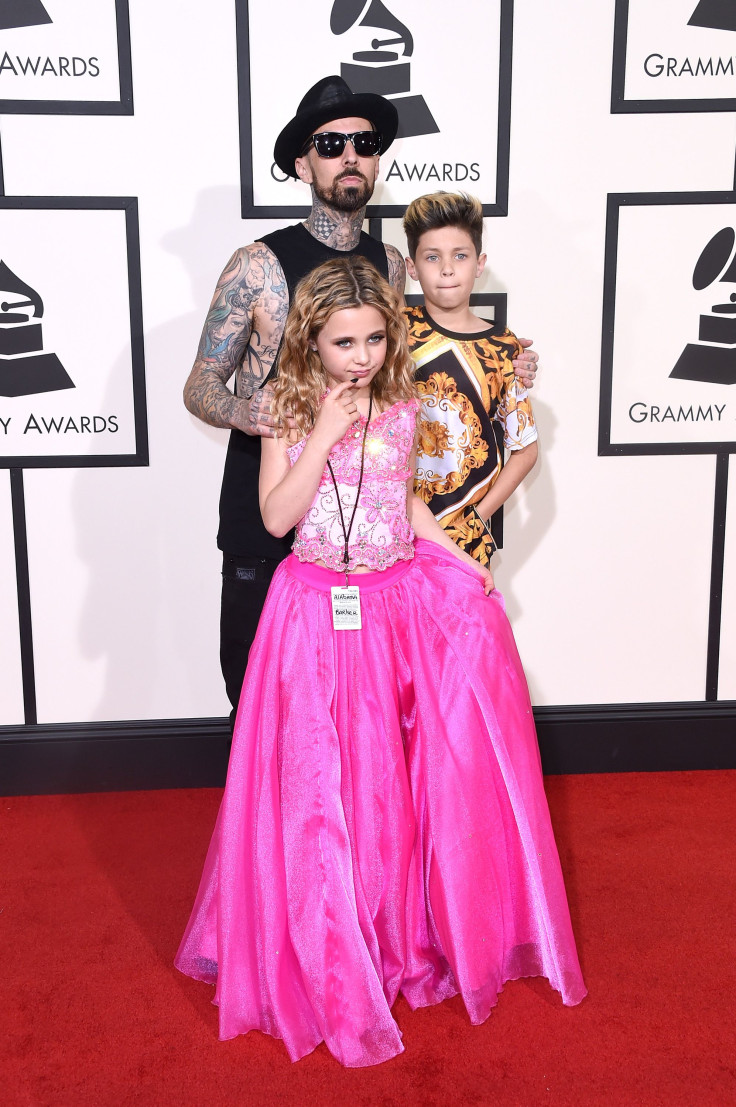 In 2008, one tragic incident changed the Fontana, California native's life forever. The now-45-year-old survived a plane crash, but four of his companions in the plane died. Realizing he lived through the ordeal was something he remains grateful for to this day.
On the personal side, Barker was previously married to Melissa Kennedy. Their relationship ended just nine months later. The musician then married Shanna Moakler in 2004, but they divorced in 2008.
Barker shares stepdaughter Atiana, 21, daughter Alabama, 15, and son Landon, 17, with Moakler. The Barkers starred in their own reality TV show called "Meet the Barkers," which aired 16 episodes from 2005 to 2006.
Barker owns several properties, one of which is in Calabasas, California, the same gated community where the Kardashians live. Due to them being in close proximity to each other, Barker has been friends with Kourtney Kardashian and other members of the famous family for years. The punk rock drummer also has other California properties, including a home in Bel Air, a mansion in Rancho Cucamonga and a tract house in Lake Elsinore.
Barker has been spotted multiple times with Kourtney in Los Angeles over the years, but he previously shut down the romance rumors linking them, telling People in 2019 she was a "dear friend."
However, an unnamed source told People that their relationship has turned "romantic" and that Barker and Kourtney have been dating for about two months now. The two recently enjoyed a trip to Palm Springs, California, where they stayed at her mother Kris Jenner's residence.
© Copyright IBTimes 2023. All rights reserved.