Trick-Or-Treating 2020: 5 Unique, Safe Ways To Give Out Halloween Candy
Trick-or-treating is complicated during a global pandemic. While many want to give kids a fun reason to get out of the house, coming so close to so many people and letting children claw their germy hands through a communal candy bowl isn't the safest plan in 2020. Instead, people are coming up with creative solutions from fun delivery gadgets to socially-distant displays to safely give out candy to trick-or-treaters during the pandemic.
1. Zip Line: Michigan resident Matt Thompson has set up a ghost decoration on a zip line with a pulley system as a Halloween candy dispenser. From his porch, he can load up candy on the arms and beers in a wooden basket on the back before sending it to the sidewalk.
2. Candy Chute: Cincinnati dad Andrew Beattie used a shipping tube on a railing to create a socially distant candy delivery system. He will wear a mask while telling trick-or-treaters to hold their bags under the chute's opening. Party City has a tutorial to make a candy dispenser with PVC pipe, but essentially, anything that could function as a slide or tube works.
3. Hang it up: North Carolina businesswoman Jennifer Singh told the Wall Street Journal that they'll be hanging candy from strings on a tree with cobwebs for a spooky experience. Utah mom Lisa Rampton Halverson told NPR she is setting up a clothesline with pinned pieces of candy.
4. Candy sticks: One Facebook user showed a candy graveyard of sorts. Tape a piece of candy to a kabob that sticks out of the ground. Kids only have to touch their piece of candy, and it looks pretty cool.
5. Porch goodie bags: Leave a surprise goody bag on a neighbor's porch. In recent years, this has been called a Boo, an unexpected Halloween gift adults send to each other (sometimes anonymously). Alternatively, let the trick-or-treaters come to you without opening the door.
Every year, there are houses that just put the bowl of candy out on the porch, hoping everyone will be honest. However, having a bowl for kids to rummage through isn't the safest idea during a pandemic, says disaster preparedness specialist Dr. Amyna Husain, a physician in pediatric emergency medicine at Johns Hopkins.
"Have candies — or whatever people choose to put out — out on the doorstep in small quantities that people can take," Husain told The Daily Meal. "That Ziploc of treats to-go would be good instead of having a full bowl, and having a kid put their hand in a full bowl after another kid puts their hand in that full bowl and continuing to spread the virus."
Check out CDC recommendations for 2020 Halloween activities before heading out on Oct. 31.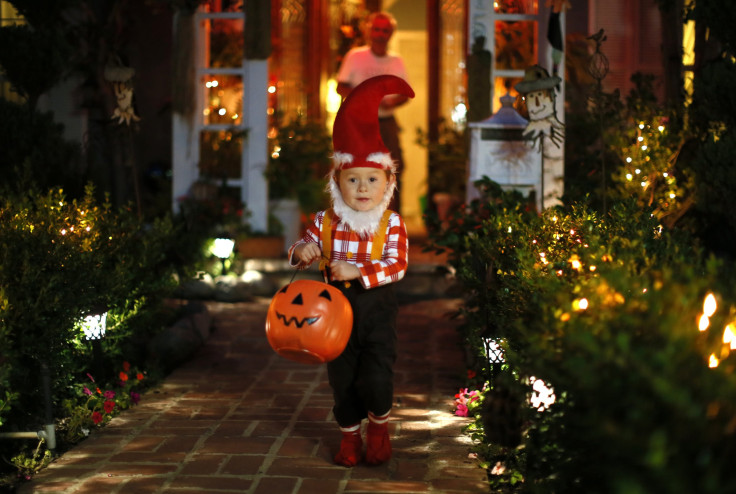 © Copyright IBTimes 2023. All rights reserved.
FOLLOW MORE IBT NEWS ON THE BELOW CHANNELS