Tropical Storm Nate Could Become 'Powerful' Hurricane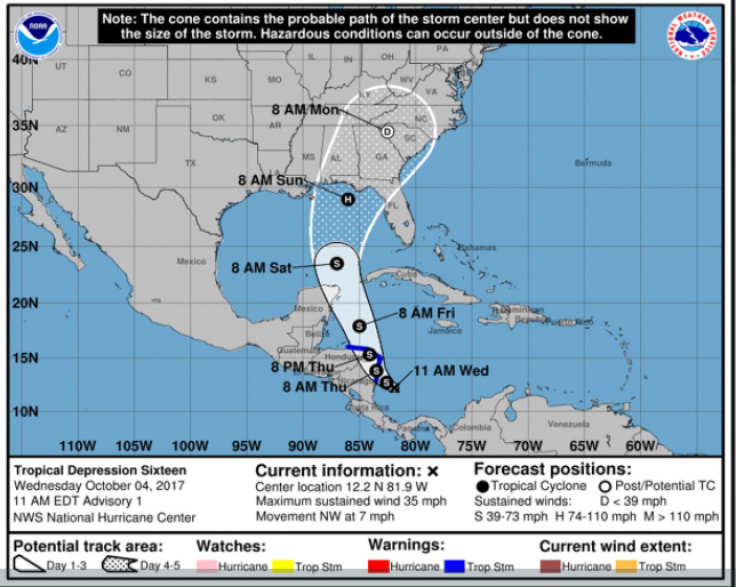 A tropical depression that formed in the western Caribbean could be well on its way to becoming a full-blown storm and potentially even a hurricane, forecasters said Wednesday. Now dubbed "Tropical Depression 16," the weather disturbance could become Tropical Storm Nate by the end of the day, according to the National Weather Service.
The depression was likely to morph into a hurricane as it moved north toward the Yucatan Peninsula, according to AccuWeather. The storm could threaten parts of the Gulf of Mexico coast this weekend. Warm waters in the Caribbean mean the storm is likely to strengthen quickly.
"Since the system will be moving over warm waters, we could quickly have a powerful hurricane on our hands," said AccuWeather hurricane expert Dan Kottlowski. "There is the potential for a tropical storm or hurricane to make landfall along the Gulf Coast from southeastern Louisiana to the Florida Panhandle this weekend."
It was too early to determine the exact path of the weather pattern in the coming days. Forecasters urged people in southeastern Mexico, Cuba, the Cayman Islands, Honduras, Belize, Nicaragua and the United States' northern and eastern Gulf Coast regions to vigilantly keep an eye on the path of the storm. Areas like Florida, Alabama, Mississippi and southeastern Louisiana could be at risk for flooding and destructive winds, according to AccuWeather.
"The system is forecast to continue strengthening over the Gulf of Mexico and could affect portions of the northern Gulf Coast as a hurricane this weekend, with direct impacts from wind, storm surge and heavy rainfall," the National Hurricane Center said. "However, it is too early to specify the timing or magnitude of these impacts. Residents along the Gulf Coast from Louisiana to Florida should monitor the progress of this system for the next several days and heed any advice given by local officials."
The storm's peak intensity was likely to occur in about three and a half days, according to the Miami Herald, though weather warnings could be issued as soon as Wednesday.
This season has so far seen 13 tropical storms, 8 hurricanes and four major hurricanes. Should Nate eventually strengthen into a hurricane, it would join the ranks of this year's Harvey, Irma and Maria, three storms that left a trail of devastation in their wake. The season was forecast to be above average by the National Oceanic and Atmospheric Administration thanks to warm sea temperatures and prime atmospheric conditions.
© Copyright IBTimes 2023. All rights reserved.
FOLLOW MORE IBT NEWS ON THE BELOW CHANNELS