TRUiC CEO Explains How AI Tools Can Help Startups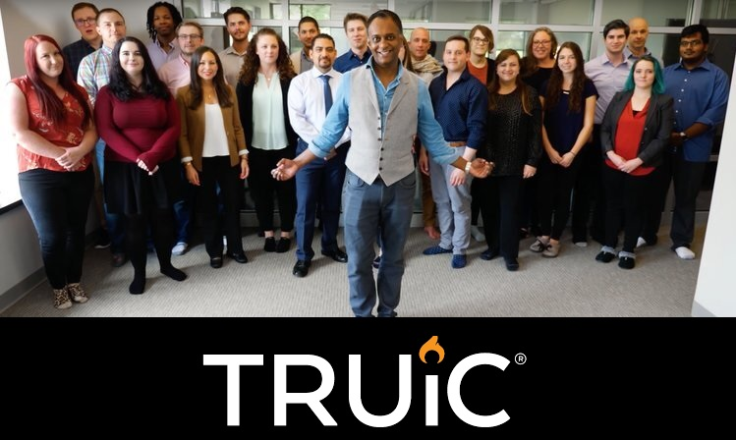 With almost a million startups that are one year old in the US alone, the race for unique brand identity has never been more intense. Even the fastest growing startups that entrepreneurs look up to today, had to assemble the same initial branding-related puzzle before they could soar.
Choosing your company's moniker sets the tone for all your future branding initiatives. A business name helps to create a first impression with investors and potential customers. Too often this decision is made too lightly and while it is possible to change your business name once you've filed your legal paperwork, it's much easier and cheaper to choose the right name from the start. AI-powered tools are indispensable in this crucial first step to leverage deep insights and machine learning to outsmart human think tanks and assist them.
Today, players like TRUiC, Shopify, Wix, Godaddy, Oberlo, SquadHelp are all focussed on solutions that can help solve branding and startup requirements. TRUiC sought a different approach: it invested heavily in AI-powered tools to replace conventional methods like human brainstorming.
Image Credit: The Really Useful Information Company
"The challenge of an entrepreneur is to prepare for where the market will be in the future. Just get that right and execute the plan well," TRUiC CEO and founder, Nagabhushanam "Bobby" Peddi, explained what lay at the heart of TRUiC. "We are essentially becoming a marketplace for people starting a business. Since our inception, we rolled out free guides, legal templates, and links to the resources people need to be successful entrepreneurs."
Navigating the sea of taken domain names can be a daunting task without the help of dedicated tools. This is where TRUiC shines, as the user-friendly tool is designed with small business owners and startups in mind. Using TRUiC's AI-powered tools, which includes a business name generator and a domain name generator, many businesses took off successfully.
"We did not want to make the job of branding professionals obsolete with powerful AI, although it is slowly happening. In fact this is how it started: I wanted to start my own company and didn't know where to begin. I found places that were charging several hundred dollars and it didn't seem right," Peddi's words resonate with entrepreneurs who have encountered the same problem: fragmented service providers who are often costly. His solution: "I learned everything I could about the process and put it up on a website for free."
Suggested Video:
The Really Useful Information Company was born and continued to assist entrepreneurs to not only find a business idea, but scale it through the establishment of an online presence. Today, it morphed to become a leader in AI-powered solutions with the most advanced business name generator in the world - and yes, it does save entrepreneurs a lot as it reduces their reliance on branding and marketing companies. These are some of the tools connected to the TRUiC supercomputer:
Business Idea Generator
In three simple steps this tool will help anyone who is thinking of starting a business. Simply select your interests and narrow down your search with filters. Filters include working from home, passive income and scalability options, to name a few. The final step is the easiest: view the results. With over 700 business ideas to explore, this tool will help modern business founders find the business idea that works for them.
Business Name Generator
Once entrepreneurs found their business idea, selecting a suitable name for their venture would be high on the priority list. Many online name generators are available to the discerning entrepreneur, but few can compete with TRUiC's comprehensive Business Name Generator. This free online tool helps entrepreneurs brainstorm and generate business name suggestions for their business or brand and allows them to immediately check the domain name availability. Using this tool is as simple as selecting the keywords you want and letting the AI do the work. Once you've searched for a business name, TRUiC can ensure that it will be protected for a month until you are ready to purchase. Name suggestions are checked to ensure they have .COM domain availability, eliminating the need to create a separate domain name.
Domain Name Generator
Using a combination of AI and human-centered strategies TRUiC's Domain Name Generator can generate thousands of catchy and unique domain names. Simply search the keywords you want in your domain name and have instant access to a list of potential domain names. After selecting your chosen domain name, you can check whether it is available.
Logo Generator
TRUiC's Small Business Logo Generator lets entrepreneurs effortlessly brand their business. In a few clicks your business could have a brand new logo, no design experience needed! The best part? It is absolutely free and customizable. Whether users choose to edit it further or use it for their websites, business cards, correspondence or general company branding, the user-friendly logo maker will create high-resolution, professional logos in seconds.
There are also other tools that seek to complete the founders quest for compliance, for example:
Operating Agreement Tool
LLC founders are excited to use this tool. Creating a custom Operating Agreement has never been easier. The tool allows single member or multiple member LLC's and member-managed or manager-managed LLC's to effortlessly create this vital document.
Not sure if you need an Operating Agreement? There are six states that legally require LLCs to keep an operating agreement. These states are Maine, California, Delaware, Missouri, Nebraska and New York.
Even if entrepreneurs reside in other states the benefits of an Operating Agreement, especially one that is created for free, is tangible. The agreement essentially allows the entrepreneur to set out the financial and working relations among business owners and between members and managers. It impacts everything from ownership stakes, voting rights and how decisions in the LLC can be made. Entrepreneurs can customize their LLC operating agreement as soon as they register an account in the TRUiC Business Center.
Business Center
The TRUiC Business Center will grant users access to many other free tools and special discounted business services which includes (but is not limited to): business plan generators, registered agents, sales tax calculators, legal forms and exclusive user discounts.
Having assisted over a quarter of a million entrepreneurs to start their businesses, Peddi captures the company philosophy. "Entrepreneurship requires forgetting your ego and helping your team members achieve their best, it really does produce results in startups." Regarding his big play on artificial intelligence, he said: " We need to be futuristic in our approach to provide the most useful information in the world to entrepreneurs. AI was the only enabler to do this in a manner that ensures quality information at scale so as to drive better business decisions".
Given that human brainstorming has its limits and is such a manual process, it may be time for startups to try out any of the numerous free tools on the web to discover a new way forward in dealing with the first few hurdles of starting a business.
© Copyright IBTimes 2022. All rights reserved.
FOLLOW MORE IBT NEWS ON THE BELOW CHANNELS