Trump Allegedly 'Knew' Details About French Prez. Emmanuel Macron's Sex Life
Donald Trump has allegedly made broad declarations pertaining to French President Emmanuel Macron's sex life to his aides, sources have revealed. The FBI's unprecedented search of his Mar-a-Lago home on Aug. 8 turned up highly classified material, including a file labeled "info re: President of France."
The embattled former president gloated to his aides -- before and after his time in the White House -- that he knew covert details about Macron's passionate pursuits, two people with knowledge of the matter told Rolling Stone. He further claimed to have learned some of the info through "intelligence" he had seen or been briefed on, the sources told the outlet.
It's unclear if the Mar-a-Lago document related to Macron carries intimate information on the French President's life, or if it's classified. However, its existence raises questions about America's ability to keep classified documents or intel about the leader of an allied nation safe.
Officials from U.S. and France banded together to find out information that Trump had on Macron and France's government, and if any of that data was sensitive in nature, according to two other sources familiar with the situation. The U.S. and French officials wanted to know if the discovered material marked some kind of national security intrusion or a petty keepsake.
Sources further told the outlet that Trump didn't go into details when he told tales about Macron's life with bravado. Trump has made unfounded claims, often with grandiosity, during and after his time in the White House, including election fraud. This makes it difficult to judge if his alleged declarations about Macron were based on reality.
"It is often hard to tell if he's bulls--tting or not," said one of the sources. Hilary Clinton's former aide Jennifer Palmieri weighed in after Macron's file was revealed to have turned up during the search. She referred to the file as a "kompromat" -- a term used for a collection of compromising information on public figures - often used to blackmail or discredit them -- in a tweet.
Trump and Macron weren't on the best of terms during the former's term in the presidential office. In 2019, Trump blasted the French Prez. for making "very, very nasty and insulting" comments about the country's decision to withdraw troops from Syria.
They'd started off on good terms when they first met in May 2017 before the commencement of a NATO summit. They were seen shaking hands for an uncomfortably long time, and Macron had later said he had come prepared for the same by watching videos of Trump's handshakes.
Trump said Macron was "perfect," and even planted a kiss on his cheek, and later said, "I like him a lot." However, things started to change in 2018 after Macron threatened to exclude Trump from the G7 forum. "The American President may not mind being isolated, but neither do we mind signing a six-country agreement if need be," Macron wrote on Twitter.
Trump issued a scathing tweet in response saying Macron's approval rating had hit rock bottom amid the country's high unemployment numbers.
Their relationship further deteriorated when Macron in a conversation with Canadian Prime Minister Justin Trudeau and British Prime Minister Boris Johnson appeared to mock Trump's antics. Trump lashed out at Trudeau calling him "two-faced" after the video of this interaction went viral on social media.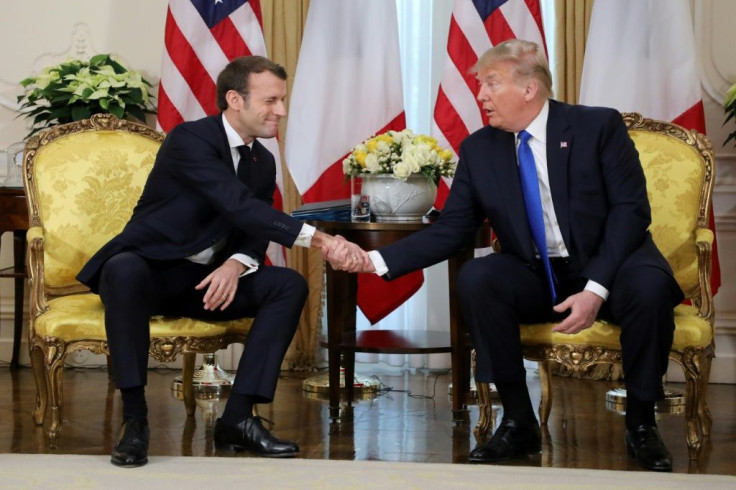 © Copyright IBTimes 2022. All rights reserved.
FOLLOW MORE IBT NEWS ON THE BELOW CHANNELS