Trump Appointments Update: Rex Tillerson Sworn In As Secretary Of State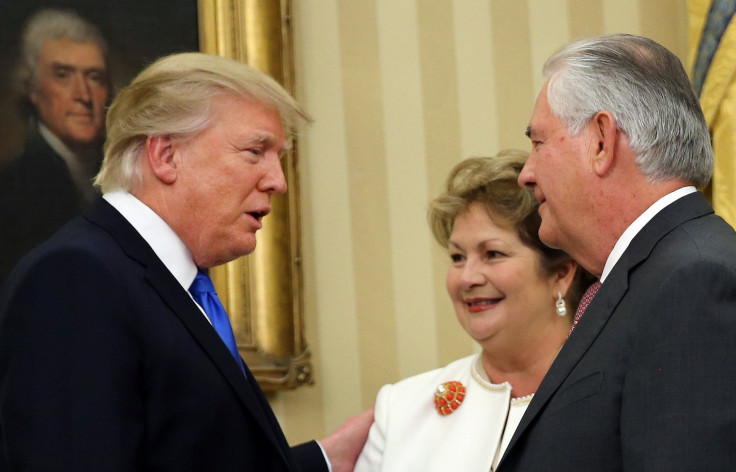 Saying Rex Tillerson's whole life had prepared him to be the nation's 69th secretary of state, President Donald Trump welcomed Tillerson to his Cabinet and the "crossroads in history."
Vice President Mike Pence administered the oath of office.
Tillerson was sworn in just hours after winning Senate confirmation, 56-43, the smallest margin for a secretary of state in U.S. history.
"Your whole life has prepared you for this moment, and you really have had a tremendous life — heading up one of the great companies of the world and doing it magnificently, absolutely magnificently," Trump said. "And I can say this is a man that's respected all over the world, before he even begins.
"This is where you were meant to be, right here, today, at this crossroads in history. It's time to bring a clear-eyed focus to foreign affairs, to take a fresh look at the world around us, and to seek new solutions grounded in very ancient truths."
Tillerson pledged to serve "the interest of all of the American people at all times."
Tillerson's nomination was controversial. The former head of Exxon Mobil Corp. has close ties to Russian President Vladimir Putin, and it will be up to him to smooth over the international strains engendered by Trump's "America First" policy.
Trump has promised to revamp relations with both Russia and China, promised to move the U.S. Embassy in Israel from Tel Aviv to Jerusalem and to renegotiate the Iran nuclear deal. The weekend's executive order barring travelers from seven Muslim-majority countries for at least 90 days also has produced negative international responses, and Mexico's president canceled a meeting with Trump after the White House floated the idea of imposing a 20 percent tax on Mexican imports to pay for a wall along the U.S.-Mexico border.
"Rex Tillerson will have the most demanding and complex agenda to face a secretary of state in a very long time," R. Nicholas Burns, a Harvard professor and career foreign service officer, told the New York Times.
Tillerson, 64, has an engineering degree from the University of Texas at Austin and had been with Exxon since 1975
His appointment drew criticism from former Russian chess champion and Human Rights Foundation Chairman Garry Kasparov, who predicted he will be "the greatest secretary of state Putin has ever had.
The Sierra Club described Tillerson's confirmation as "unconscionable."
© Copyright IBTimes 2023. All rights reserved.
FOLLOW MORE IBT NEWS ON THE BELOW CHANNELS