Trump Appointments: Will Stephen Bannon Get Kicked Off The National Security Council? Democrat Congresswoman Wants To Bar Strategist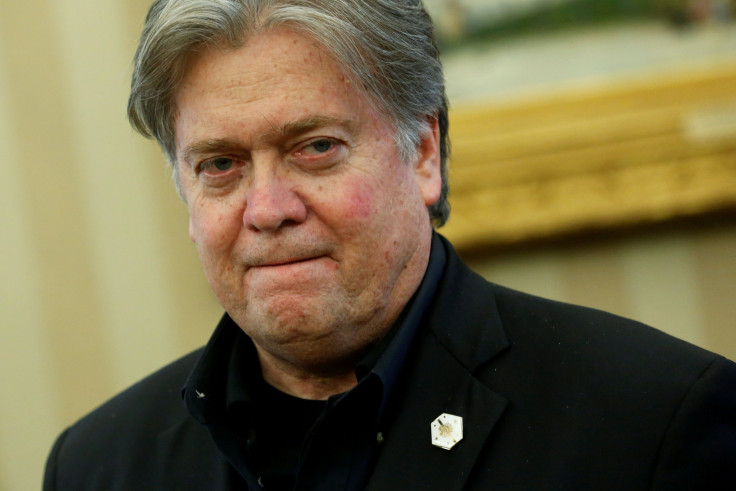 A Florida congresswoman Wednesday introduced a bill that would remove White House political strategist Stephen Bannon from the National Security Council.
President Donald Trump revamped the NSC during the weekend, adding Bannon and de-emphasizing the roles of the military and intelligence agencies. The NSC traditionally has been made up strictly of top administration officials involved in foreign affairs and security. Previous presidents have taken pains to separate politics from its deliberations.
Rep. Stephanie Murphy, D-Fla., introduced legislation that would forbid anyone who's "primary or predominant responsibility is political in nature" from being a member of the NSC or allowed to attend its meetings regularly. It also would express Congress' support of not limiting participation by the director of National Intelligence or the chairman of the Joint Chiefs of Staff.
"The security of the American people should be more important than partisan politics," Murphy said in a press release. "As a former national security specialist at the Department of Defense and a current member of the House Armed Services Committee, I can tell you the last place partisan politics belongs is in national security."
Bannon, who ran the alt-right website Breitbart before joining the Trump campaign, has emerged as the president's top adviser. His ascension boosted the alt-right, which has links to white nationalism and racism, into the mainstream during the Trump campaign.
Bannon was believed behind Friday's executive order that barred travelers from seven Muslim-majority countries from entering the United States for at least 90 days and is believed to have drafted the White House statement on Holocaust Remembrance Day that failed to mention Jews.
White House spokesman Sean Spicer justified Bannon's addition to the NSC by saying David Axelrod, former President Barack Obama's political strategist, had regularly attended NSC meetings.
Axelrod, however, penned an op-ed piece likening himself to an "alternative fact," saying it was "simply not true" that he was an active participant on the NSC.
"As a senior adviser to President Obama in 2009, I had the opportunity to witness the fateful deliberations of his National Security Council Principals committee over the strategy the U.S would pursue in the war with al Qaeda in Afghanistan and Pakistan," Axelrod said.
"I was not a member of the committee. I did not speak or participate. I sat on the sidelines as a silent observer with [White House spokesman Robert] Gibbs because we would be called upon to publicly discuss the president's decision on that critical matter and the process by which he arrived at it."
Aside from that meeting, "Gibbs and I did not attend regular meetings of the NSC Principals committee or their deputies nor were we invited to weekly meetings on terrorist threats" or "meetings with the secretary of defense and chairman of the Joint Chiefs of Staff nor with the secretary of state" or the daily intelligence briefing.
Josh Bolten, who was President George W. Bush's chief of staff, said political adviser Karl Rove never was allowed to attend NSC meetings.
Former Obama national security adviser Susan Rice called Trump's reorganization of the NSC "stone cold crazy."
© Copyright IBTimes 2023. All rights reserved.