Alt Right Reddit Growing Under Trump: Audience For White Nationalist Forum Gets Massive Boost In January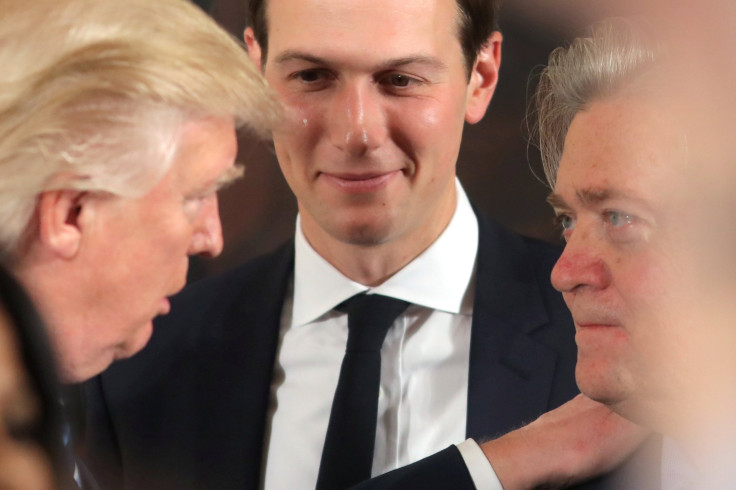 The alt-right Reddit group, one of the main online hubs for white nationalists, saw its subscriber numbers increase by 37 percent in January as Donald Trump took office as president. The subreddit now has 16,007 subscribers, up from 11,659 at the end of last year. The total page views went up by an even greater percentage, almost doubling to 2.9 million.
The forum's rise coincides with Trump's ascension to become the country's 45th president. While the thread began in 2010, it wasn't until Trump clinched the Republican nomination last summer that it gained significant followers. At the start of July, 2016, there were less than 300 subscribers.
Trump's campaign and subsequent election triumph thrust the alt-right movement into the mainstream. The man Trump appointed to lead his campaign was Steve Bannon, the former head of Breitbart News, which Bannon himself described as a "platform for the alt-right."
The term alt-right has gained popularity as an umbrella term used to describe an extreme form of conservatism linked to white nationalism and racism.
Bannon has gone on to become Trump's chief strategist in the White House. He was given a place on the hugely influential "principals committee" of the National Security Council on Saturday. Bannon has been credited with having significant influence behind the executive order that effectively banned entering the United States for people from seven predominantly Muslim countries.
Meanwhile, at a rally following Trump's election win, the man credited with coining the term "alt-right" in 2008, Richard Spencer, appeared to give a Nazi salute as he cried "Hail Trump, hail our people, hail victory!" There has also been a rise in white-nationalist fliers being posted at university campuses across the country.
On the alt-right subreddit, some recent topic titles include "Obama wanted to name a fourth Jew to Supreme Court.. 1% of our country with almost 50% of seats.. Thanks Trump" and "Why the fuck is [Jeff] Sessions not confirmed yet? I'm ready for the mass deportations of third world scum to go into full blast."
While the thread's rank is still only 3,596 on Reddit, it was the 503rd fastest-growing on the social news site in the past 30 days.
Celebrating the news, one commenter wrote "The fire rises."
Another added: "Keep spreading the word. This is the place to red-pill people."
"Red pill" is a term inspired by the film "The Matrix," referring to being able to see the reality of how the world is rather than a more comforting illusion. It has been adopted by so-called men's rights activists as a term for describing their opinion that women actually rule the world and really want to be subjugated by men.
© Copyright IBTimes 2022. All rights reserved.
FOLLOW MORE IBT NEWS ON THE BELOW CHANNELS