Who Is Steve Bannon? 5 Facts About President Trump's Most Powerful Advisor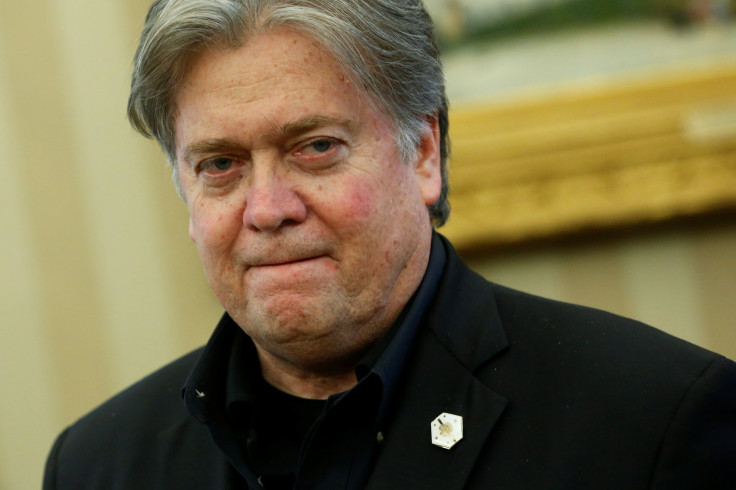 Steve Bannon, the White House's chief strategist and former Breitbart executive chairman, Goldman Sachs executive, Hollywood producer and Navy officer, has emerged as one of the most powerful voices in the early days of the Donald Trump administration. During the campaign and after the election, Bannon was widely criticized for his ties to the Alt-Right, his ex-wife's accusations of anti-Semitism, and reportedly nativist views. Now that the Trump administration has taken power, Bannon's role is starting to become clear. Here's what we know so far.
He called the media "the opposition party." Bannon rarely grants interviews, but he agreed to speak to the New York Times last week and told the paper that the media should "keep its mouth shut and just listen for awhile."
"I want you to quote this," Bannon told the Times. "The media here is the opposition party. They don't understand this country. They still do not understand why Donald Trump is the president of the United States."
He reportedly overruled Homeland Security lawyers during the creation of Trump's travel ban. Bannon was in charge of the drafting of the travel ban that spurred protests throughout the nation last weekend, the Daily News reported. Department of Homeland Security lawyers told Trump banning green card holders would be illegal, but Bannon overruled them, the News said.
He has been added to National Security Council despite having no military or foreign-policy expertise. Over the weekend, Trump issued an executive order that added Bannon to the National Security Council's principals committee, where Bannon will sit with the secretaries of state, defense, energy and treasury. The move was considered unprecedented by experts, who questioned why a political strategist would be included in national security decisions. President George W. Bush banned political operatives from NSC meetings while President Obama allowed some political aides, like David Axelrod, to sit in on the meetings.
"I've never seen that happen, and it shouldn't happen. It's not like he has broad experience in foreign policy and national security issues. He doesn't," Leon Panetta, a former White House chief of staff, defense secretary and CIA director, told the NY Times. "His primary role is to control or guide the president's conscience based on his campaign promises. That's not what the National Security Council is supposed to be about."
Trump's order also said the chairman of the Joint Chiefs and the director of national intelligence would only attend committee meetings that touched on issues relevant to their responsibilities and expertise.
He has eliminated some national security paper trails. In previous administrations, any meeting of the NSC principals or deputies would produce a comprehensive paper trail in the form of a "summary of conclusions" or SOC. The SOC included everything discussed and any conclusions reached during meetings. An anonymous intelligence official told Foreign Policy that the Trump administration produced no SOCs during its first week, a change that the official blamed on Bannon. "He is running a cabal, almost like a shadow NSC," the intelligence official said. "He who has the pen has the authority to shape outcomes."
He allegedly called himself a "Leninist" and advocated the "destruction of the state" in 2013. While this quote by Bannon was reported last year, it has re-emerged on on social media after Bannon positioned himself as one of the most important players in the early days of the Trump administration.
Author Ronald Radosh said that Bannon declared himself a "Leninist" at a Nov. 2013 book party at Bannon's Capitol Hill townhouse. Radosh recounted the exchange in a story for the Daily Beast in August.
"Lenin," he answered, "wanted to destroy the state, and that's my goal too. I want to bring everything crashing down, and destroy all of today's establishment." Bannon was employing Lenin's strategy for Tea Party populist goals. He included in that group the Republican and Democratic Parties, as well as the traditional conservative press.
Radosh said he emailed Bannon before the piece was published to see if he remembered the conversation. Bannon replied by saying "I don't remember meeting you and I don't remember the conversation."
On Sunday, a post by Boston College American history professor Heather Cox Richardson argued that the travel ban was an effort by Bannon to use a "shock event" to create chaos, a theory that aligns with Bannon's desire to "destroy all of today's establishment." The post was shared over 73,000 times by Tuesday afternoon.
© Copyright IBTimes 2023. All rights reserved.