Trump Approval Rating On Coronavirus Response Hits New Low, Job Approval Dips To 38%
KEY POINTS
A new poll shows only 38% of Americans approve of President Donald Trump's job performance
Trump's approval rating for his handling of the pandemic has plummeted to a new low of 32%
Biden campaign plans to keep focus on Trump and his sagging poll numbers
Eight in 10 Americans say the U.S. is headed in the wrong direction under President Donald Trump while only 38% of Americans approve of his job performance.
The findings in a new poll from The Associated Press-NORC Center for Public Affairs Research are the latest dismal numbers for Trump and can be directly traced to his handling of the COVID-19 crisis. Trump's overall approval rating has dipped 6 percentage points from March's 43%. His performance on the pandemic has also plummeted to a new low of only 32%.
Like other recent polls showing Democratic challenger Joe Biden with a double-digit lead in the November election, this one reveals 80% of Americans saying the U.S. is headed in the wrong direction -- the largest percentage since Trump took office.
Even Americans' perception of Trump's handling of the economy -- his usual strong point -- is rapidly eroding. The poll finds only 38% of Americans saying the national economy is doing well, a massive decline from 67% in January, before the outbreak of the COVID-19 pandemic.
Trump is again on the wrong side of public opinion regarding school reopenings in the fall. Once threatening to withhold federal funds from states that did not reopen, Trump has since modified his stance to a case-by-case basis. The poll shows a third of Americans oppose the idea of full reopenings.
Three of four Americans agree that wearing face coverings outside the home to control the spread of the virus is a good idea, but the poll reveals how the issue has become politicized. A full 89% of Democrats support wearing a face mask compared to only 58% among Republicans. The poll shows Republicans are less likely to be anxious about COVID-19 compared to Democrats.
About 75% of Americans said restrictions to slow the spread of COVID-19 are more important than reopening the economy. Nearly half of respondents say they favor requiring people to stay in their homes except for essential trips, a number that has remained steady since June. About half also favor requiring bars and restaurants to close.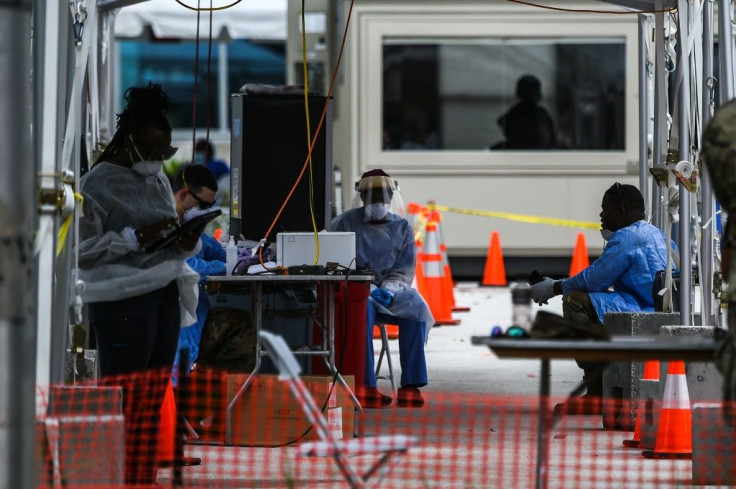 Biden's campaign exulted the poll findings. Political pundits say Biden's campaign will keep the final months of the race focused squarely on Trump.
"People are sick and tired of a government that is divided and broken and unable to get things done," said Kate Bedingfield, Biden's deputy campaign manager. "What people feel like they're getting from Trump right now is a hodgepodge mess of self-interested political talk."
© Copyright IBTimes 2023. All rights reserved.
FOLLOW MORE IBT NEWS ON THE BELOW CHANNELS