Trump Cabinet Choices So Far: What Does The Cabinet Do And How Many Members Are There?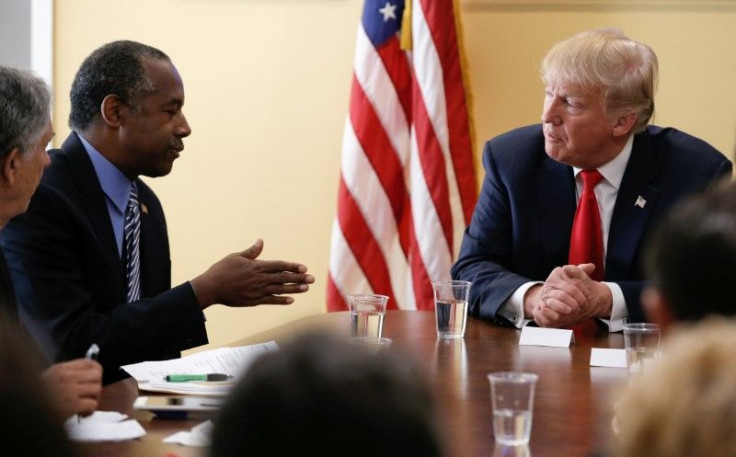 Almost a month after his surprising victory over Hillary Clinton, President-elect Donald Trump is almost halfway through deciding on the individuals who will occupy his cabinet when he takes office on Jan. 20, 2017. There are 16 official cabinet roles, comprising of the vice-president and 15 heads of departments.
Trump, of course, has long had his vice-president, Mike Pence, in place, and has also been making his way through the departments, most recently nominating former Republican presidential candidate Ben Carson to the position of Department of Housing and Urban Development. As with all of his picks to head departments, though, Carson requires Senate confirmation in order to take up his role.
Here's a look at the duties of each position, in order of succession to the presidency.
Secretary of State
The head of the State Department is the president' chief advisor on foreign affairs as well as his leading international representative. Currently filled by John Kerry, another former presidential candidate from Massachusetts, Mitt Romney, is thought to be under consideration by Trump for the role.
Secretary of the Treasury
Another of the most important cabinet positions, the secretary of the treasury is the primary economic advisor to the president as well as being responsible for devising fiscal policy and overseeing the Internal Revenue Service. Trump has already nominated former Goldman Sachs executive Steven Mnuchin.
Defense Secretary
Trump made defeating the Islamic State a key part of his campaign rhetoric and it will now be down to his defense secretary to devise a plan to do just that. Gen. James "Mad Dog" Mattis has been nominated for the role, although he must obtain a Congressional waiver having not been out of active duty for the required 10 years.
Attorney General
The head of the Department of Justice is the chief law enforcement official and chief lawyer. Trump has selected Sen. Jeff Sessions of Alabama, who has called for strict immigration and was denied a federal judgeship 30 years ago over racism allegations.
Interior Secretary
As the individual responsible for the conservation of federal lands, notably national parks, as well as natural resources, the interior secretary will have a considerable impact on environmental policy. Sarah Palin, a former governor of Alaska and a vice-presidential candidate in 2008, is one of the names reportedly under consideration.
Agriculture Secretary
As well as overseeing the farming industry at home, the agriculture secretary is responsible for helping farmers export products overseas. As such, the individual chosen will help implement Trump's anti-free-trade proposals.
Secretary of Commerce
The Secretary of Commerce represents U.S. businesses and is charged with fostering economic growth and job creation. Wilbur Ross, an investor worth almost $3 billion, has been selected to the position.
Labor Secretary
In charge of publishing the monthly jobs report, the labor secretary will be expected to put out data illustrating that the economy is on track to match Trump's pledge to add 25 million jobs in 10 years. The labor secretary, who Trump has yet to name, is also responsible for overseeing unions and unemployment benefits.
Secretary of Health and Human Services
Responsible for looking out for the health of all Americans, the secretary oversees 11 agencies including the Food and Drug Administration. Trump's pick for the role, Rep. Tom Price of Georgia, will be expected to help the president-elect in his vow to repeal Obamacare.
Secretary of Housing and Urban Development
A former neurosurgeon who reportedly initially turned down a cabinet post due to a lack of cabinet experience, Carson has been nominated by Trump to fulfill the country's housing needs, overseeing affordable housing and fair housing laws.
Transportation Secretary
With Trump vowing to overhaul the "crumbling" transportation infrastructure and modernize airports, the transportation secretary is set to be kept busy. Elaine Chao, labor secretary under George W. Bush, has been nominated.
Energy Secretary
In charge of the energy security of the U.S., the energy secretary's primary responsibility is to oversee the world's most expensive nuclear weapons arsenal. Trump has yet to nominate anyone for the role, which will also be expected to implement policies regarding alternative energy sources.
Education Secretary
Responsible for setting the direction for education in the country, Trump's nominee Betsy DeVos may be able to pursue an agenda she has long campaigned for: school choice. DeVos is a proponent of both school vouchers and charter schools.
Secretary of Veteran Affairs
The next secretary of veteran affairs will be the latest to be charged with overhauling a department that has been criticized for severe organizational deficiencies that have hindered the support provided to military veterans. This is another post with which Palin has been linked.
Homeland Security Secretary
The youngest position in the cabinet, the Homeland Security Agency was only set up in the aftermath of the Sept. 11, 2011, terrorist attacks. The next individual to take up the post is set to be firmly in the spotlight, given Trump's plans to keep the U.S. safe and secure its borders by building a wall and deporting millions of undocumented immigrants.
© Copyright IBTimes 2022. All rights reserved.
FOLLOW MORE IBT NEWS ON THE BELOW CHANNELS