Trump Called For Execution Of 'Scumbag' Journalists According To John Bolton's New Book
KEY POINTS
John Bolton claimed that President Donald Trump wants "scumbag" journalists executed
The former National Security advisor detailed the account in his new book "The Room Where It Happened"
The Trump administration filed a lawsuit to stop the book release for June 23
President Donald Trump apparently wished "scumbag" journalists could be executed, according to former National Security Advisor John Bolton in his recent book, "The Room Where It Happened," scheduled to be released on June 23.
A report from The Hill, which got a copy of the memoir ahead of its release, cited that Trump made his anti-journalists comments at a closed-door meeting in his golf course resort in New Jersey in the summer of 2019.
"These people should be executed," the president allegedly said during the meeting. "They are scumbags," adding that they should put journalists in jail so they would reveal their sources.
One person with knowledge of what Trump said in the meeting confirmed that the president referred to journalists as scumbags. Guy Snodgrass, the former speechwriter and aide to Secretary of Defense James Mattis, posted his confirmation on his Twitter account.
Bolton's book is drawing much displeasure from the White House because it depicts Trump as unfit for the position of President of the United States. "The Room Where It Happened" allegedly contains explosive behind-the-scenes accounts of how Trump decides on matters of foreign policy or national security, among other issues.
Allegedly, Trump also convinced Chinese President Xi Jinping to buy American agricultural products to increase his chances of re-election in agricultural states. Bolton also claimed that Trump has more impeachable offenses Congress should investigate.
Trump has openly called out Bolton for his "highly inappropriate" book release.
"Maybe he's not telling the truth," Trump said during a press briefing Monday (June 15). "He's been known not to tell the truth, a lot."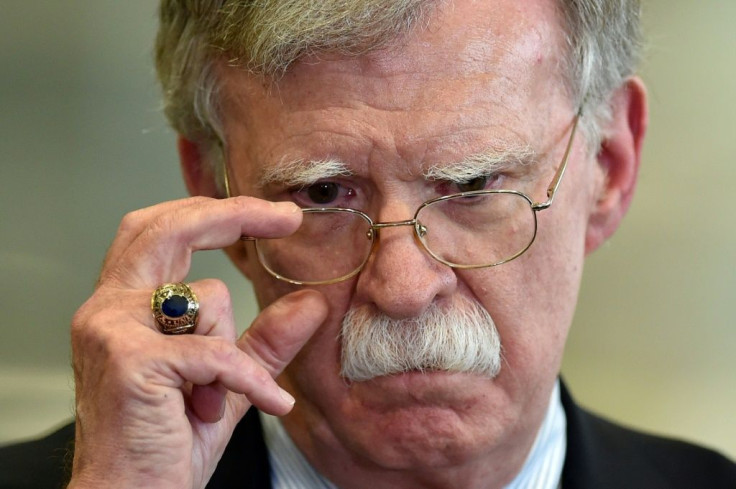 On Tuesday (June 16), the Trump administration filed an order to stop the publication of Bolton's book at a Washington, D.C. federal court. The suit cites that Bolton, who was privy too lots of classified information when he held "one of the most sensitive and important national security positions in the United States Government," didn't complete the vetting process before they released the book, per CNN.
Despite the lawsuit, Bolton's publisher said that "The Room Where It Happened" will be on the shelves as scheduled.
© Copyright IBTimes 2023. All rights reserved.