Trump Dossier Update: Sen. Chuck Grassley Demands To Know Who Ordered Golden Showers Report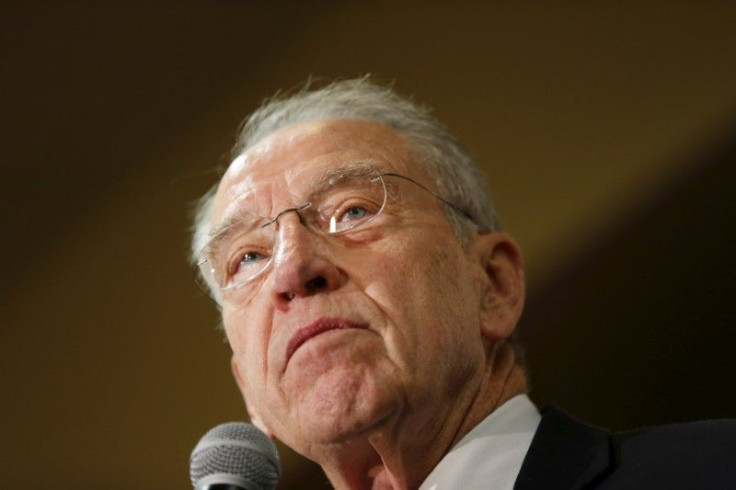 Senate Judiciary Committee Chairman Charles Grassley Monday demanded the company that created an opposition research dossier on Donald Trump provide details on the former British spy who compiled the document and whoever ordered it.
The unconfirmed information in the dossier reportedly has compromising information on Trump, including on his sexual escapades, financial dealings and alleged collusion with Russia.
"When political opposition research becomes the basis for law enforcement or intelligence efforts, it raises substantial questions about the independence of law enforcement and intelligence from politics," Grassley, R-Iowa, wrote in his letter to Fusion GPS, the firm that reportedly hired former British spy Christopher Steele.
Read: FBI Wanted To Hire Spy Who Compiled Trump Russian Dossier
The Hill reported Grassley wants to know who hired Fusion GPS to investigate Trump, whether there was more than one client and the details of any contracts. He also wants to know if anyone directed Fusion GPS to turn the information over to the FBI.
Politico said Grassley gave Fusion GPS an April 7 deadline for providing the information, as well as whether Steele was paid by the FBI and Fusion GPS at the same time.
Read: Dirty Trickster Roger Stone Denies Collusion With Moscow
The dossier was published by BuzzFeed, and Sen. John McCain, R-Ariz., said earlier this year he had turned his copy over to federal investigators.
The Washington Post reported last month the FBI agreed to buy the dossier and planned to hire Steele to continue the investigation, but the deal fell through.
Trump has labeled the dossier "fake news," and said the incidents detailed in the document never happened. He characterized Steele, a former MI6 agent, as a "failed spy."
The House and Senate intelligence committees, as well as the FBI, are investigating Russian interference in the presidential election and whether the Trump campaign colluded with Russian operatives.
Rep. Adam Schiff, D-Calif., the ranking Democrat on the House intelligence panel, said last week the evidence of collusion is "more than circumstantial evidence," but Republicans on the panel have declined to back up that assessment.
© Copyright IBTimes 2023. All rights reserved.