Trump Family On Pornhub: Adult Website Sees Spike In Searches About President-Elect, Melania, Ivanka And Tiffany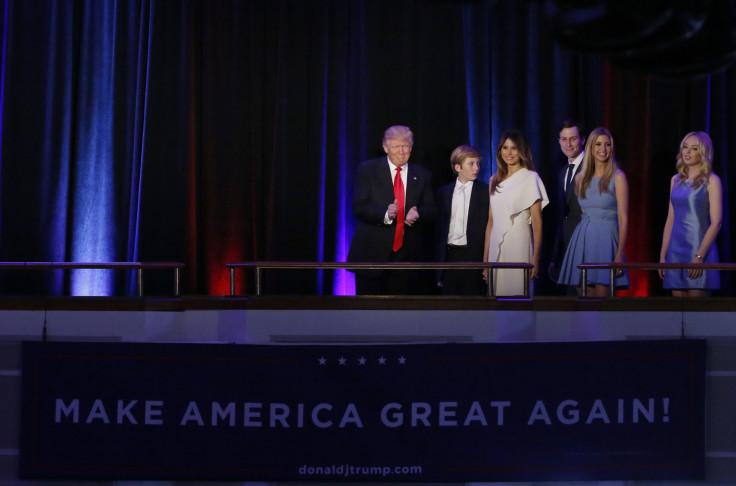 Donald Trump's election as the 45th president of the United States also saw a surge in the Trump family's popularity on popular adult website Pornhub, data from the website showed.
After the results of the presidential election were announced on Nov. 9, the website registered a spike in searches for "Donald Trump" by 874 percent, remaining on the higher side in the days following the election.
A similar trend was observed for the women in the to-be "first family" with present wife Melania and daughters Ivanka and Tiffany also seeing a skyrocketing increase in the number of searches.
The word "Melania Trump" saw a jump of 1,538 percent in the day following the results. The future first lady, who was raised in communist Yugoslavia and married Trump in 2005, has been the least popular spouse of a presidential candidate since Hillary Clinton, a Washington Post/ABC poll showed.
Trump's daughter from his marriage to Ivana Trump, Ivanka, saw a spike of 1,169 percent according to the adult website's database. The 35-year-old is a University of Pennsylvania graduate, who has been referred as the president-elect's closest advisor during his campaign.
The highest rise in searches, however, was recorded with "Tiffany Trump," the construction mogul's youngest daughter who recently graduated from college, with a 2,548 percent increase registered . Tiffany is Trump's only child with Marla Maples and has maintained a relatively low-key appearance during her father's campaign.
"I'm very proud of my children. I mean, I'm just looking at them right now, as an example for your show," Trump said during an Election Day interview.
"But I'm very proud, because Don and Eric and Ivanka and — you know, to a lesser extent 'cause she just got out of school, out of college — but, uh, Tiffany, who has also been so terrific," the president-elect said, downplaying the youngest child's role.
For most of Election Day, Pornhub's U.S. traffic was higher than that on an average Tuesday, up as much as 17 percent at 8 a.m. The Trump family together accounted for nearly 250,000 Pornhub searches on Nov. 9, the website's research showed.
© Copyright IBTimes 2023. All rights reserved.