Trump Immigration ICE Raids Map: States Where Undocumented Immigrants Are Being Arrested, Detained, Deported By Customs Enforcement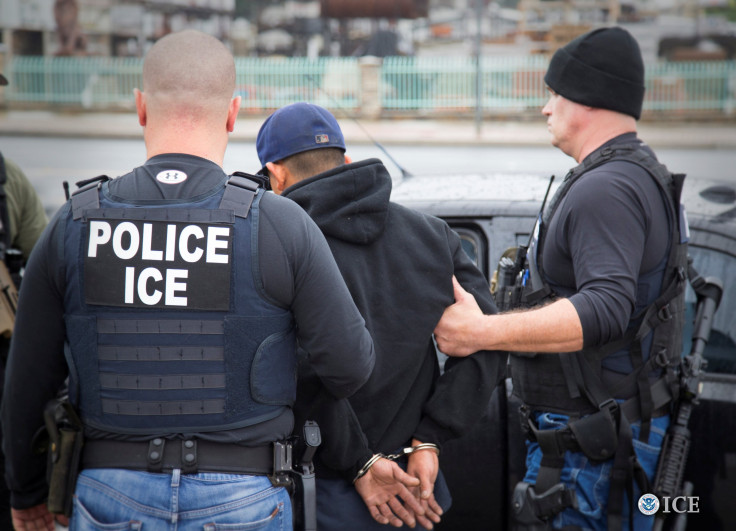 Hundreds of undocumented immigrants have been arrested, detained and, in some cases, deported this week from a handful of states, according to multiple reports. The ramped up law enforcement appeared to be the result of President Donald Trump's executive order on immigration last month.
The crackdown by the U.S. Immigration and Customs Enforcement (ICE) was launched in at least seven states, including "target-rich" areas like Texas, where nearly 1.5 million undocumented immigrants were living, according to the most recent statistics in 2014.
The raids were also carried out in Arizona, from where the government agency deported a Mexican man living in the U.S. illegally while he was dodging accusations of kidnapping in Mexico. ICE announced the deportation to Mexico in a press release Friday that backed up Trump's assertion that his immigration order would only target the undocumented population with criminal records.
"ICE will continue to remove those who pose a threat to public safety especially those who've harmed our children," said Henry Lucero, an ICE official in Phoenix. "America is not a safe haven for those who are fleeing prosecution in their home countries. We are firmly committed to ensuring that foreign fugitives will be are returned to face justice for the criminal acts that they have perpetrated abroad."
Here is a glimpse of the at least seven states where some of the other reported ICE raids have been taking place this week.
Arizona
A woman who had lived in the U.S. illegally since she was a teenager was deported this week after agents took her into custody during a routine check-in with immigration officials in Phoenix Wednesday. Because Guadalupe Garcia de Rayos, 35, had previously committed the crime of having a fake Social Security number, the next day she became the first person deported from Arizona under Trump's immigration executive order. Garcia de Rayos left a husband and two teenage daughters behind in the U.S.
Rep. Ruben Gallego, A Democrat who represents Arizona's Congressional district, said Trump "has chosen to scapegoat the immigrant community instead of working with Congress to pass comprehensive immigration reform."
California
Reports of ICE raids started coming out of Southern California Thursday, resulting in mass protests across Los Angeles after at least 160 people were reportedly either arrested or detained.
Georgia
Reports of ICE raids in Atlanta began to surface Thursday before federal agents reportedly confirmed them.
CBS46 News
Details were scarce, but at least one Twitter user posted directions for what to do should an undocumented immigrant in Georgia be confronted by an immigration agent.
However, federal agents have been carrying out raids in the metropolitan Atlanta area since before Trump's inauguration, so it was not clear if this week's raids there were a result of Trump's recent executive order on immigration.
Illinois
ICE raided areas of Chicago on Thursday, according to multiple reports. While those reports were light on details, the raids did happen in Chicago, according to the Washington Post and a number of users of Twitter.
Chicago is a so-called Sanctuary City, where local officials do not report the crimes of undocumented immigrants to federal officials, an act which runs contrary to federal law.
New York
The Empire State was similarly mentioned as being one of the places where the ICE raids were reportedly happening. It was listed in the Washington Post report, and a spattering of tweets seemed to confirm that report. Some users wondered what some of the state's more high profile elected officials were doing about the reported raids.
The confirmed reports of ICE raids this week did, however, bring together hundreds of people to protest in New York City Friday night.
North Carolina
ICE agents were performing random identification checks in North Carolina this week, although it was not clear if anyone had been arrested there, local news outlet the Times News reported. The state was among those listed in the Washington Post report. The city of Burlington was reported as being one of the areas in the state that was targeted.
South Carolina
About one-third of the ICE raid arrests this week took place in South Carolina, according to local news outlet the State. There were about 200 arrests total from Monday through Friday in South Carolina, North Carolina and Georgia, agents said.
Texas
An unspecified number of immigration-related arrests were carried out this week in the metro Austin area, prompting local teachers to provide their students who were children of immigrants with a flyer containing advice for "What to do if ICE comes to your door," the Austin Statesman reported.
Austin City Councilmember Gregorio Casar condemned the raids as "beyond reprehensible" and Democratic Texas Congressman Rep. Joaquin Castro said he was "concerned" about them.
© Copyright IBTimes 2023. All rights reserved.