Immigration Under Trump: Detainees Would Get Lawyers Under California Senator Kalama Harris Bill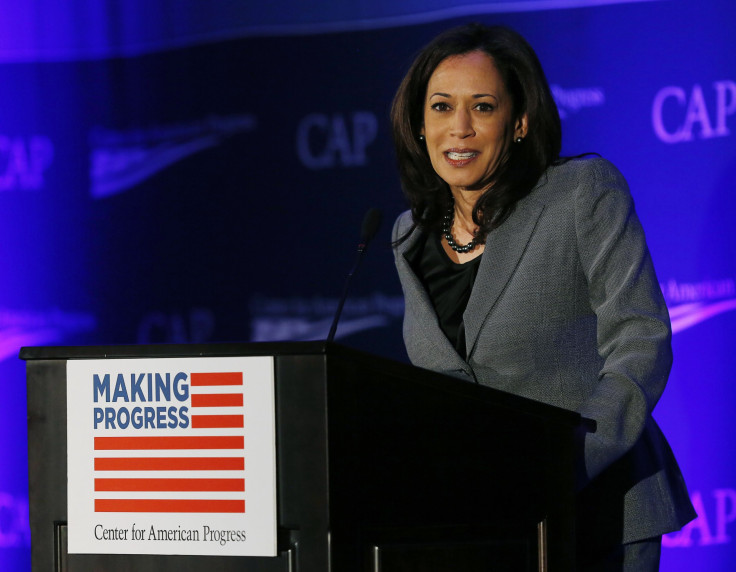 A new bill in California would guarantee legal counsel for anyone who gets detained while trying to enter the United States. Sen. Kamala Harris filed the legislation Thursday.
At least 109 people were detained at airports across the country late last month in the aftermath of President Donald Trump's executive order banning travel to the U.S. from seven Muslim-majority countries, the New York Times reported on Jan. 31, 2017. Many were held for more than 10 hours without access to phones or the many attorneys who flocked to the airports to provide legal advice.
The bill was created so that "when these individuals ask to speak to the lawyer [who] is literally on the other side of the door waiting to talk to them, they are not denied that request," Harris, a Democrat, told the Los Angeles Times.
Harris insisted that her bill wouldn't make providing those detained with attorneys funded by taxpayer money like a public defender a legal right. But that if a person detained at any point of entry into the country were to ask to speak to an attorney, they can if they are willing to pay for one.
Repercussions from the legislation would impact travelers to the U.S. other than those caught up in Trump's travel ban. Harris pointed to her experience in California where she witnessed child immigrants fleeing violence in Central and South America and others escaping child prostitution in Asia as those who would benefit from the bill.
The bill, which represents Harris' first legislative initiative as a senator, would also give detained travelers the ability to talk to a lawyer before giving up their legal status to enter the U.S. Several people who were detained under Trump's travel ban claimed they were pressured by Customs and Border Patrol officials to sign forms revoking their visas or green cards before being ushered onto planes leaving the country.
The legislation would also require that people be detained for the shortest amount of time possible while having access to food, water and toilets. It was co-sponsored by six other Democratic senators including Elizabeth Warren of Massachusetts and Cory Booker of New Jersey, but was expected to face great opposition in the Republican-controlled Congress, according to USA Today Thursday.
© Copyright IBTimes 2023. All rights reserved.
FOLLOW MORE IBT NEWS ON THE BELOW CHANNELS