Trump Impeachment Poll: Republican Support To Impeach POTUS Grows
KEY POINTS
A larger number of Republican voters now want Trump impeached and removed from office
This surprising revelation comes ahead of the Senate impeachment trial that might start as soon as next week
56% of Independents want Trump impeached and removed from office
More Republican voters now want president Donald Trump impeached and removed from office, says a new poll by Hill-HarrisX released Monday. Another poll, this one by Quinnipiac, found 51 percent of voters approve of the impeachment of Trump by the House of Representatives on Dec. 18, 2019 while 46 percent disapproved. Trump was impeached for abuse of power and obstruction of Congress.
The Hill-HarrisX poll says 17 percent of Republican voters now support Trump's impeachment and removal from office. This figure is a three percentage point increase from a similar poll conducted in late October 2019.
The January poll involved 1,002 registered voters nationwide and was taken Jan. 8 to 9. It also shows the overall share of voters in favor of Trump's impeachment and removal from office remains little changed at 48 percent, up one, point from the October survey.
The share of Democratic voters supporting impeachment comes to 80 percent, down one point from October. On the other hand, the percentage of Independents backing impeachment rose one point to 42 percent.
The Quinnipiac poll again confirms a rift along partisan political lines. Among Democrats, 91 percent are okay with Trump's impeachment while 92 percent of Republicans are against it. As for Independents, 56 percent of this swing bloc said they supported Trump's impeachment. On the other hand, only 38 percent said they disapproved it.
As for Trump's impeachment by the Republican-controlled Senate, 46 percent of respondents said Trump should be removed from office while 48 percent said otherwise. Surprisingly, the poll showed an overwhelming majority (66 percent) saying they'd like to see former national security adviser John Bolton testify in a Senate impeachment trial. Thirty-nine percent of Republicans said so, as did 71 percent of Independents.
Bolton previously said he'd be willing to testify in a Senate trial if he were issued a subpoena. Last week, Trump said he'd block Bolton from testifying.
The Quinnipiac survey found that voters are almost equally divided over House majority leader Nancy Pelosi's move to withhold the articles of impeachment from the Senate. The poll reveals 44 percent saying they approved of Pelosi's move while 48 percent said they opposed it.
The Quinnipiac poll involved 1,562 self-identified registered voters and was taken from Jan. 8 and Jan. 12. It has a margin of error of 2.5 percentage points.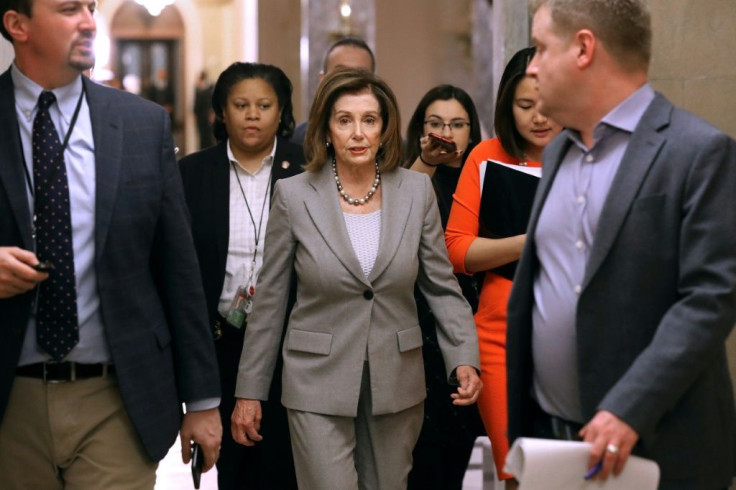 © Copyright IBTimes 2023. All rights reserved.