Trump Inauguration Ratings: How Many People Watched Swearing-In Ceremony? President Slams Crowd Photos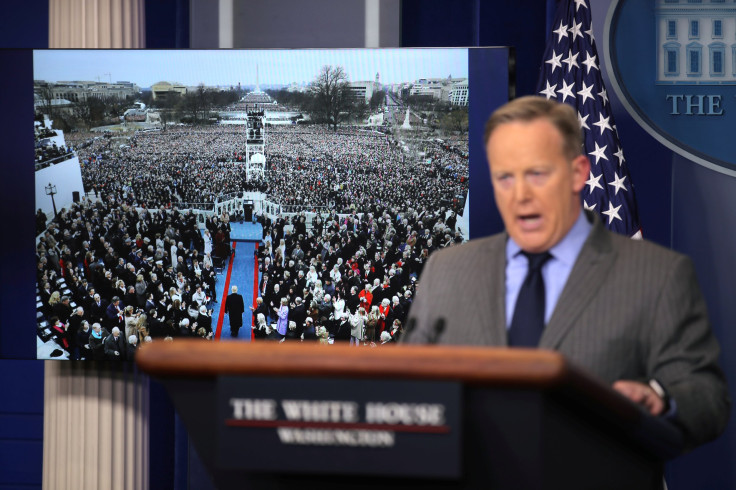 Television views for the swearing-in ceremony of Donald Trump turned out to be 30.6 million viewers across 12 networks, marketing firm Nielsen estimated, a number that is less than former President Barack Obama's first inauguration in 2009. The ratings come as the 45th president of the United States hit back at media reports that claimed the crowd at the inauguration Friday was less than that at Obama's.
According to Nielsen, inauguration ratings were the second-highest in three decades but fell short of Obama's record-setting 37.8 million viewers at his 2009 inauguration and also Ronald Reagan's 41.8 million viewers in 1981. However, Trump's inauguration might have been seen by more viewers than either Obama or Reagan as Nielsen ratings do not account for online viewing.
On Saturday, Trump slammed what he called the "dishonest" media for sharing "false" photos of the size of the crowd at his inauguration. The 70-year-old said that TV footage and photos of his inauguration had given a wrong picture.
"It looked like a million and a half people" there on Friday, he said, blaming the media for releasing reports that there were as few as 250,000 people. He also claimed that the crowd extended all the way back to the Washington Monument. However, this claim was contradicted by aerial shots from the day.
White House Press Secretary Sean Spicer also issued a statement about the size of the crowd.
"This was the largest audience ever to witness an inauguration, period. Both in person and around the globe," he said. "These attempts to lessen the enthusiasm about the inauguration are shameful and wrong."
On Saturday, Trump's new administration came under fire with millions in the U.S. and around the world carrying out rallies against the new president. The largest U.S. rally was in the capital Washington, D.C., with more than 500,000 people, a number that reportedly surpassed the crowd at Friday's inauguration.
© Copyright IBTimes 2023. All rights reserved.