Trump Jokes About Terrorists While Discussing Soldiers Death In Nigeria Attack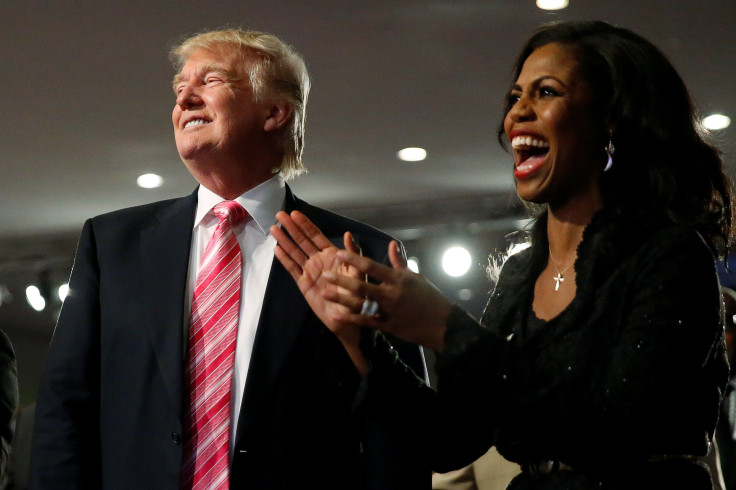 In a newly released recording from Monday that former White House communications aide Omarosa Manigault Newman secretly captured, President Donald Trump can be heard joking about how terrorism was a "rough business" while discussing an ambush in Nigeria which killed four United States soldiers.
The comments were made during a closed-door meeting in the White House shortly after the Oct. 4, 2017, attack on U.S. Special Forces, which were advising local troops fighting against Islamic extremists in Nigeria. During the attack, 12 army special operations soldiers were ambushed by 50 militants.
Manigault Newman provided the recording, along with another one where Trump can be heard discussing Hillary Clinton and the Russia investigation, to MSNBC on Monday afternoon. President Trump can be heard saying the U.S. and Nigerian soldiers "got attacked by 50 real fighters," who were in Africa because the American military chased them out from the Middle East.
"And now, on Niger," Trump can be heard saying in the tape, "We've let the military do what they have to do. And whether you call it rules of engagement or any way you want to say it, but we've let them do. And in the Middle East, there's very few left. We really — we've done a very good job. … we've done more in 7 months than they've done in 8 years, okay? … But what happens, is now they flee, and they flee to Africa, and they flee to Niger, and countries around there. And that's how these [inaudible] people get attacked, and they got attacked by 50 real fighters."
Manigault Newman told MSNBC host Craig Melvin, who interviewed her, Trump was talking in a communication team meeting which was attended by several people who did not have the security clearance to be part of such a conversation.
"These were people in many cases, that was in the Middle East, that now go to Africa to try and, you know, cause problems there," Trump continues in the recording. "And ultimately they wanna come back here because this is where they really wanna be."
"So it's a rough business. I wouldn't, I don't think I'd want to be a terrorist right now," Trump said, New York Daily News reported. "It's not a good life…The reason they're there is because we forced them out, and it's not nearly as many, it's not nearly as intense, but it's pretty intense, you see that happening. So that's that."
Manigault Newman criticized the president's lighthearted comments on the issue and especially the laughter from Trump himself and his aides as "kind of mocking the death of these soldiers."
"Here it is, Donald Trump raw showing you just how unhinged and inappropriate he is, talking to junior staffers about something so serious," Manigault Newman said in the interview. "But it's not a laughing matter we lost four American soldiers and four of our allies, the Nigerien troops that we were fighting alongside."
Manigault Newman, who starred in "The Apprentice" — a reality show hosted by the president — released a tell-all book named "Unhinged" last month where she chronicled her time in the White House. She also released multiple recordings of conversations that took place there, including her own firing, and a conversation with Trump shortly before she was let go.
Following the release of her book, the Trump campaign filed an arbitration claim against her saying she had allegedly violated the terms of her 2016 confidentiality agreement, NBC News reported.
© Copyright IBTimes 2023. All rights reserved.