Trump-Putin Helsinki Summit: Dictionary Websites Throw Shade At President
President Donald Trump's performance at the summit with Russian President Vladimir Putin that took place in Helsinki, Finland, has been criticized by members of both sides of the political aisle and surprisingly even by neutral learning agencies like Dictionary.com, Merriam Webster and Haggard Hawks.
Although none of these platforms directly took jabs at the president, their tweets following the controversial summit were enough to hint at the obvious shade aimed at POTUS.
"Quisling: A person who betrays his or her own country by aiding an invading enemy, often serving later in a puppet government. #NothingLikeAGosling #OrADuckling" Dictionary.com tweeted out of the blue on Monday.
On the other hand, Merriam Webster tweeted almost at the same time: "'Collusion' is our top search from statements made at the #TrumpPutinSummit. It last spiked in October after the first indictment of Paul Manafort," followed by another tweet that said: "Top searches, in order: treason, abase, traitor, collusion, presser."
But it was a separate thread of tweets (that mostly read like memes than anything else) posted by Merriam Webster a while later that really made its intentions clear. See if you can spot a common theme in the following tweets:
Finally, Haggard Hawks, a lesser known etymological guide to obscure words in the English language, also found a way to take a subtle dig at the president's readiness to agree with his Russian counterpart, even if that meant going against his own country's intelligence community. The information platform chose to highlight Trump's folly in the following manner:
While Trump made a number of controversial statements during the summit, one that caught everyone's attention was him blatantly agreeing with Putin when the latter defended its stance that Russia had nothing to do with the 2016 election in the U.S.
When the Russian president was asked what he thought about the U.S. intelligence agencies' conclusion that his country interfered in the election that put Trump into the presidential office, Putin smirked and said: "I was an intelligence officer myself, and I do know how dossiers are made up" and that the accusations were "utterly delusional."
"I don't see any reason why it would be [Russia]," Trump said, minutes later, echoing Putin's sentiments. "President Putin was extremely strong and powerful in his denial today."
As a result of his statement, members of his own party turned against Trump.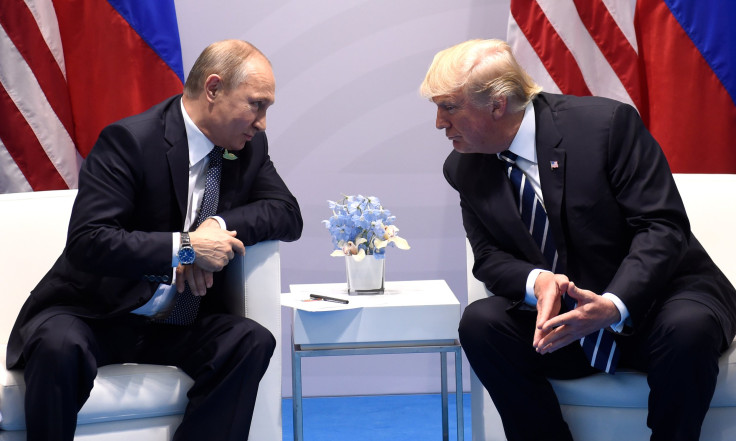 Sen. John McCain (R-AZ) said: "Today's press conference in Helsinki was one of the most disgraceful performances by an American president in memory. The damage inflicted by President Trump's naiveté, egotism, false equivalence, and sympathy for autocrats is difficult to calculate. But it is clear that the summit in Helsinki was a tragic mistake."
"President Trump proved not only unable, but unwilling to stand up to Putin. He and Putin seemed to be speaking from the same script as the president made a conscious choice to defend a tyrant against the fair questions of a free press, and to grant Putin an uncontested platform to spew propaganda and lies to the world," McCain added, CNN reported.
House of Representatives Speaker Paul Ryan also criticized the president's statements. "There is no question that Russia interfered in our election and continues attempts to undermine democracy here and around the world," Ryan said in a statement, Vox reported. "The president must appreciate that Russia is not our ally."
In order to control the fallout, Trump took to Twitter to attempt to clarify his statement, emphasizing that he had not lost his faith on the intelligence community. He tweeted:
© Copyright IBTimes 2023. All rights reserved.