Trump Security At Mar-A-Lago: Why Doesn't The Resort Release Visitor Logs?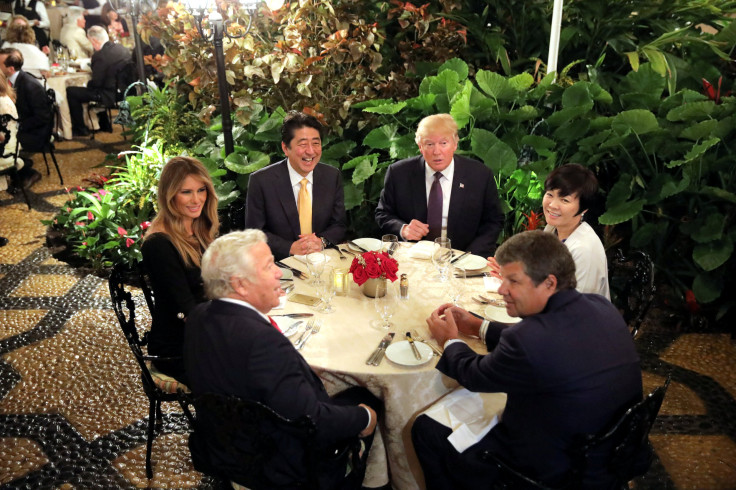 Every one of President Donald Trump's weekend trips to his Mar-a-Lago resort in Palm Beach, Florida has cost taxpayers an estimated $3 million and created what one former Secret Service agent called a "logistical nightmare." But in spite of all the resources the federal government has devoted to making sure the president can visit his properties every weekend, it hasn't kept track of the names of who else is coming and going from Trump properties.
Last week, Democrats introduced legislation that would require the Trump administration to create a public database of anyone who visits the White House or "any other location at which the President or the Vice President regularly conducts official business." The bill is not so subtly called the "Making Access Records Available to Lead American Government Openness Act" — the MAR-A-LAGO Act. But the bill's namesake can't provide the information because the resort doesn't keep visitor logs, Politico reported Tuesday.
Read: Trump Vacation Costs: Mar-A-Lago Trips A Major 'Financial Burden' On Florida District, Democrats Say​
Although Trump himself has called Mar-a-Lago the "Southern White House," the resort has none of the security apparatus present at the president's Washington, D.C., residence. Politico reported the resort doesn't require guests to submit details like a middle initial, birthdate or Social Security number — standard features for visitor logs.
The Secret Service also doesn't conduct weapon screenings or use bomb-sniffing dogs to check vehicles at the resort, even when the president is present, Politico reported.
The lax security presented concerns for not only the physical safety of the president and his family but also the nation. In February, Trump was having dinner with Japanese Prime Minister Shinzo Abe in the Mar-a-Lago dining room when news reached the leaders that North Korea had conducted a ballistic missile test. Instead of retreating to a secure area, the dining room became an impromptu situation room, in full view of dozens of diners.
Due to these concerns, the Government Accountability Office agreed Monday to investigate security procedures at the resort after prodding by Democrats. The office said it will also examine expenses incurred by government staff who travel with the president to Mar-a-Lago and determine whether Trump has sent the profits from his hotels to the U.S. treasury, as he promised he would.
© Copyright IBTimes 2023. All rights reserved.