Trump Travel Ban News: Hawaii Judge Blocks Revised Executive Order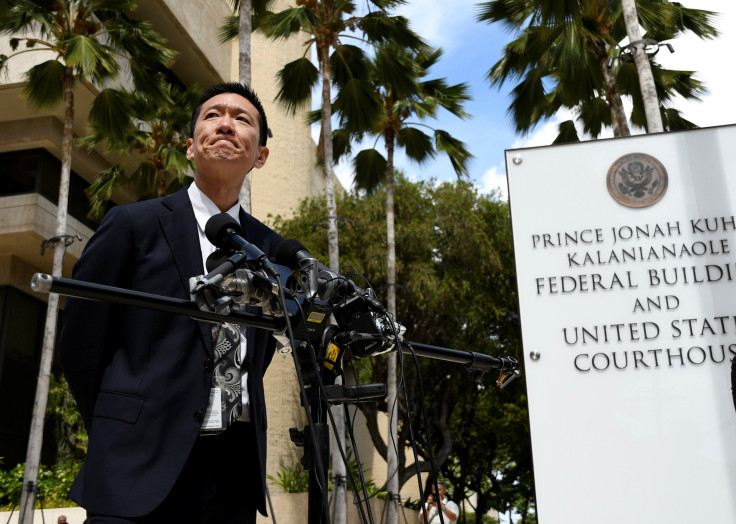 A federal judge in Hawaii Wednesday blocked President Donald Trump's second executive order attempting to block immigration from a half-dozen Muslim-majority countries less than 24 hour before the rules were slated to go into effect.
U.S. District Judge Derrick Watson in Honolulu issued an emergency halt to Trump's revised travel ban, which blocked travelers from Iran, Libya, Syria, Somalia, Sudan and Yemen for at least 90 days and suspended the U.S. refugee program for at least 120 days to enable to the federal government to develop more stringent vetting procedures. The order also reduced the number of refugees to be admitted this year to 50,000 from 110,000.
The ban had been scheduled to take effect at 12:01 a.m. EDT.
Read: Trump Travel Ban Seen As Ineffective, Anti-Muslim
Two other federal judges also are considering action. U.S. District Judge James Robart in Seattle said Wednesday he would issue a written order on the ban but did not specify whether he would block it or when he would make his decision. Robart spent Wednesday questioning lawyers about conflicting federal immigration laws, one giving the president authority to block whole groups and the other blocking discrimination based on nationality.
In Maryland, U.S. District Judge Theodore Chuang was considering a suit filed by the American Civil Liberties Union and others groups representing immigrants and refugees but hasn't indicated when his decision would come down.
Watson said Trump's ban is likely a violation of the First Amendment, which bars the federal government from imposing restrictions on freedom of religion.
Read: Adviser Says Courts Have No Right To Block Travel Ban
The Anti-Defamation League praised Watson's decision.
As did Sen. Kirsten Gillibrand, D-N.Y.
The Lawyers Committee, a civil rights organization, called for rejoicing.
Washington state Attorney General Bob Ferguson praised states for working together to block the order.
Attorneys representing the state of Hawaii argued the ban discriminates on the basis of nationality and would prevent relatives of Hawaiian residents from receiving visits from relatives from the targeted countries. The state also argued the ban will harm the state's tourism industry and ability to recruit foreign students and workers.
"Sections 2 and 6 of the March 6, 2017, executive order violate the Immigration and Nationality Act by discriminating on the basis of nationality, ignoring and modifying the statutory criteria for determining terrorism-related inadmissibility, and exceeding the president's authority under the Immigration and Nationality Act," Douglas Chin, Hawaii's attorney general said the filings.
He argued the executive order establishes a religion in the state and makes a portion of the population into second-class citizens.
"The entire history and culture of Hawaii is based upon nondiscrimination either in its constitution as well as its laws," he told CNN.
"Hawaii has 20 percent foreign-born residents and 100,000 people who are not citizens as well as 20 percent of our workforce that are not foreign born."
Trump campaigned on a pledge to bar Muslims from entering the United States and later sought to target countries fighting terrorism within their borders in a bid to make his order legal.
Trump's original travel ban Jan. 27 also targeted Iraq and touched off protests across the United States and elsewhere.
© Copyright IBTimes 2022. All rights reserved.
FOLLOW MORE IBT NEWS ON THE BELOW CHANNELS