Trump University Investigation: Lawmakers Call For Investigation Of Trump Donation To Florida Attorney General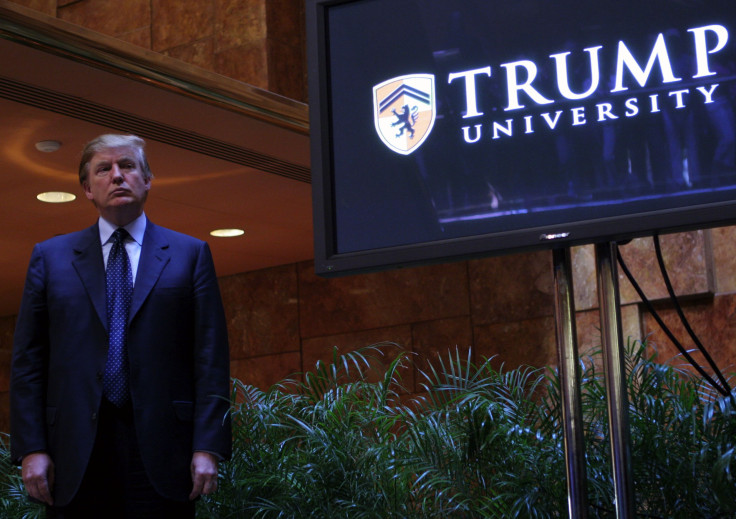 Democratic members of the House Judiciary Committee signed a letter Tuesday calling for a Justice Department investigation into a Trump Foundation donation to Florida Attorney General Pam Bondi that may have headed off a fraud investigation of Trump University.
"It has been reported that Florida Attorney General Pam Bondi personally solicited a political contribution from Republican presidential nominee Donald Trump while her office deliberated joining an investigation of fraud at Trump University," the letter said, adding the $25,000 donation was received "just four days after her office announced it might join a New York state probe of Trump University and its affiliates."
The letter said the allegation "is consistent with Mr. Trump's own statements about using money to influence politics."
Justice Department spokesman Peter Carr told the Washington Post the letter had been received and it was under review.
Trump spokeswoman Hope Hicks said the letter "is a totally ridiculous and false mischaracterization that blatantly disregards the facts." Trump aides earlier acknowledged the donation was a mistake.
Trump University is the target of a number of lawsuits by former customers who say they were misled.
A spokesman for the Florida attorney general's office said the issue was never pursued because it had received only one complaint. A consultant who worked on the Bondi re-election campaign said the candidate wasn't even aware her office was reviewing the issue when she solicited the donation.
Separately, New York Attorney General Eric Schneiderman said he has opened an investigation into the Trump Foundation to make sure it complies with state laws governing charities.
"My interest in this issue really is in my capacity as regulator of nonprofits in New York state. And we have been concerned that the Trump Foundation may have engaged in some impropriety from that point of view," Schneiderman told CNN. "And we've inquired into it, and we've had correspondence with them. I didn't make a big deal out of it or hold a press conference. We have been looking into the Trump Foundation to make sure it's complying with the laws governing charities in New York."
The Trump campaign dismissed the investigation, calling Schneiderman a "political hack."
© Copyright IBTimes 2023. All rights reserved.