White House Adviser Dr. Anthony Fauci Says Partisanship Played A Big Role In Coronavirus Pandemic
KEY POINTS
White House health adviser Dr. Anthony Fauci said partisanship has played a big role in the spread of coronavirus across the U.S.
Partisanship during the pandemic has been reflected in Trump's verbal clashes with several state leaders, most notably with New York Gov. Andrew Cuomo
Fauci said he believes the U.S. can still get a handle on the pandemic, "but keeping it under control is going to be the real problem"
Dr. Anthony Fauci, the nation's top infectious disease expert, says the partisanship that has consumed U.S. politics is a key reason the coronavirus is surging in several states, but there's still a chance the U.S. could gain control of the pandemic.
"We live, I mean, you have to be having blindfolders on and covering your ears to think that we don't live in a very divisive society now, from a political standpoint," Fauci said in an interview with FiveThirtyEight Thursday. "I mean, it's just unfortunate, but it is what it is. And you know, from experience historically, that when you don't have unanimity in an approach to something, you're not as effective in how you handle it. So I think you'd have to make the assumption that if there wasn't such divisiveness, that we would have a more coordinated approach."
Fauci's point has been echoed by several governors across the U.S. though their criticisms also hint at some partisanship.
One example is the ongoing back-and-forth between President Donald Trump and New York Gov. Andrew Cuomo. The two have repeatedly traded jabs at each other since the pandemic hit the U.S. in February, with each consistently criticizing the other's handling of the pandemic.
These barbs included repeated Twitter posts by Trump about Cuomo's handling of the virus and repeated requests for federal aid during the first months of the pandemic while Cuomo recently went after Trump for his response to the pandemic and how it exacerbated the spread.
"He wants to deny the COVID virus. He has from day one. 'Well, it's just like the flu.' 'Well, it's going to be gone by Easter.' 'It's going to get warm and disappear like a miracle.' He's said all of those things, and none of them were true," Cuomo said during his Monday briefing. "He won't wear a mask. Vice President Pence says wear a mask. All the health officials say wear the mask. He won't wear a mask because he doesn't want to admit that there's a COVID virus. Why? I have no idea."
Cuomo hasn't been shy about criticizing other state officials for their handling of the coronavirus, especially when cases began to surge in the U.S. South and West in June. He said many of the governors tried to play "politics with this virus" and lost. This was in response to comments by Florida Gov. Ron DeSantis about how Florida's quarantine of New Yorkers who traveled south helped to "save lives."
"I say to them all look at the numbers," Cuomo said during his June 25 briefing. "You played politics with this virus, and you lost. You told the people of this state, you told the people of this country, the White House, 'Don't worry about it. Go about your business. This is all Democratic hyperbole.'"
"Now you see 27 states with the numbers going up. You see the death projections going up. You see the economy going down. It was never politics. It was always science."
Fauci said residents in several states flagrantly ignored guidelines as the state's reopened. In turn, this led to the recent surge in cases seen across the U.S.
"There are some governors and mayors that did it perfectly correctly. They stayed exactly. They wanted to open up, so they went through the guidelines of opening up their state," Fauci said.
"But what happened is that many of the citizenry, said, 'You know, well, I'm either going to be locked down or I'm going to let it all rip.' And you could see from just looking, documented on TV and in the papers of still photos of people at bars and congregations, which are a perfect setup, particularly if you don't have a mask. Yeah, then there are some times when despite the guidelines and the recommendations to open up carefully and prudently, some states skipped over those and just opened up too quickly."
He goes on to break from Trump, saying, "When you compare us to other countries, I don't think you can say we're doing great. I mean, we're just not."
Trump, by comparison, has repeatedly tried to play up the idea the U.S. is doing very well and has a handle on the pandemic. He has continued to blame the growing number of cases on testing, recently tweeting the U.S. was doing more testing than any other country and suggested testing less to reduce cases.
He hasn't been shy about targeting Fauci, either, and trying to shift blame for the handling of the pandemic onto his adviser.
"First of all, the mortality rate, and Dr. Fauci is a nice man but he's made a lot of mistakes," Trump said Thursday in an interview with Fox News'. "But a lot of them said, 'Don't wear a mask, don't wear a mask.' Now they are saying, 'Wear a mask.' A lot of mistakes were made, a lot of mistakes. Let me just make one statement, we do testing like nobody's ever done testing. And when we test, the more you test, the more cases you find."
Reducing testing, however, would do nothing to reduce hospitalizations or deaths. More than 133,000 people so far have died from COVID-19 since the pandemic began.
Despite Trump's attacks, Fauci has remained adamant the U.S. could gain a degree of control over the pandemic, "but keeping it under control is going to be the real problem." He said a vaccine is going to be the key in moving past the pandemic, and they have to "get it right" due to concerns over anti-vaxxers.
"Because if we don't, it might have a real negative impact in the long range, in the long term, on how people approach and respond to the need for vaccination, which is the reason why we're taking so seriously that even though we're doing this quickly, we're not compromising the safety and nor are we compromising the scientific integrity," Fauci said.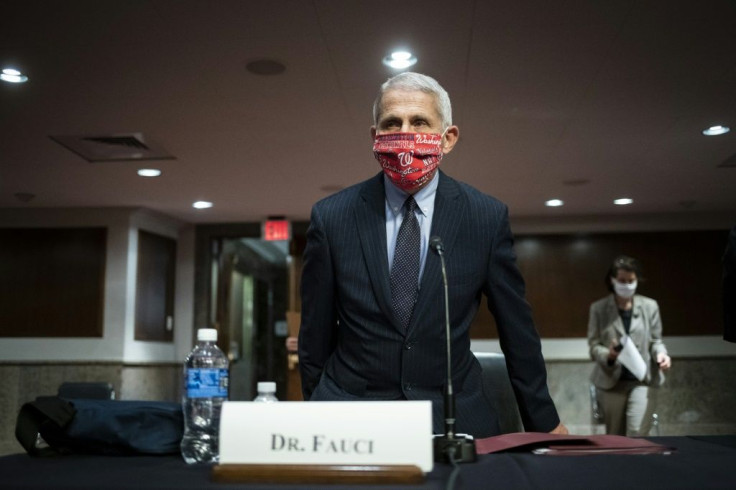 © Copyright IBTimes 2023. All rights reserved.