Trump's Approval Rating Drops To 48 Percent After President Boasts Poll Results On Twitter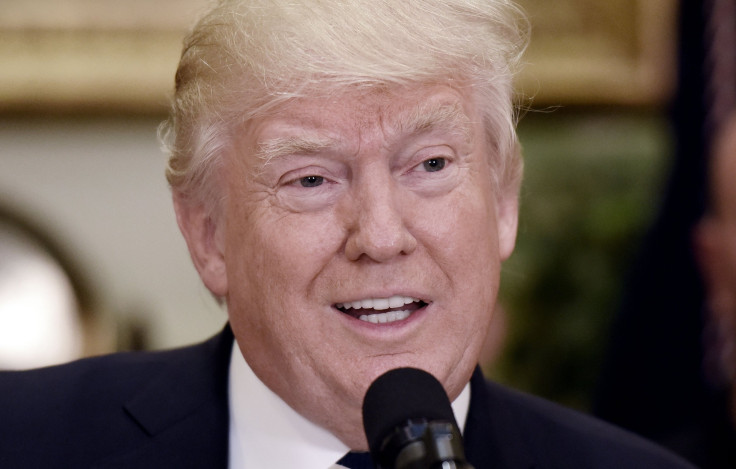 Just one day after President Donald Trump boasted of last week's 50 percent approval rating reported by the right-leaning daily poll from Rasmussen Reports, the figure had already slumped two percentage points by Monday. By contrast, the president's disapproval rating among "likely U.S. voters" rose one point to 51 percent.
"The new Rasmussen Poll, one of the most accurate in the 2016 Election, just out with a Trump 50% Approval Rating," Trump tweeted early Sunday morning. "That's higher than [Obama's numbers]!" The president had previously tweeted the figure Friday, writing "Great news."
Read: Trump's Approval Rating Gets Closer To All-Time Low As Voter Disapproval Hits Historic High
Trump's claim that his numbers were higher than those of former President Barack Obama was erroneous — at least, if the numbers were any indication. It was not clear to what source Trump was referring, but poll numbers recorded by Rasmussen Reports for the same respective date — June 16, 2009 — saw Obama's favorability at 56 percent. In fact, Obama never polled at lower than a 53 percent approval rating the entire month of June in the survey. He also maintained a disapproval percentage rating of low-mid 40s, which was better than Trump's own 51 percent disapproval rating as of Monday.
As for Rasmussen's veracity, as Newsweek noted Saturday, it was indeed the closest to predicting the final result of the 2016 election. However, the poll has been a consistent outlier when compared with other daily polls. Gallup's own poll results saw the president's favorability at a significantly lower 38 percent — down a point from the weekend — and his disapproval rating at 56 percent. Gallup's results are reported daily and based on telephone interviews with roughly 1,500 American adults.
Real Clear Politics — which averaged the most recent poll results of Quinnipiac, Gallup, Rasmussen and others — saw Trump's approval rating at 40 percent with a mean disapproval rating of 53 percent on Monday.
Read: Trump Approval Ratings: Russia Scandal And Paris Agreement Hurting Public Opinion Of President
Gallup reported an all-time low for the president with 35 percent in March, when Republicans failed to repeal and replace the Affordable Care Act with the Trump administration's own American Health Care Act. By contrast, Rasmussen's daily poll around the same time saw the president's all-time favorability low of 42 percent — a much higher figure considering the overall conservative sentiment about what was widely understood as a Republican failure.
A survey from the Associated Press-NORC Center for Public Affairs Research published last week reported one of the lowest Trump approval ratings to date, finding American favorability of the president's job performance at 35 percent. Perhaps more significant, however, was its report that 64 percent of Americans disapproved of Trump's performance.
Just days earlier, Gallup found the president's disapproval rating to be 59 percent. As historian and author Kevin Kruse noted on Twitter, only four of Trump's modern predecessors ever reached the 60 percent disapproval mark. However, all four of those presidents — George W. Bush, George H. W. Bush, Richard Nixon and Harry S. Truman — only saw figures that higher after serious crises or scandals and between 1,200 and 2,200 days into their presidencies.
By contrast, "Trump did it in just 143 days," Kruse said.
© Copyright IBTimes 2022. All rights reserved.
FOLLOW MORE IBT NEWS ON THE BELOW CHANNELS